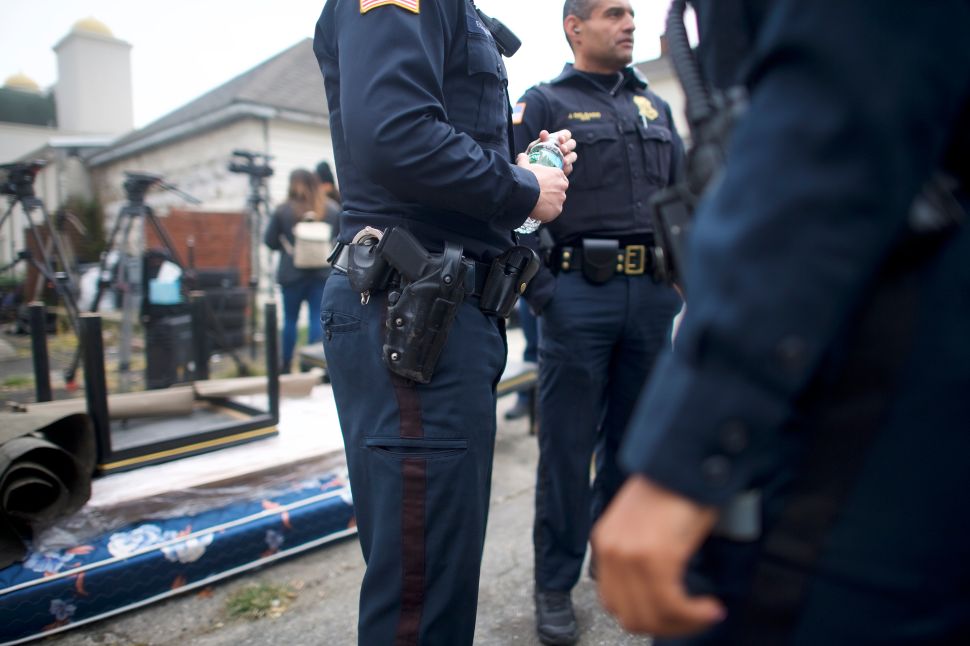 New Jersey is known for having some of the toughest gun laws in the country.
But while other states ban people from carrying weapons while drinking alcohol or even from going into bars while armed, New Jersey has no such ban.
Now, as NJ.com reports, the family of a man shot and killed in a bar brawl by an off-duty police officer is trying to change that…without much success.
The family of Michael Gaffney, a 37-year-old Piscataway man killed by an off-duty Newark police office in 2016, reached out to their local legislators about a meaure to ban drinking while armed. So far, the story notes, no legislative action has been taken.
A friend of Gaffney has started a petition on Change.org, hoping to make it illegal for police officers to drink while armed or to bring weapons into any place in which they plan to drink. Gaffney's family thinks the law should apply to everyone, though New Jersey's strict regulations about who can carry a concealed weapon means that most people who do so are retired or current police officers, according to NJ.com.
The Fraternal Order of Police, the Policemen's Benevolent Association and the Association of Chiefs of Police did not respond to requests for comment, the story notes. But the President of Newark FOP Lodge 12 said the law wasn't necessary, and that police should be armed at bars in order to prevent attacks and crime.
The state Association of Chiefs of Police, however, does suggest a model firearms policy for local departments that say off-duty officers shouldn't carry their weapons if they anticipate drinking alcohol.
Quote of the Day: "I don't see it as a partisan issue, it's just a quality of life issue. The majority of towns that have banned it have been of Democrat majority." —Westwood Councilwoman Alyssa Dawson, a Republican, on the sale of marijuana if legalized.
Should It Be Illegal for NJ Cops to Drink While Carrying? Grieving Family Says Yes
In Texas, it's illegal to carry a gun into a bar. In Tennessee, you can bring your handgun into a bar, but you can't have even a sip of alcohol.
NJ.com Read more
Legal Weed: How Will Marijuana Legalization Impact Local Elections?
New Jersey is now a patchwork of communities that have adopted bans on recreational and medical marijuana sales within municipal lines.
The Record Read more
Sweeney Will Stay Out of Alvarez Probe
Senate President Steve Sweeney steered clear of the Select Committee's investigation into Gov. Phil Murphy's hiring of former Schools Development Authority Al Alvarez this week, much as he did during the Select Committee investigation into Bridgegate.
New Jersey Globe Read more
Midterm Elections 2018 Predictions: NJ House Races
On Tuesday, New Jersey voters will head to the polls to choose 12 members of Congress.
The Record Read more
Administration, Lawmakers at Odds Over Massive Pharmacy Benefits Contract
New Jersey lawmakers may be on a collision course with the Murphy administration over the timing and process of re-bidding a $6.7 billion, three-year contract for public worker pharmacy benefits, a move required by a state court ruling in May.
NJSpotlight Read more
2018 Elections: These North Jersey Candidates Are Making Their First Runs for Office.
It's a record-breaking election year. More women than ever are running in state legislative, congressional and gubernatorial races. More people are voting early, according to the United States Elections Project. The youth turnout has skyrocketed.
The Record Read more
Sign of the Times? Local Ballot Questions Ask Voters to Weigh in on School Security
More than $1.2 million in security upgrades at schools will be at stake in four North Jersey towns in elections on Tuesday.
The Record Read more
Here's Why Jersey Voters May Really Turn Out in Droves on Tuesday 
New Jersey voters could go to the polls this midterm election in numbers rarely seen before.
NJ.com Read more
They Hate Menendez but They Hate Trump More. Could These Voters Swing the Election?
Ask Drew Kanevsky what he thinks about U.S. Sen. Robert Menendez, and the registered Democrat doesn't hold back.
NJ.com Read more
NJ Senate Race 2018 Polls: Stockton Says Bob Menendez Has Double-Digit Lead Over Bob Hugin.
Sen. Bob Menendez led Republican challenger Bob Hugin by 12 percentage points in a poll released by Stockton University on Friday, a sharp change from an Oct. 1 survey that showed Menendez's lead at just 2 points and led to criticism of the survey.
The Record Read more
Hugin Tells Hunterdon GOP Crowd He's Up by Two Points.
Bob Hugin rolled in here this afternoon on the heels of a "Beers with Bob" event he did last night and spoke to the crowd crammed into a party headquarters on the side of the semi-busy (for Hunterdon) traffic circle.
InsiderNJ Read more
New Jersey Democrats Sound Alarm Over Menendez Race
New Jersey Democrats are growing increasingly worried that Sen. Bob Menendez could lose his seat next week in an outcome that would undercut the party's effort to take back the Senate.
Politico Read more
Even at the 11th Hour, CD11 Is Still Attracting Big Money, Names and Attention.
New Jersey's 11th Congressional District race has drawn national attention and in its final days it's still inhaling huge sums of cash, generating television ad spots and provoking general election anxiety.
NJSpotlight Read more
Pro-Trump Candidate Seth Grossman: I Sued Trump Decades Ago.
Few candidates in next week's midterm election are as full-throated in their support of President Trump as Seth Grossman of South Jersey's Second Congressional District.
Inquirer Read more
These NJ Legislature Seats Are Up for Grabs on Tuesday. Here's Who's Running
Most of the attention on Election Day this Tuesday will be on which candidates New Jerseyans send to Washington. But voters will also determine a number of lawmakers to serve in Trenton.
NJ.com Read more
New Jersey's Medical Marijuana Program Hits the Road to Win Over Doctors
New Jersey Health Department officials are taking the state's medical marijuana program on the road, showing it off to physicians during grand rounds at hospitals and offering lectures for health care professionals enrolled in continuing-education classes.
Inquirer Read more
Ex-NJ Attorney Gen.: What Minority Communities Can Do for Safety in This Climate of Extremism
Last weekend's target was a synagogue in Pittsburgh. The target the Wednesday before that was a largely African-American church in Louisville, Kentucky.
NJ.com Read more
80 Years After Kristallnacht, Chabad of Hackensack to Reflect With German-Born Rabbi
Eighty years ago, Nazis took to the streets of Germany.
The Record Read more
Obituary for NJ Man, A Lifelong Republican, Gets Final Dig At Trump
A few more people might be wishing they'd been able to grab one last pint with Harry Decker down at Murph's Pub.
NJ101.5 Read more
Tax Collector Charged With Stealing From 3 NJ Municipalities
A Warren County municipal tax collector has been charged with stealing $75,000 from the three municipalities she worked for.
NJ101.5 Read more
Two Parties, Two Visions in Race for Morris County Freeholder Seats
The ideas touted by the GOP team running for three Morris County freeholder seats in Tuesday's election are stale, say their three Democratic challengers who hope to sweep the race.
Daily Record Read more
Cape Freeholder Challenger Holds Onto Hope in Long-Shot Race
A relatively unknown Democrat is challenging longtime Republican Freeholder Leonard Desiderio this year, looking to put a crack in the all-Republican governing body when Cape May County goes to the polls Nov. 6.
Press of Atlantic City Read more
How Much Will Middletown's New Town Hall Cost Taxpayers? No One is Saying
Sometime in the next few years, elected officials will cut an oversized ribbon in front of a new, state-of-the-art municipal complex that will replace the crumbling town hall at 1 Kings Highway.
Asbury Park Press Read more
Faculty Member Charged with Threatening School
A faculty member at a Central Jersey elementary school was arrested for making a terrorist threat towards the school.
NJ101.5 Read more
Two Pals Run Friendly Campaign to Be Mayor of Morris Plains
Sal Cortese and Jason Karr would vote for each other if they weren't both running to be borough mayor on Tuesday.
Daily Record Read more
Plan Would Hit Jersey City Businesses With Tax to Fund Schools
The city has finally unveiled its proposal for a 1 percent payroll tax that is intended to fund the local public school district in anticipation of millions in state aid cuts over the next few years.
NJ.com Read more
Asbury Park Press Endorsement Recap
Voters will go to the polls on Tuesday to make their choices on key Senate and House races, where control of both chambers is at stake.
Asbury Park Press Read more
Editorial: How to Corner Tom MacArthur on His Health Care Lies
Tom MacArthur can no longer, in good conscience, listen to your criticism on health care.
NJ.com Read more