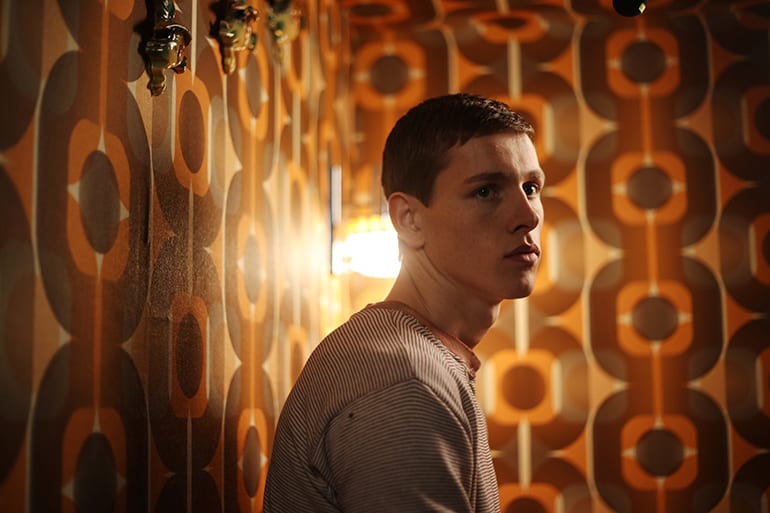 After his smashing debut in Beach Rats, much was expected of acclaimed young British actor Harris Dickinson. I predict much more will still happen in the way of worthwhile film projects. A numbingly pretentious little art film called Postcards from London is not one of them.
In this LGBTQ-themed eccentricity, handsome, clean-cut Dickinson plays a suburban kid named Jim who escapes from a predictable dead-end life in the suburbs and travels to the bright lights of London in search of mystery, adventure, excitement and new horizons. Lured to the decadence of Soho, the shy, polite and easily manipulated boy is mugged and left penniless on his first night in town. Easy prey for the tough hustlers in this seedy part of the West End, Jim is naively recruited by a gang of gay rent boys called The Raconteurs, with the promise of fame and fortune, as well as a place to sleep.
Subscribe to Observer's Entertainment Newsletter
---

POSTCARDS FROM LONDON ★
(1/4 stars)
Directed by: Steve McLean
Written by: Steve McLean
Starring: Harris Dickinson, Richard Durden, Jonah Hauer-King
Running time: 88 mins.

---
In no time, he becomes the prize of a high-end list of wealthy clients craving escorts who offer sex, followed by intellectual discussions on art instead of the usual cigarette. "Our sacred mission," claim the Raconteurs, "is to drive male prostitution into the 21st century while paying homage to the artists who came before." It's the oldest profession and Jim quickly becomes its Adonis, dispensing stimulating conversation about everyone from Caravaggio to Francis Bacon, with an occasional smidgeon of wit from the pen of Oscar Wilde for an extra tip.
Like the strippers in Gypsy insisted, "You gotta have a gimmick." Jim's is re-enacting the subjects in classical paintings, such as Caravaggio's Jesus and St. Sebastian. The premise is preposterous, but it has a few humorous moments (it's funny watching Jim pose naked with an arrow piercing his groin). There's only one problem. Jim keeps fainting all the time and is finally diagnosed with a rare illness called "Stendhal syndrome," named after the 19th century French bloke Henry Stendhal, who wrote The Red and the Black and The Charterhouse of Parma.
According to this bizarre oddity, written and directed by Steve McLean, the Stendhal condition affects some individuals exposed to fine art. It can cause dizziness, hallucinations, and blackouts. As Jim graduates from hustler to muse, inspiring artists to paint masterpieces, his affliction becomes a road block on the highway to high finance. (Passing out in museums makes him something of a risk to his clients, who could go to jail for hiring illegal escorts.) When Jim's charade tanks, he develops a new talent for predicting future Caravaggios. So he joins forces with an ex-communicated Raconteur who lives in a cardboard box. Jim, in short, becomes a critic. His new partner is an auctioneer. Both are considered betrayals by his old gang.
Aside from bad filmmaking, I don't know what any of this means. I do know Harris Dickinson is the chief attraction as well as the only reason to suffer through a revolting score of punk rock songs and an interminable series of fuzzy, flashing camera angles advertising neon signs for sex clubs and gay bath houses. In the end, his old mentors interview a new innocent replacement and dismiss Jim with: "He was beautiful, but he craved another kind of life." And I crave another kind of movie for Harris Dickinson.