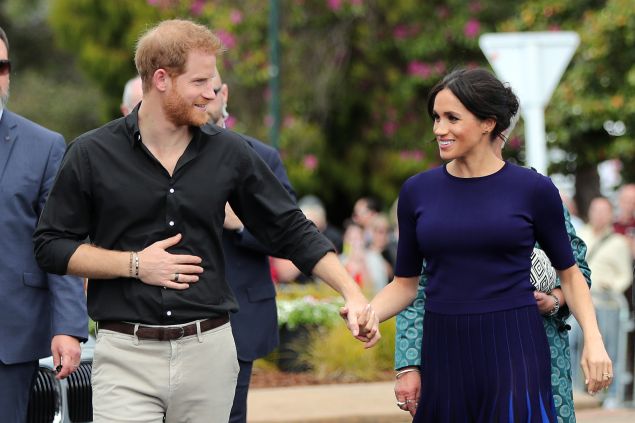 Prince Harry and Meghan Markle probably needed a whole other suitcase to bring home all the baby presents they received on their royal tour of Australia, New Zealand, Fiji and the Kingdom of Tonga.
The Duke and Duchess of Sussex were gifted countless items by eager onlookers lining the streets as well as government officials—almost immediately upon arrival in Sydney, Governor-General Sir Peter Cosgrove and Lady Lynne Cosgrove, who were hosting the couple at Admiralty House, gave the royals a toy kangaroo (with a joey!) and a pair of sheepskin baby booties. That's just the beginning of the loot the Sussexes took home, but they also presented foreign dignitaries with a personal token in the form of a framed photograph.
The picture in question was recently spotted on display at the Government House in Wellington, New Zealand, where Prince Harry and Markle met with Governor-General Dame Patsy Reddy, New Zealand's Prime Minister Jacinda Ardern and others during the tour. According to a picture of the photograph circulating on Twitter (very #meta), it's Prince Harry and Markle posing together in a formal room; the Duke of Sussex is wearing a dark blue suit while the Duchess of Sussex sports a coordinating light blue frock.
Prince Harry and Markle both tested out their personal photography skills on the royal tour, as the redheaded prince attempted to outdo his pal Barack Obama as the number one Instagram Husband. But this appears to be a professionally taken portrait, and was likely part of the glamour shots from their engagement photoshoot by Alexi Lubomirski. This particular picture is in a very fancy-looking black leather frame with Prince Harry and Markle's joint monogram in gold, as well as each of their personal signatures at the bottom.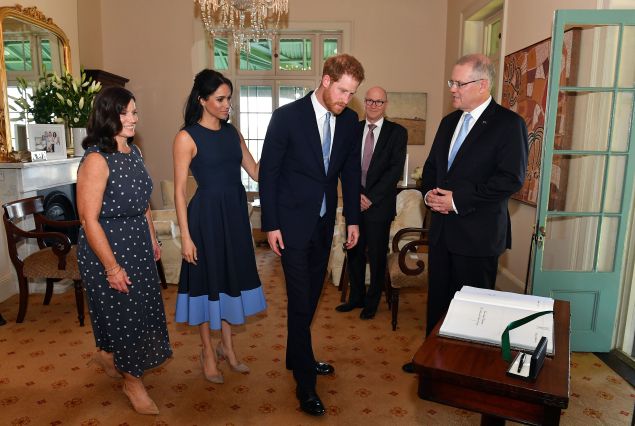 If the snap looks familiar, it's because you may have seen it before—Queen Elizabeth keeps the very same framed portrait on display at Buckingham Palace, surrounded by other family photos because she is a true doting grandmother. The monarch's version, however, is in a more low-key frame, and isn't signed by her grandson and granddaughter-in-law, because that would be kind of weird.
But the Duke and Duchess of Sussex aren't the only royals sending out personal photos of themselves. Prince William apparently sent out thank you cards to those who wrote to him on his birthday, in the form of a close-up portrait taken last year for GQ. We wonder if Prince Charles will go a similar route with his upcoming 70th birthday—he did, after all, just do a photoshoot for his Vanity Fair cover.