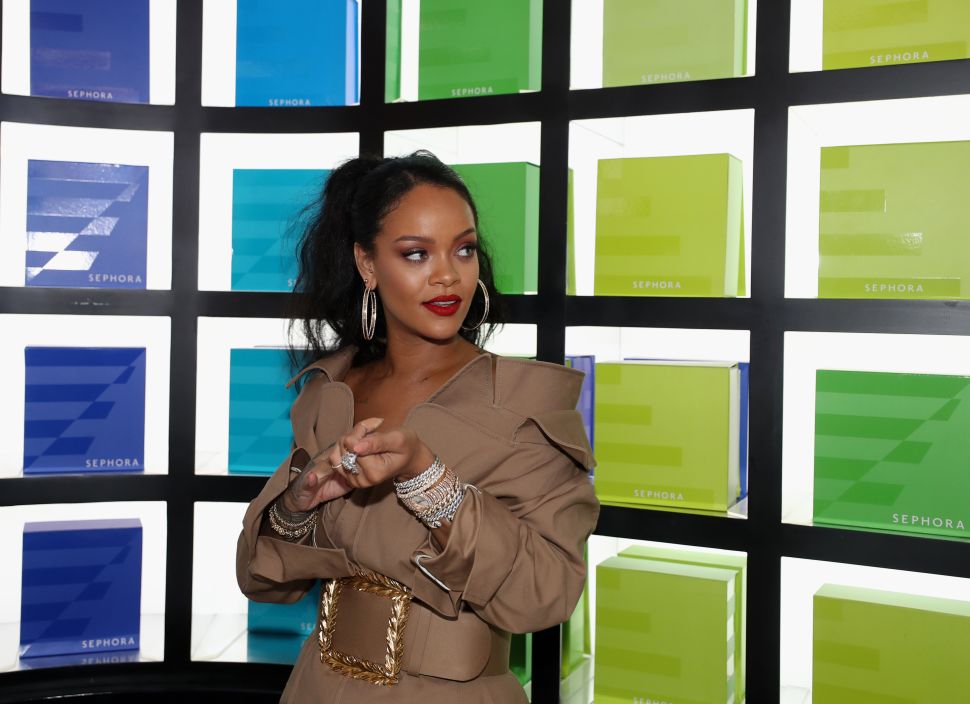 When a Washington Post reporter tweeted earlier this week that Rihanna's hit "Don't Stop the Music" was playing at a Chattanooga Trump rally, the superstar mogul made her displeasure crystal-clear.
"Not for much longer," she tweeted in return. "Me nor my people would ever be at or around one of those tragic rallies, so thanks for the heads up."
It appears that Robyn Rihanna Fenty has made good on her promise. On Thursday, Rolling Stone reported that Broadcast Music, Inc., the juggernaut performing rights company that negotiates the singer's music publishing rights, sent an official letter informing the Trump Campaign that their right to play Rihanna's music has been revoked.
Subscribe to Observer's Entertainment Newsletter
"This letter serves as notice that Rihanna's musical works are excluded from [an agreement between BMI and the Trump Campaign for song usage], and any performance of Rihanna's musical works by the Trump Campaign from this date forward is not authorized by BMI," the cease-and-desist statement reads.
Rihanna is perhaps the most famous artist in a long line of left-leaning musicians who've expressed dismay that their songs were being played at Donald Trump–affiliated events, but this cease-and-desist letter from BMI broaches new territory.
Aerosmith's Steven Tyler and Pharrell Williams both sent Trump cease-and-desist letters too, but they were ultimately hamstrung by the binding nature of their licensing deals.
Rihanna, however, is actually taking the legal steps necessary to prohibit the president from using her music, which in the streaming era is a complicated process worth explaining in detail.
You see, Trump was able to play "Don't Stop the Music" because his campaign paid for a BMI blanket license that included Rihanna's catalog. Now that BMI has released Rihanna from this blanket license, which is called the "Donald J. Trump for President, Inc. Political Entities License Agreement," her entire body of work is no longer authorized for use by the Trump camp. So if the president played "Umbrella" at a convention center next week, he would likely be violating her public performance rights—in other words, committing copyright infringement. Furthermore, BMI would likely file a lawsuit on Rihanna's behalf, because it files more copyright lawsuits than nearly any other plaintiff in the country.
Whether Trump will be forced to go to court over his use of RiRi's tunes at Make America Great Again rallies remains to be seen. However, the fact that Rihanna, an individual artist, persuaded BMI to release her from a blanket license agreement is a significant feat. It speaks to the power of her industry influence, and shows how far people are willing to go to dissociate themselves from the sitting President of the United States.
Yes, she'll be losing the revenue she used to receive when "Don't Stop the Music" blasted over the heads of die-hard nationalists. But given that she's worth around $260 million, Rihanna can probably afford the hit.