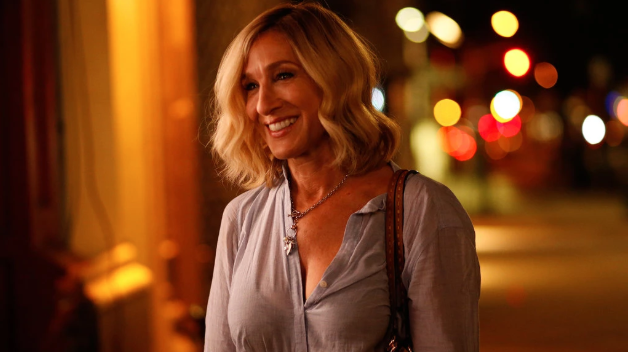 Here and Now is a dark purple scar of a movie about 24 hours in the life of a woman who has just been diagnosed with an aggressive form of terminal brain cancer. With blood tests, surgery, chemo and radiation, she might live another 14 months. Or not. Everything she does is a risk, nothing is guaranteed. For the rest of the movie, she passes the time in an understandable, though hardly cinematic, stupor.
Sarah Jessica Parker stars as singer-musician-songwriter Vivienne Carella, and the discovery of her tumor could not be worse. On the verge of opening a new show at Birdland, Manhattan's jazz capital of the world, she is also celebrating the release of a new album and a world tour. Torn between sharing her bad news with friends and family, keeping it a secret and coping on her own, or doing nothing at all, she goes into shock, wandering the New York streets aimlessly in high heels. She is late for a rehearsal with her musicians. She does some unnecessary shopping, listens to snippets of conversation among total strangers, meets a reporter for a brief interview, buys an expensive dress which she leaves in the Uber that drives her home. Inside her apartment, she suffers another in a lifetime of unpleasant encounters with her annoying French mother Jeanne, played by a wasted but still ravishing Jacqueline Bisset (these days, with her age and experience, this terrific actress finds herself playing a lot of annoying mothers).
Subscribe to Observer's Entertainment Newsletter
---

HERE AND NOW ★★
(2/4 stars)
Directed by: Fabien Constant
Written by: Laura Eason
Starring: Sarah Jessica Parker, Renée Zellweger, Simon Baker
Running time: 91 mins.

---
Borrowed a bit too obviously from Agnes Varda's 1962 French film Cleo From 5 to 7, the entire structure of Here and Now is episodically styled in a series of vignettes designed to give a dreamy cast a chance to excel in quiet cameos. Vivienne pays a visit to her estranged 16-year-old daughter Lucie (Gus Birney) and ex-husband Nick (Simon Baker), who both blame her for ignoring them in favor of her own career. She accidentally runs into an old friend (Renée Zellweger, unrecognizable with her new face). She stands up her manager and befriends the immigrant chauffeur who returns her purse. Nothing positive or meaningful ever happens. Suddenly it's dawn and she heads for the hospital for another painful day of anxiety and misery.
That's about it. Bleak and paced with the energy of drops of water from a plumbing leak, Here and Now is deliberately slow, hoping to provide viewers a chance to share the torturous mental anguish Vivienne is going through. The process only succeeds in boring us to death. This is no fault of Parker, who also produced the film, but of Fabien Constant, an inexperienced film director best known for TV commercials, who is making his feature-film debut.
Nothing seems real, including the fact that the star is playing an allegedly legendary jazz singer without a single indication that she has any talent for the job. Although she looks weary and downbeat for good reason, she is touching and fearless in an underwritten role, and the considerable vocal chops she has displayed onstage in Broadway musicals serve her well, even when the movie doesn't. But when she makes a guest appearance in a New York jazz club, the one song she sings turns out to be an atrocious piece of junk by Rufus Wainwright, while a classy standard by Harold Arlen or Rodgers and Hart would have shown her voice off better. Like the rest of the movie, the song unwisely chosen has nothing at all to do with jazz.