Guests can leave Soori Bali, but we can't think of a reason why

.

Courtesy Soori Bali/The Leading Hotels of the World
Reality TV queen Kim Kardashian turned 38 in October and celebrated the occasion exactly how you'd expect: She went on a ridiculously lavish vacation at an isolated resort on the southwest coast of Bali. Her sisters Kourtney and Khloe came along, as did all of their children—North, Saint, Chicago, Reign, Penelope, Mason and True. Kendall and Kylie Jenner didn't make it, but Scott Disick did (though his 20-year-old girlfriend Sofia Richie missed out).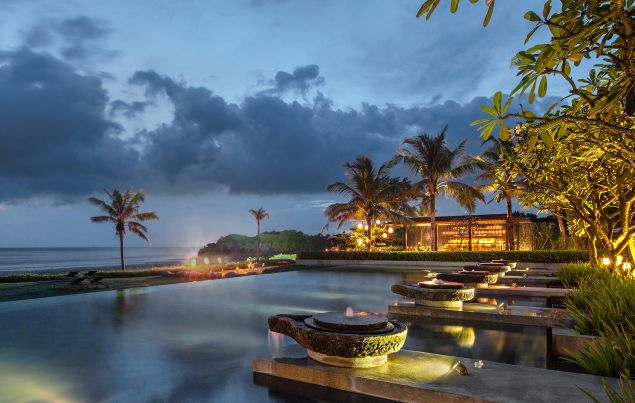 The whole crew nestled into Soori Bali, a 48-villa resort set amid rice fields and Mount Batukaru, right on the ocean. Architect Soo K. Chan of the firm SCDA is the developer and designer of the resort, which he and his wife own and operate—Soori is a combination of their names, Soo and Sri. They originally planned to use it as a family home before deciding to open it as a luxury hotel, Alila Villas Soori, in 2009. It relaunched as an independent hotel, the Soori, in November 2016, and became a part of Leading Hotels of the World in February 2017.
Here, all the details on the luxe retreat the Kardashians chose for their $30,000 jaunt.
Subscribe to Observer's Travel Newsletter
Chan is a big fan of sustainability.
The architect has maintained specific processional routes that residents use to reach the beach during religious ceremonies, and he uses local materials such as Batu candi volcanic stone and gray sandstone from nearby riverbanks for the villa interiors. SCDA also worked with native craftspeople on the bronze and stone accents found throughout the resort, including in all 48 villas.
The soothing aesthetic Chan strived to create is apparent from the moment guests enter the "arrival courtyard," with its plentiful marble, greenery and glassy pools.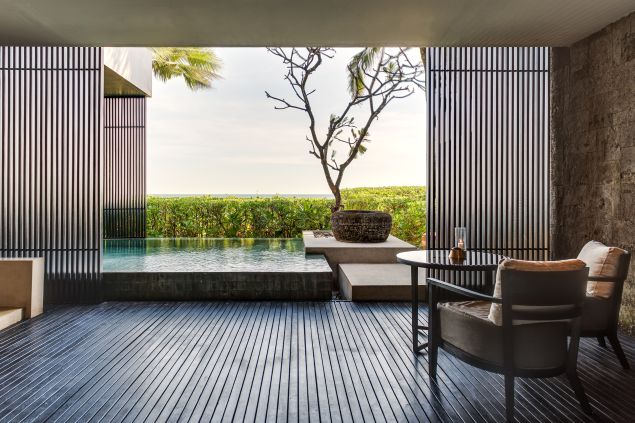 The smallest villa is still larger than most homes. 
It is 2,248 square feet, has a private pool and starts at $640 a night. The villas range from one-bedrooms to three- and six-bedrooms, and they all have views of the mountains or the ocean.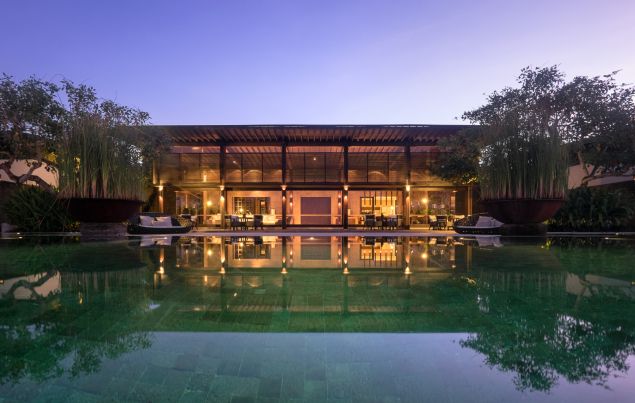 Then there's the enormous Soori Estate, with five infinity pools and its own helipad. 
Surprise! This is where the Kardashians reportedly stayed. The ludicrously over-the-top, 56,510-square-foot, 10-bedroom abode has an outdoor pavilion, a gym, a spa therapy room, a library and a dining room that could host the entire extended Kardashian-Jenner family and every one of their relatives. The starting rate for it: $10,000 a night.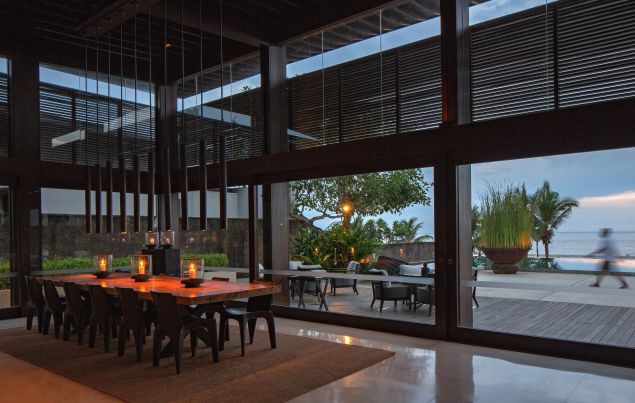 There are four smaller infinity pools outside in addition to the main oversized one, which has a Jacuzzi. It's unclear why anyone would need a helipad landing directly at their villa, but considering the cost of this place per night, sure. Oh, and Soori Estate happens to be the largest private residence on the entire island of Bali, because of course it is.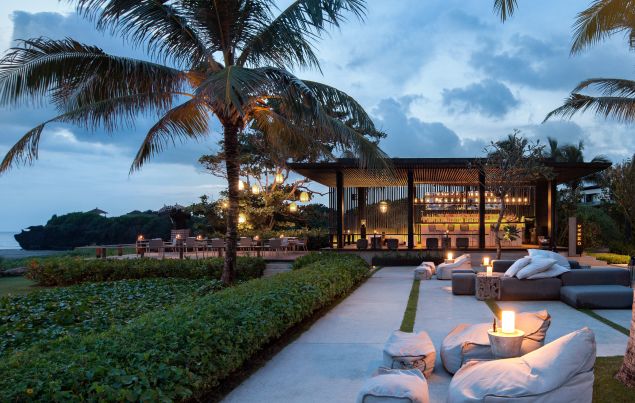 Even the Goopiest of travelers will like the food.
The restaurants at Soori change their menus often, but its beach restaurant Cotta emphasizes local cuisine, like Balinese-style grilled barramundi with raw spices. Ombak showcases Western influences, but also whips up exotic dishes like banana dumplings with pandan gel and coconut tuile. The recently opened Reading Room is a new addition to the Soori that mostly serves very Goopian juices and organic snacks.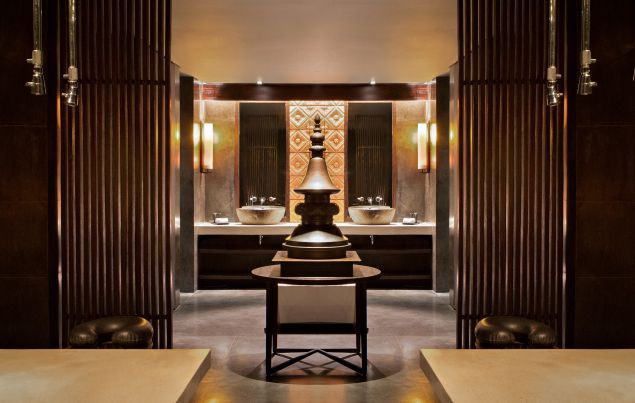 The spa is peak wellness and includes a Balinese Beauty Ritual. 
Guests able to pull themselves away from their villa can hit up the Soori Spa. It contains five treatment rooms fitted with dark stone and custom terra-cotta tiles, and offers alignment and massage therapies, acupuncture, meditation and neurotherapy. Oh, and yoga, because what is a vacation without the lotus position?
Off to the meditation pool

. 

Courtesy Soori Bali/The Leading Hotels of the World
The spa provides more traditional services like warm stone and classic Thai massages, but guests are encouraged to try out the special rituals. Considered medicinal by locals, the Balinese Beauty Ritual has been passed down for generations and is believed to warm the body and alleviate skin issues and joint pain. A mixture of cloves, ginger, cinnamon, coriander seeds, rice, turmeric root and sandalwood is incorporated into a session that includes an hourlong massage, a boreh scrub and mask, and a pressure-point marma facial.
You must see the temples. 
The Kardashians were really cultured on this trip, at least according to their Instagrams, which featured all sorts of ancient sites and temples. A one-day journey begins with a trek to Pura Penarukan, then additional holy sites in Kerambitan, Pura Ulun Suwi and Alas Kedaton. There's also a stop at Tanah Lot, a 15th-century temple on an offshore rock. The last item on the itinerary is the Timan Agung temple, which includes snacks and cocktails, because a Bali sunset and liquor were made for each other. Pricing is by request.
A view of Soori from a helicopter

. 

Courtesy Soori Bali/The Leading Hotels of the World
Or go on a chopper excursion. 
Soori will plan private helicopter trips leaving from its helipad. They start at $500 and go up from there, so you can see volcanos, lakes, rice fields, beaches, cliffs and ancient temples from a perch in the sky. Or, if you're like Kim K. & Co. and you're staying in the Soori Estate, you can just take a flight right from your villa.