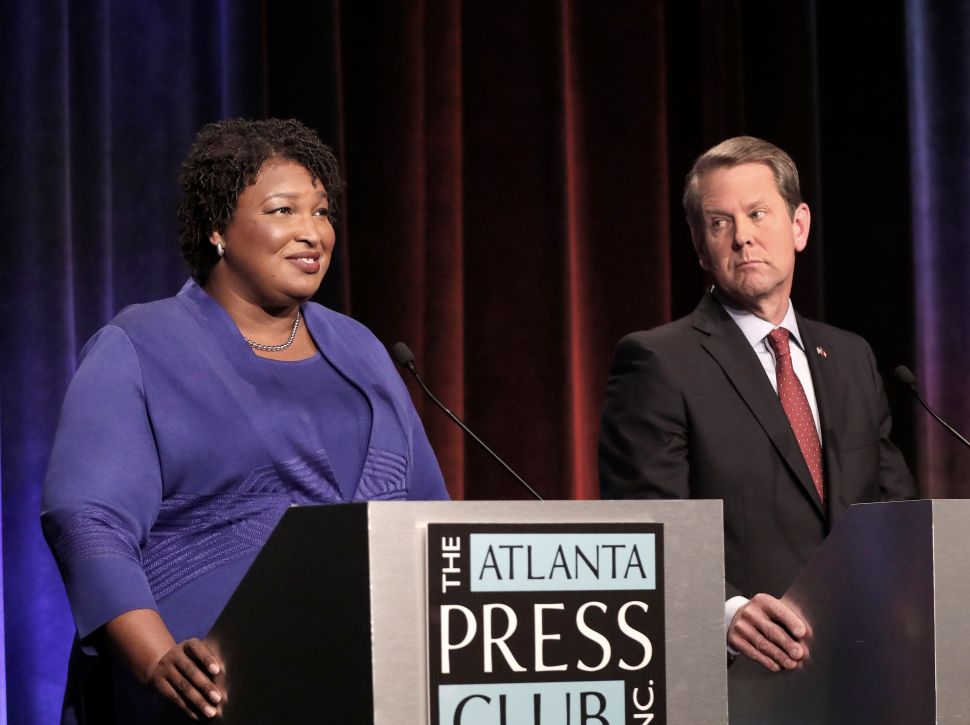 After Florida's election nightmare with the 2000 recount, Georgia election officials vowed they would not have the problems experienced by the Sunshine State. But a switch to new technology, accompanied by some old-fashioned voter suppression, could create a bigger debacle for the Peach State, worse than anything their southern neighbor experienced nearly two decades ago.
Georgia's been called a deep red state, but that's a bit of a misrepresentation.  Bill Clinton narrowly carried the state by a percentage point in 1992, and Bob Dole only won it four years later by a single percentage point as well.
But then, something happened that put the trending purple state back into the red column—and it started with a Democratic official.
Arguing that she didn't want her state to become like Florida during the 2000 election debacle, Democratic Secretary of State Cathy Cox invested heavily in electronic voting machines from Diebold, awarding them a big contract to cover the state's elections and engaging in a lot of self-promotion in the process, making it seem like her state would leave the "backward" era of paper ballots.
The trouble was, strange election results kept cropping up; candidates would inexplicably lose despite comfortable vote margins, all accompanied by election "patches" and an inability to conduct a real recount (no paper ballots, get it?). Members of her own party started dropping races which were outside the margin of error. 
A host of excuses were given. Groups like teachers were now voting against Democrats. A Confederate flag flap in which the old battle "X" was removed from the state banner was blamed. Or maybe the state's growing non-white population just wasn't voting for some reason. Few wondered if the new machines might be to blame.
Cox herself flamed out spectacularly in an ill-fated gubernatorial bid, failing to even capture the nomination. But the damage was done. Whereas once Georgia boasted a majority of Democratic cabinet officers, Democrats have been shut out of these races since 2010.
Meanwhile, new Secretary of State Karen Handel came to office, preaching Georgia electoral reforms, with more early voting, even being open one Saturday for those unable to get time off work to vote on a Tuesday. But those election machines didn't change, along with quirky election results like the special election between Handel and young Democratic candidate Jon Ossoff that couldn't be explained.
Demands for a paper ballot to conduct recounts have been replaced by barcode slips that can only be read by a computer, not a human.
Journalists began to dig for details. Whistleblowers and security consultants showed how the machines weren't so secure. Data would disappear after elections. Accusations of hacking in the press by the Secretary of State's office masked the presence of patches put in to "fix" the system. The state's elections began to evoke the shades of Mexico's 1988 presidential election in which opposition candidate Cuauhtémoc Cárdenas lost his lead to handpicked ruling party insider Carlos Salinas de Gortari, when the computer tabulating the results needed to be rebooted.
But a computer is no longer needed to change an election. Since the Shelby County v. Holder case in 2013, Georgia no longer needs pre-clearance from the Justice Department to change its elections, and an "Exact Match" law enabled the Secretary of State's office to deny someone the right to vote due to a discrepancy in married names, misplaced accents and purges for prior non-voting.
A New Type of Candidate Faces an Old Problem
The national spotlight is clearly on Georgia thanks to historic gubernatorial candidate Stacey Abrams, seeking to become the first woman and first African-American to lead the Peach State. She's attracted celebrities and national political leaders to her cause. But as a recent campaign appearance in rural West Georgia showed, she was making inroads in territory considered taboo by Democrats since the Civil Rights era of the 1960s.
In my adopted town of the last 18 years, Abrams ascended the stage and boldly spoke on the small town square, where a little more than two decades ago the Ku Klux Klan rallied. The diverse crowd that came out to hear Abrams was even bigger than those who came to see Jason Carter, the Democratic Party nominee in 2014 and a grandson of President Jimmy Carter. 
Abrams stopped by for lunch at a restaurant near the town square, famous for its good food and for refusing to serve blacks years ago. But the Democratic candidate was served, another sign of change in the state where she became the first African-American nominee for governor and the first woman to hold that distinction as well. 
And it's not just my small town where such changes are occurring. Polling during the campaign indicated she's was getting more white votes than Jason Carter did four years ago. Excitement over her candidacy achieved national attention and thrust her to the cusp of history.
Managing One's Own Election
Her opponent, Secretary of State Brian Kemp, the chief elections official, won a bruising primary with ads that made him seem like the most extremist candidate in the South. But Kemp wisely moved toward the middle after sewing up the nomination, eschewing ads like the one where he cocked a gun at a teen looking to date his daughter, or promising to round up illegal immigrants in a pickup truck. His pivot to the more centrist education policies of sitting GOP Governor Nathan Deal (a former Democrat) narrowed Abrams' post-primary lead.
But Kemp's decision to stay on as Secretary of State after clinching the nomination provided the appearance of a candidate managing his own election.  Promises of a smooth election were undone by long lines and technical glitches. Even Kemp showed up at the polls, only to find his own voter ID card had problems, revealing the dangers of over-purging.
Regardless of the results, the election could drag on in courts for months. Liberals are encouraging Abrams to fight it out in court if she doesn't win, as a way to expose the irregularities that have existed in Georgia over nearly two decades.
Georgia may have set out to avoid making the mistakes of Florida, and avoid the bad publicity of the national spotlight on the state's election process 18 years ago. But regardless of the election outcome, expect a lot of heat on Georgia election officials for this and past election problems.
John A. Tures is a professor of political science at LaGrange College in LaGrange, Georgia—read his full bio here.