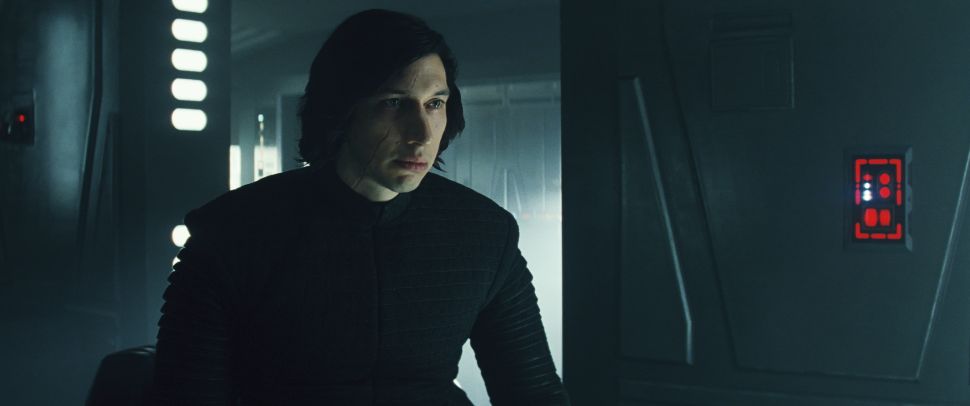 Adam Driver's Kylo Ren is meant to be a character of conflict—he is defined by the push and pull of morality. With each new Star Wars installment, we see the ostensible villain struggle more in his position. Star Wars: The Force Awakens laid the groundwork for this schism in his soul as the character vocalized his turmoil, saying, "Forgive me. I feel it again…the call from light." Star Wars: The Last Jedi actualized that sentiment through his connection with Rey (Daisy Ridley), as he eventually killed Supreme Leader Snoke to save her. Naturally, it feels as if we're building toward a reversal in Star Wars: Episode IX, in which Kylo Ren will reclaim his identity as Ben Solo and leave the Dark Side behind.
Such a complex arc would be fitting for Driver as an actor. In a recent interview with Vulture, he refrained from discussing what interests him about playing Kylo Ren in an effort to avoid potential spoilers. Still, his non-answer seemed to speak volumes about the future: "That's hard to say because we're working toward something in particular with that character. I don't want to give anything away."
Considering how torn his character has been and the franchise's precedent of the big bad breaking good, Star Wars fans are asking themselves: Can Kylo Ren can be redeemed?
Subscribe to Observer's Entertainment Newsletter
If you get a job with an organization and stick with it after learning that it has constructed a weapon capable of destroying an entire planet (or more), you're complicit in whatever that organization does with its power. In The Force Awakens, the camera lingers on Kylo's masked face as the First Order uses Starkiller base to wipe out the New Republic—six entire planets are suddenly gone in a fiery flash. What is going on under that mask? Is he appalled? Satisfied? Ecstatic? Does he feel anything? We never learn, and his villainy is further cemented later in the film when he kills his own father, Han Solo (Harrison Ford).
https://www.youtube.com/watch?v=-HmWDdmTAE8
The definition of redemption is "the action of saving or being saved from sin, error, or evil," but is there a threshold of evil that cannot be crossed? Kylo Ren is partly responsible for an intergalactic genocide and totally responsible for the more intimate crime of patricide. It's a testament to quality storytelling and Driver's impressive performance that he isn't the most reviled character in all of pop culture. The Last Jedi doesn't excuse this behavior, but it does provide more context for the motivations behind it—and hint at a potential path to change.
At his core, Kylo Ren feels abandoned by his parents (Han and Carrie Fisher's Leia), who sent him away to train with his uncle Luke Skywalker (Mark Hamill). He also feels betrayed by Luke who, in a moment of weakness, nearly killed him out of fear of the darkness growing within him. But does this really justify Kylo's lasting hatred? On the surface, audiences can see why a scared and lonely young man who lost faith in the pillars of his life (i.e., family and religion) could have been seduced by the manipulative Dark Side. His psychology makes sense. Like the best characters, he is relatable because he's complex and shows vulnerability. There seems to be an emotional truth in what he says and does.
In killing Snoke to save Rey, Kylo chose to preserve one small spark of light in the galaxy at the risk of everything else—the act was a microcosm of the man he could become, or the one struggling to get out. Yet as evidenced by his offer to Rey for them to rule together, he still prioritizes power over everything else. His moment of absolution might have come if he had opted to deconstruct the oppressive regime instead. But thus far, his actions have never really matched his internal monologue—which actually plays in his favor on the real-ability scale. We are all flawed and, if given the opportunity, might choose to set our own interests above the greater good. We also rarely live up to the standards we set for ourselves. Place such personal shortcomings against the tenuous, high-pressure backdrop of a universe-spanning military industrial complex, and, well, things can get a little hairy.
How you view salvation on a personal level—and, of course, how loyal you are to Star Wars—will largely determine your opinion regarding Kylo Ren's final arc. If he does take a turn for the better, fans will have to reconcile his past actions with his future course. He did, after all, actively participate in the destruction of democracy and the murder of billions. At the same time, he might be the only character in the franchise capable of really helping the galaxy heal. He may never be forgiven for his nefarious deeds, but if given a second chance, he could truly make a difference.