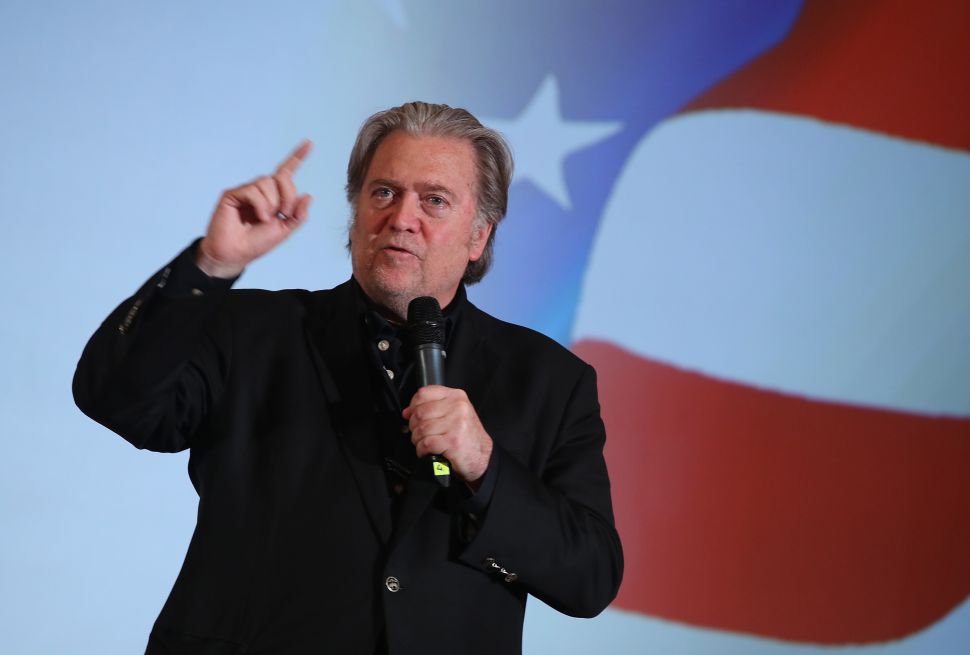 The nationalist wing of the Republican Party is irked with FOX (FOXA) News over the network's coverage of the midterm elections.
After Fox became the first major network to project that Democrats would seize control of the House of Representatives, conservatives providing real-time coverage declared foul play—knowing all too well that once a call is made, it cements a media narrative.
"Thank you, Fox News," said an exacerbated Steve Bannon on a webcast alongside other right-wing panelists Tuesday night. "Thank you, Lachlan Murdoch. We've only got three more hours of voting, brother. I know they may not do that in Australia, but here in the United States, we all still vote."
"They could be right, but if Republicans continue to turn out in the Golden State, things could shift," tweeted Breitbart News Tonight Host Joel Pollak. "The network will face a lot of questions after tonight and this is one of them."
The morning after the midterms, the Gateway Pundit—the far-right site which hosted Bannon's broadcast—published a story accusing Fox of "voter suppression."
"Last night FOX News Channel dropped a bomb on their conservative audience and called the House for Democrats while polls were still open on the West Coast," wrote the site's editor-in-chief, Jim Hoft, noting that "California voters still had another 90 minutes to vote before the polls closed."
This isn't the first time GOP political operatives have tangled with the cable juggernaut over its early election calls. After Fox called Ohio for Obama during the 2012 election, Republican strategist Karl Rove (the architect behind George W. Bush's 2000 campaign) disputed the coverage on-air.
"I just don't think we can call a state with 991 votes between the candidates…I'd be very cautious of intruding in this process," said Rove, promoting Megyn Kelly to walk throughout the network to ask the Decision Desk just how confident they were with their call.
"We're actually quite comfortable with the call," responded an election analyst.