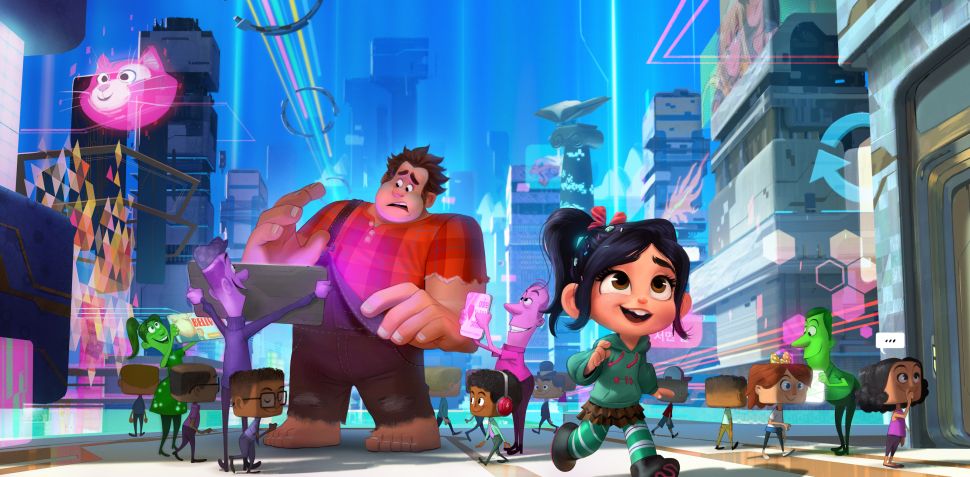 Ah, Thanksgiving. A time for family, overeating and football—all the classics. But in the midst of that busy holiday schedule, is there still any time to go to the movies? Multiple studios are definitely hoping so as several big films open today to try and take advantage of a rare break in the work week.
Disney's Ralph Breaks the Internet: Wreck It Ralph II is tracking for an impressive opening between $67 million and $77 million over the five-day period, according to Variety. That puts it on pace to lead the week, ahead of the blockbuster-ish Creed II and the franchise hopeful (though we're not confident) Robin Hood. Ralph Breaks the Internet returns John C. Reilly and Sarah Silverman in their vocal roles of Wreck It Ralph and Vanellope, respectively, after the 2012 original opened to $49 million en route to $471.2 million worldwide. This sequel upped its budget to a considerable $175 million, so it'll need to come in on the high-end of that projection and maintain family interest for a few weeks to make good. Though there's some strong competition on the horizon, its 92 percent on Rotten Tomatoes and four-quadrant appeal should put it in line to cross $500 million worldwide eventually. All of Disney (DIS)'s recent animated Thanksgiving offerings—Coco, Moana, Frozen—have managed to use this slot as a springboard to hefty grosses.
Subscribe to Observer's Entertainment Newsletter
Elsewhere, Michael B. Jordan continues his ascent up the Hollywood hierarchy with the Rocky spinoff sequel to his 2015 feature Creed. That sleeper hit carried a $35 million budget, opened to $29.6 million and eventually grossed a healthy $173 million worldwide on the back of great reviews. But with director Ryan Coogler (Black Panther) stepping aside for the second go-around, there is some skepticism surrounding Creed II. Reviews so far have been mixed-to-positive, but the eighth overall installment in the Rocky franchise is trending for a strong five-day total of $45 million. Moviegoers appear to be in Adonis' corner, which is good news for MGM. If it can cross $200 million when all is said and done, the studio will be going home happy.
Finally, Lionsgate's Robin Hood revival starring Kingsman lead Taron Egerton and Jamie Foxx is tracking for a rough $15 million opening. The film doesn't have an official budget but is believed to have cost quite a bit (Leonardo DiCaprio co-produced, for some reason). Reviews have been mixed-to-negative and the promotional campaign never generated a ton of social media buzz. If the low-ball projections hold true, Egerton likely won't be able to add a second franchise to his resume, though his upcoming Elton John biopic Rocketman looks to be a sight to see. He'll survive the momentary stumble.