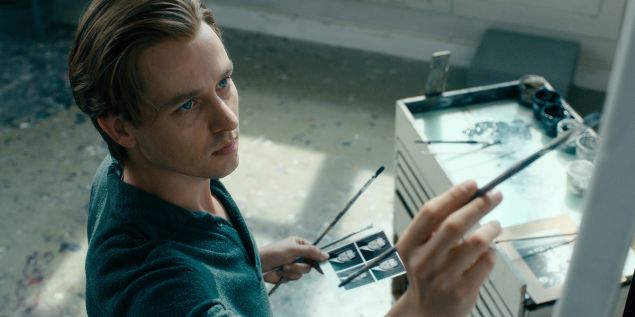 After taking home the foreign-language Oscar in 2007 for his Orwellian tale about an East German Stasi agent who becomes obsessed with a couple he is surveilling, The Lives of Others, and an eight-year gap since his last Hollywood flop, The Tourist, much was riding on Florian Henckel von Donnersmarck's return to movies. In Never Look Away, the German director returns to his default terrain in mining the country's turbulent past with an intergenerational story about art, love, and politics that already has him set up to walk away with a second golden statue—it's Germany's official selection for the 2019 Academy Award for Best Foreign Language Film. 
Never Look Away centers around a fictionalized artist named Kurt Barnert (Tom Schilling), whose life is more than loosely based on the life of painter Gerhard Richter. And the art references don't stop there. Every character, exhibition and movement portrayed has its analogous event in real life—it's all but a thin veil. So here, we take you though the many art references, some more obvious that others, that span the roughly three decades and over three hours of this film.
Subscribe to Observer's Arts Newsletter
The "Degenerates"
We open in pre-war Nazi Germany with the infamous 1933 "Degenerate art" exhibition (in the film, this takes place in 1937). A young Kurt (played by Cai Cohrs) and his Aunt Elizabeth (Saskia Rosendahl), admire the Kandinskys and Chagalls that the Nazi tour guide relentlessly discredits and attributes to mentally ill authors.
"Maybe I don't want to be an artist," little Kurt worries to his aunt. But she is the main force in bolstering his young artistic development. "Never look away," she tells him in one scene as she plays the piano naked, behavior that later gets her sent away to an institution to be euthanized (much like Richter's own Aunt Marianne).
The State-Sanctioned Art of East Germany
Elizabeth is also the one to tell him that "everything that's true is beautiful," a phrase to mark the artist's subsequent quest for meaningful art in the decades to come. Kurt eventually survives the war and enrolls in the art academy in Dresden at a time when art in East Germany meant Social Realism. Here, the only sanctioned art is what his teacher calls "democratic," or "art for the working class," and Kurt was certainly good at it. He is commissioned to paint several murals and portraits for national museums and garners fame during his time there.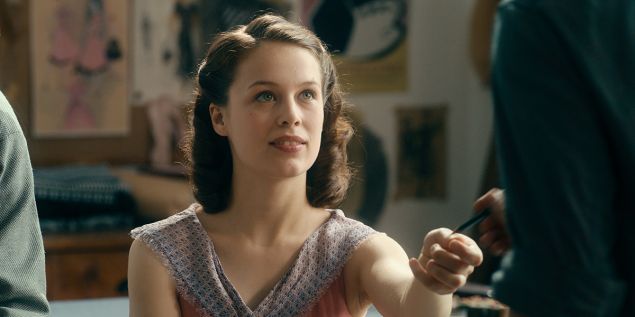 Also at Dresden, Kurt meets a fashion student named Elizabeth (beautifully portrayed by the 21-year-old Paula Beer), who Kurt calls "so beautiful it's unromantic. It's almost too easy to love you." The film is tinged with moments of tender intimacy. In one of these, Elizabeth is lying in bed on top of Kurt, their bodies merging into one as she tells him she's pregnant.
One of the only flaws in the film is that women are only portrayed marginally—Ellie's fashion career fails to reach any developments and the brutal policing of her reproductive rights by her own father are hopelessly sidelined.
The Artists of the 1960s Avant-Garde
Frustrated with the strict formalism of communist Germany, Kurt and Ellie escape to the East, to Düsseldorf, via a pre-Wall Berlin, where Kurt is accepted into the avant-garde art academy. He becomes friends with a sculptor fascinated with nails (a fictionalized version of Günther Uecker?) and learns under the tutelage of a Joseph Beuys-like professor who recounts the story of his rescue by Tartars during the Crimean War, an experience that went on to inform his artistic practice with felt and grease. Kurt's early experiments in Düsseldorf dousing his feet in paint and dancing over construction paper show the artist's simultaneous joy and unfulfillment in using different mediums. The film essentially suggests that meaningful art, what Kurt calls "true beauty," can only be achieved through the blurring of art and life.
As the young artist struggles to find his "truest" form of expression, his concerns about the "use value of art," dating back to the Dresden Academy, linger. The film doesn't drag us into the heart of his creative process like artist biopics tend to (The Agony and the Ecstasy and Basquiat come to mind). Despite all the parallels between Richter's life and the fictional Kurt Barnert, von Donnersmarck doesn't intend this as an artist biopic at all. Instead, it's a film about art, of course, but mostly art as a means of poking at the wound between pre and postwar German societies and the traumas that come with them.
Embracing Painting
In the end, Kurt is a true believer in painting, a strict formalist despite the Düsseldorf Academy's emphasis on the death of the medium. Even now, Richter's realist paintings of postcards, newspaper clippings, and family snapshots are as lauded as they are attacked for their maniacal exactitude. They are pristine and cool and mechanically precise, but also schizophrenic and melancholic in a way that is difficult to put into words (much like the character that Schilling plays with such astuteness).
In the film, not unlike Richter in real life, Kurt refuses to draw any art historical references to his works despite their obvious roots in 20th Century movements, like Abstract Expressionism and Pop Art. In one of the last scenes of the movie, one critic asks him if the painting of his naked wife descending a flight of stairs is an allusion to Duchamp, to which Kurt replies with a somewhat half-assed, "Yeah." He doesn't presume to answer any of the questions his work raises about the Nazis, about Communist East Germany, or even about who is in the pictures. But at least here, finally Richter's influences have been made a little more clear.
Never Look Away opens on Friday, November 30 in New York and L.A. for a one-week run to qualify for the awards season, followed by a general release in February 2019.