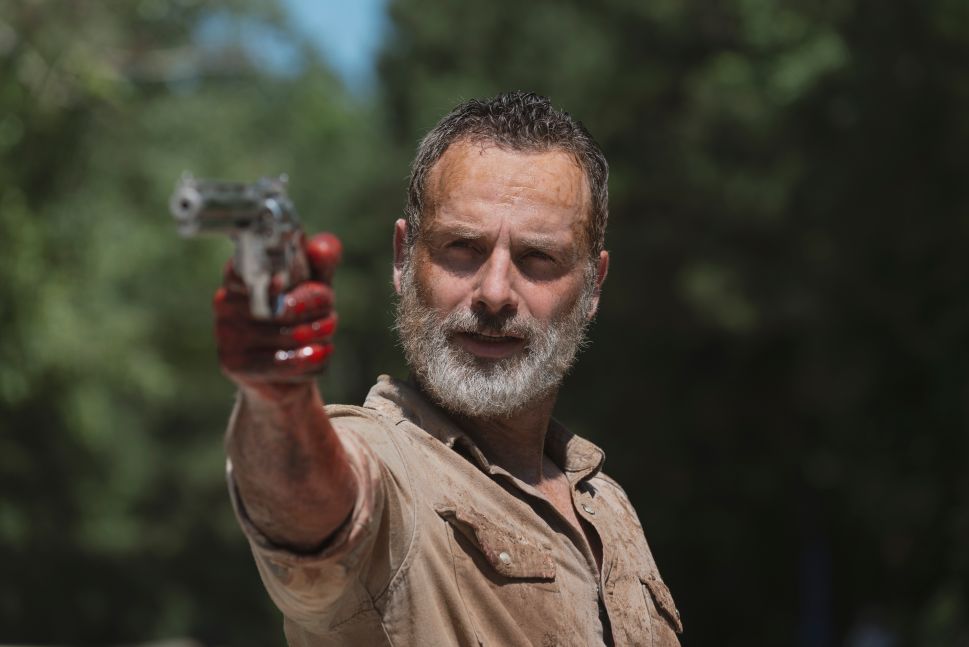 Audiences are still reeling from the exit of Andrew Lincoln's Rick Grimes from AMC's The Walking Dead Sunday night. After months of build-up sold as Grimes' ultimate departure, AMC pulled a fake-out and announced that while Lincoln won't be returning in the series' current ninth season, he will reprise the role in three big-budget feature-length movies set to air on the network. Thus far, viewers are [checks thesaurus for a more polite word] divided on the move.
How did it even happen? Why did AMC opt for this strategy? What does it mean for the future of the franchise?
In an interview with The Hollywood Reporter, Lincoln shed some light on the behind-the-scenes plotting."[Producer] Scott [Gimple] and I spoke in season four—and we share a similar domestic situation in that we both have young families and we were plotting out the rough shape of the next potentially two, three and four years of our lives," Lincoln said. "We plucked a number out of the air which sounded quite reasonable: if we could make it to Season 8. That coincided with my personal reasons—which, on my end, are that kids become less portable as they get older. And yet there was a part of me that thought, 'I don't think I'm done with the guy.' I love this character [of Rick Grimes]; I love the world that we inhabit. So why don't we try to potentially continue this story in a different way and maybe complete his story so the mothership can continue?"
Subscribe to Observer's Entertainment Newsletter
Despite the show's declining ratings over the last three years, AMC plans to expand The Walking Dead universe with films, prequels and all sorts of multimedia projects. As such, Lincoln welcomes the idea of another actor stepping into the role now that his future with the character isn't as open-ended.
"Why not?" he said when asked about it. "I think the possibilities are endless. It's an extraordinary environment and landscape, the mythology that Robert Kirkman has created, and I love that. I want to see that with Negan (Jeffrey Dean Morgan). That's a backstory that I want to see on the mothership; I'm fascinated by it. But [this franchise] can pull people backwards and forwards. I'd love to see Michael Rooker [who played Merle] back on screen in a miniseries.
Lincoln added, "With these kinds of shows, we are afforded the opportunity to bounce around narratively and be able to play with time."
Production on the first Walking Dead TV movie will begin production in 2019.