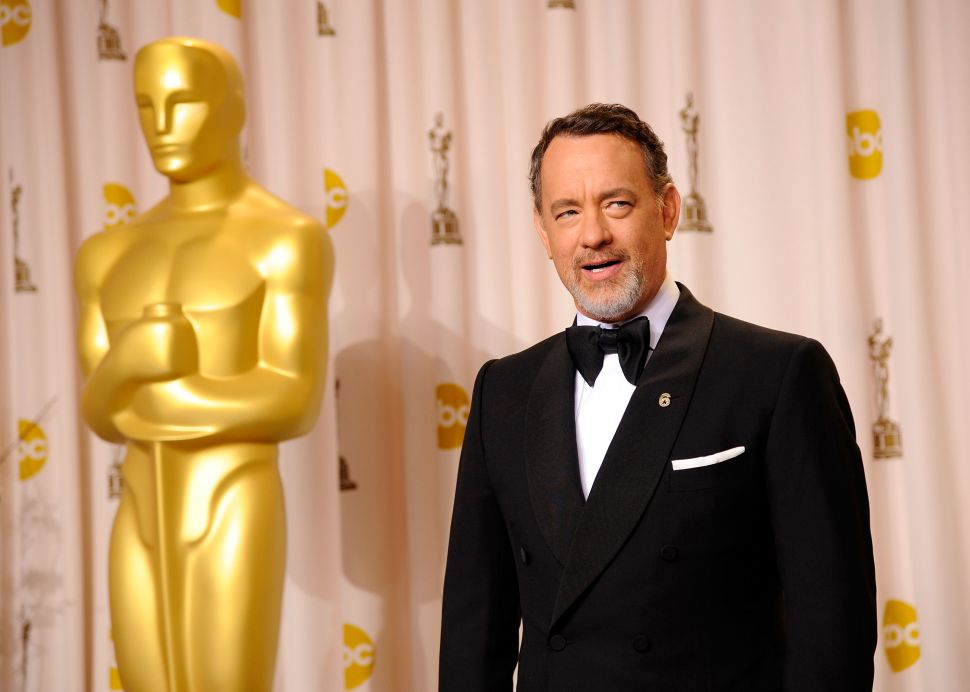 We all dig Tom Hanks. He's a phenomenal actor who's turned in so many impressionable performances, he feels like America's dad. So why hasn't he been nominated for an Oscar in 17 years?! It shows you just how divided this country is at the moment when our greatest national treasure this side of Meryl Streep isn't getting his just desserts. We need to remedy this.
Fortunately, Hanks has a handful of intriguing projects on the horizon that toggle between good old-fashioned Oscar bait and commercial hits-in-the-making.
Here's what Dad's got cooking.
Subscribe to Observer's Entertainment Newsletter
Greyhound (March 22, 2019)
We mentioned Greyhound in our list of five movies that could become next year's sleeper hits, and our opinion hasn't changed. In it, Hanks stars as the commander of a naval ship being pursued by German U-boats across the Atlantic Ocean during World War II.
The plot sounds tense enough, but we're also nervously rooting for Greyhound because Hanks penned the screenplay. Though the roles will never stop coming for the venerable thespian, watching him transition into behind-the-scenes work in the latter part of his career would be fascinating. With nearly 40 years of industry experience, we can safely assume he knows a thing or two about filmmaking, and we'd love to see him earn redemption for the writing-directing misfire that was Larry Crowne.
Toy Story 4 (June 21, 2019)
Toy Story 4 is going to be a major blockbuster for Disney's Pixar, but—dare we say it—it could it be overshadowed by Warner Bros.' Detective Pikachu. There's a war going on at the studio level, and nothing would send a clearer message than the spunky upstart live-action Pokémon movie dealing a blow to the damn near perfect Toy Story franchise. But regardless of how the box-office receipts and critical reviews shake out, there's something innately comforting about hearing Hanks' voice emanating from a Woody doll again.
After 23 years, Toy Story remains one of the Hollywood A-lister's most endearing films. Seeing him return to the well once will be the perfect homecoming.
You Are My Friend (October 18, 2019)
Tom Hanks, America's most beloved actor, will star as Mr. Rogers, one of America's most beloved TV personalities of the past 50 years. Hello? Academy? We'd like to reserve a statue for Mr. Hanks. Thanks, you're a doll.
The biopic will tell the story of Fred Rogers, who hosted and created the popular children's program Mister Rogers' Neighborhood. If there are two things Oscars voters go absolutely gaga for, it's portrayals of real-life people and self-congratulatory stories about the entertainment industry. Hanks can check both boxes with this one.
BIOS (October 2, 2020)
This one sounds like the most enticing project of all. Game of Thrones veteran Miguel Sapochnik—who was responsible for the climactic 2016 "Battle of the Bastards" and what will become the most ambitious action sequence in television history—directs Hanks in a touching sci-fi tale that takes place on a post-apocalyptic world where a robot built to protect his dying creator's dog learns what it means to be human.
Hanks will play Finch, who may or may not be the last man on Earth. So it's basically Cast Away meets Wall-E, which is fitting since Robert Zemeckis, the Oscar-winning director of the former, is producing. Keep an eye out for this one.