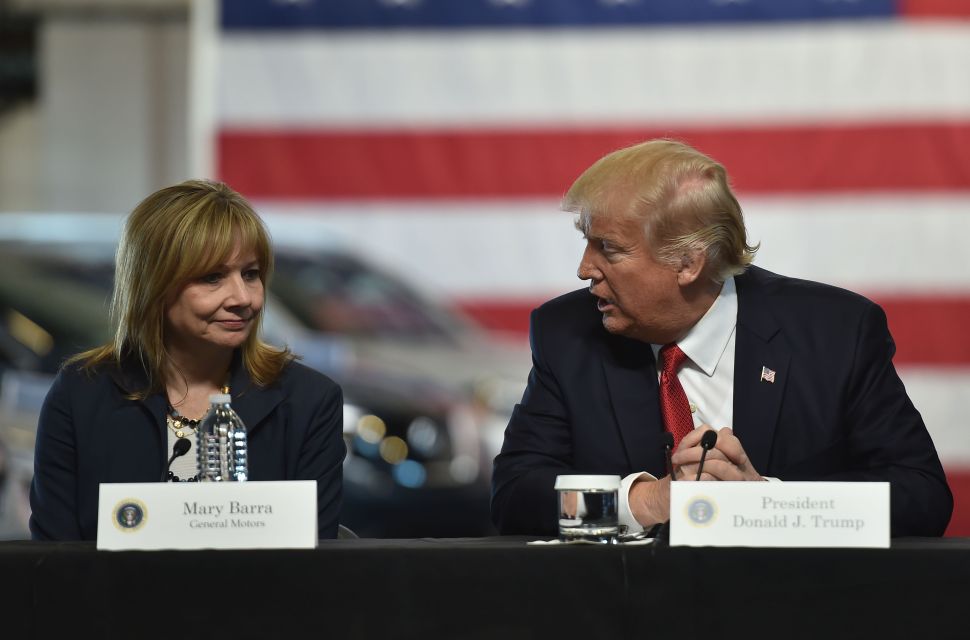 President Donald Trump has an idea to save the over 10,000 American jobs that General Motors plans to cut. But, for GM, Trump's bold bargaining chip might be nothing more than a bunch of hot air.
In response to GM's announcement on Monday that it would close five plants (four in the U.S. and one in Canada) and lay off 14,000 employees (about 10,000 in the U.S.) as part of a major company restructure, Trump took it to Twitter on Tuesday and threatened to cut government subsidies for GM if it doesn't keep those jobs.
"Very disappointed with General Motors and their CEO, Mary Barra, for closing plants in Ohio, Michigan and Maryland," Trump tweeted. "We are now looking at cutting all GM subsidies, including for electric cars."
Subscribe to Observer's Business Newsletter
But the president seemingly hasn't done the math on how cutting subsidies would actually affect GM.
Following Trump's tweets on Tuesday afternoon, a person familiar with GM's financials told CNN Business that the only federal government subsidy GM currently receives is a tax credit up to $7,500 for each electric car it sells. But that tax credit goes to consumers, not the company.
The tax credit—ranging from $2,500 to $7,500 depending on the size of the vehicle and its battery capacity—is part of the federal government's incentive package in place since 2010 to encourage consumers to buy electric cars from emerging manufacturers. It's only available to automakers that have sold fewer than 200,000 electric vehicles. Once a manufacturer reaches that threshold, the tax credit will gradually phase out. For new electric cars delivered within 18 months after meeting the 200,000 threshold, buyers will receive 25 percent to half of the original tax break; and for vehicles delivered beyond that time window, there will be no tax break.
GM, currently the second largest electric car seller in the U.S., is on track to reach the 200,000 threshold by the end of this year, tech news site Clean Technica has reported, meaning that most of the electric cars that GM sells in 2019 and beyond won't qualify for the tax break anyway. (Tesla, the largest electric vehicle seller in the U.S., passed this threshold in July of this year.)
GM hasn't responded to Trump's comments on subsidies specifically, but said in a statement on Tuesday that it would remain committed to "maintaining a strong manufacturing presence in the U.S.," pointing to more than $22 billion worth of investments in domestic operations since 2009.
"We appreciate the actions this administration has taken on behalf of industry to improve the overall competitiveness of U.S. manufacturing," the company said.
On Monday, GM CEO Mary Barra said the restructuring plan was a necessary step in order for the company to shift from mass producing traditional sedans to focus on futuristic projects like electric and self-driving cars, as well as more profitable trucks and SUVs.
Barra's bright outlook managed to lift investors' confidence in spite of the layoff plan, pushing GM stock up seven percent on Monday. But much of that gain has already been wiped out by Trump's tweets yesterday. As of now, GM shares are back to where they were before Monday's big announcement.