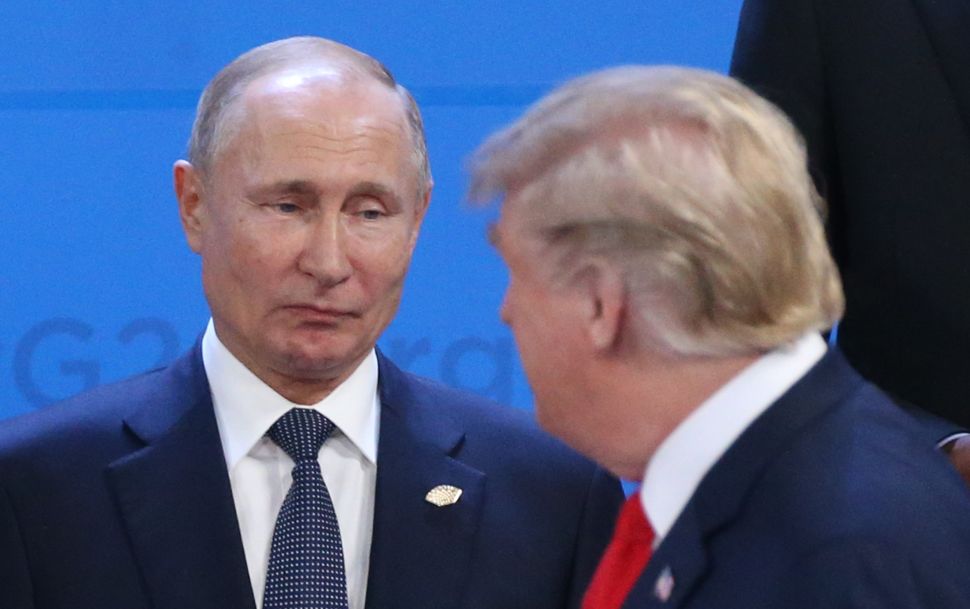 This was the week that the bottom fell out of Donald Trump's presidency. After almost two years of White House denials that Candidate Trump had any ties to Russia in 2016, that turns out to be just one more Trumpian lie. No amount of "NO COLLUSION" tweets from the Oval Office can undo the damage that has now been done.
The decisive moment was the appearance of Michael Cohen, the president's longtime personal attorney, in Federal court in New York on Thursday to admit he lied to Congress about Trump's commercial interests in Russia. To protect his client, Cohen covered up the reality of Trump's Moscow contacts—an issue that has been of the highest interest to Robert S. Mueller, III and his Special Counsel investigation.
Subscribe to Observer's Politics Newsletter
Lying to Congress, although a felony, is a rare charge, but here it matters. Back in August, Trump's consigliere pleaded guilty to tax evasion, bank fraud and campaign finance law violations relating to his client's hush-payments to Trump's former lovers, an issue that was headline-grabbing but peripheral to the Mueller probe. What Cohen stated in court on Thursday was vastly more damaging to the president.
Cohen explained that he knowingly lied to the Senate and House intelligence committees regarding his client's efforts during Trump's presidential run to develop a luxury hotel and condominium complex in Moscow. This relationship is something the president repeatedly denied, most famously with his January 2017 tweet, days before his inauguration: "I HAVE NOTHING TO DO WITH RUSSIA – NO DEALS, NO LOANS, NO NOTHING!"
His own attorney just stated that was a flat-out lie. Cohen reached out to Russians multiple times during 2016 in futile efforts to get Trump Tower Moscow going, at last. Donald Trump sought to develop "his" luxury tower in Russia's capital for decades. This was the reason for Trump's flashy trip to the Soviet Union way back in the summer of 1987. Three decades later, Trump Tower Moscow remained a mirage that the presidential contender was determined to make reality. This clearly mattered more to Trump than winning the White House.
That forlorn quest will cost President Trump more than he could possibly imagine. Cohen and other members of the Trump Organization amateurishly reached out to Kremlin officials. They even tried to entice the Kremlin by offering to give Russian President Vladimir Putin a penthouse in Moscow's Trump Tower, valued at $50 million.
Putin didn't take the bait and this bizarre offer reveals the stunning ineptitude of Cohen and everybody else involved in the failed ploy to make Trump Tower Moscow happen. They tried hard to get the Kremlin to play ball with their development plans, to no avail. Trump's representatives reached out to senior Russian government officials, not just private businesspeople. They seem never to have realized that the line between Kremlin bigwigs, Russian spies, and organized crime players, never thick in Moscow, has been erased entirely during two decades of Putin's rule.
Predictably, Trump lashed out at his turncoat attorney with "modern presidential" vitriol. Since Trump didn't have his usual option of pretending not to know the man who was his personal attorney for years, the president instead lambasted the freshly-admitted felon as "very weak." Long gone are the days when Michael Cohen boasted he would take a bullet for his sole client. Like everyone else, Cohen eventually figured out that loyalty is an entirely one-way street on Planet Trump, and the fallen consigliere chose to ingratiate himself with Mueller before he, too, faces decades in prison.
Just how bad Cohen's flipping is for the president would be difficult to overstate. For starters, Cohen kept detailed records of his work for Trump, including taping phone calls; it's safe to assume that whatever Cohen tells Mueller about his former client can be backed up with evidence.
Worse, Cohen is the first direct public connection made by Mueller and the Special Counsel between President Trump and his concealed business ties to Russia. In a revealing flourish, Mueller personally signed Cohen's cooperation agreement with the Special Counsel's office.
President Trump's response to all this has been hysterical. His tweets over the last couple days are more unhinged than usual: the Mueller inquiry is a "now discredited Witch Hunt … total Hoax" then "a total disgrace," plus "When will this illegal Joseph McCarthy style Witch Hunt, one that has shattered so many innocent lives, ever end-or will it just go on forever?" Above all: "it has proven only one thing-there was NO Collusion with Russia. So Ridiculous!"
It seems the president knows that Mueller is coming for him and his family, and at this point there's nothing he can do except buy a bit of time with his customary histrionics before the Special Counsel's boom falls. Twitter rage may still motivate the dwindling ranks of MAGA true believers, but it does nothing to deter Team Mueller.
This morning, President Trump finally admitted that, lo-and-behold, he had business interests in Russia in 2016 after all. As he tweeted from Argentina, where he arrived for the G20 summit: "I decide to run for President & continue to run my business-very legal & very cool, talked about it on the campaign trail…Lightly looked at doing a building somewhere in Russia. Put up zero money, zero guarantees and didn't do the project. Witch Hunt!"
Right now, President Trump's biggest worry isn't Bob Mueller but Vladimir Putin. The Kremlin's displeasure with its erstwhile friend, rising for months, has risen to hazardous levels for the White House. The breaking point is Ukraine. Last weekend, Putin's Federal Security Service engineered an armed confrontation in the Black Sea, grabbing two Ukrainian navy patrol boats and their crews as booty.
Trump's timid response to this crisis—"We do not like what's happening either way. We don't like what's happening, and hopefully it will get straightened out"—disappointed Ukraine and its Western well-wishers while infuriating Moscow, which expected Trump to help Russia, or at least keep his mouth shut.
Then Trump had the impudence to cancel (via tweet, naturally) his scheduled sidebar meeting with Putin at the G20 summit in Argentina because of "the fact that the ships and sailors have not been returned to Ukraine from Russia."
Moscow's response was furious, not least because they learned of the meeting's cancellation from Trump's tweet. Kremlin spokesman Dmitri Peskov stated, "We regret the decision of the U.S. administration to cancel the scheduled meeting of the two presidents in Buenos Aires," adding that Trump's rude move "means that discussion of serious issues on the international and bilateral agenda is being postponed indefinitely."
In other words: you don't get to cancel meetings, we do—and if you think the Kremlin will help you out, Don, have we got news for you. Peskov's statement leaves no doubt whom the Kremlin thinks runs the Trump-Putin relationship. Given how distracted President Trump is with the Mueller investigation as it closes in on the Oval Office, it would be tempting for the White House to ignore the Kremlin.
That would be a bad idea, as Moscow just made clear. As always, the threat of what Vladimir Putin knows about Donald Trump is unspoken but indelible. Kompromat is the coin of the realm in Putin's Russia, and his Kremlin wants everybody—above all President Trump—to know it.
The ridiculous hidden truth about Donald Trump's run for the White House is that it was a publicity stunt, an effort by the reality TV showman to up his brand and cash in. Trump's desire to make "his" Moscow tower happen during the campaign demonstrates what our 45th president's real priorities were. Neither Trump nor any of his key advisers in 2016 actually planned to win the race. Yet, somehow, they did.
Worse, they involved Russians, many of them linked to the Kremlin, in their bizarre get-rich-quick scheme that masqueraded as a presidential campaign. That was their fatal error, since Muscovite footprints guaranteed a degree of scrutiny that Team Trump and its perennially shady deals had evaded for decades. Now it's up to Team Mueller to unravel it all, as they are doing, one prosecution at a time, getting ever closer to people with the last name Trump.