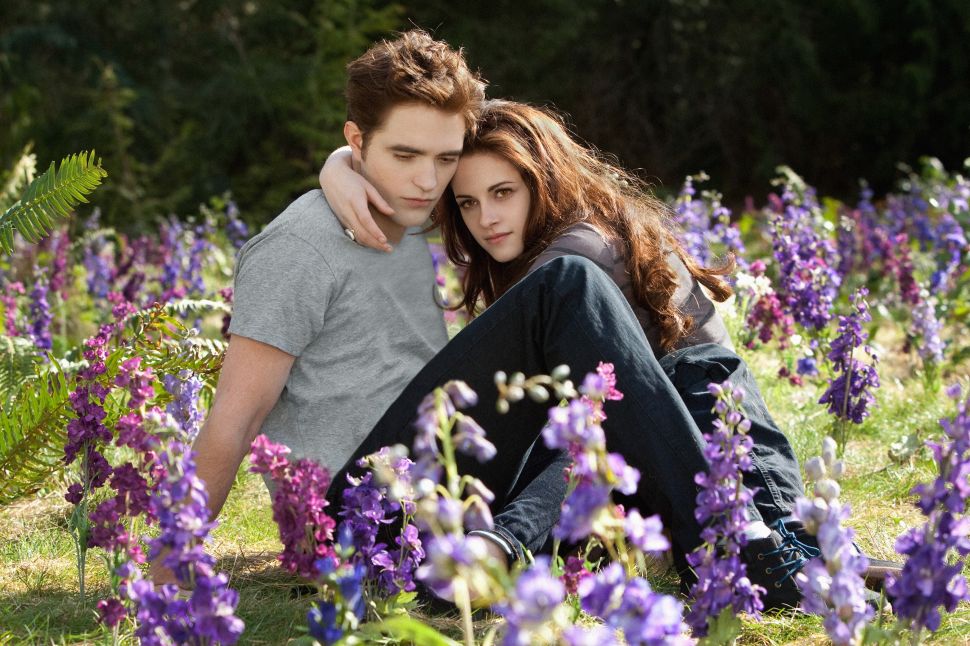 Bella Swan stands, under-dressed and shivering, in a lush green forest clearing. Mist roils through the branches of the moss-laden trees standing sentinel. Her breath diffuses in anxious puffs. She's waiting for something. She's waiting for him.
That ethereal scenario is the origin story of Twilight, which is now nearly as famous as the franchise itself. In 2003, author Stephenie Meyer dreamed the scene in such vivid detail that she immediately put pen to paper once she awoke. Her four-book teen vampire series—Twilight, New Moon, Eclipse and Breaking Dawn—went on to sell more than 250 million copies worldwide, triggering a full-blown phenomenon.
But even though director Catherine Hardwicke created a film version of Twilight that cost only $37 million to make, grossed $35.7 million in ticket sales on its opening day and went on to earn almost $400 million, the studio system, it seems, also insisted on waiting for their own "him."
Subscribe to Observer's Entertainment Newsletter
Harwicke's contract offered her right of first refusal on a potential sequel, but she ended up passing. "I didn't think it was right for me to do it," Hardwicke told Observer. "They wanted to make the other ones really quick, and I didn't think I'd be able to get the profound inspiration I needed to make them."
Instead, New Moon, Eclipse, and Breaking Dawn Parts 1 and 2 were all directed by men, including Breaking Bad alum David Slade and Dreamgirls director Bill Condon, who were all chosen for their experience navigating large-scale blockbusters. Their films were also rampaging financial successes, but they also lacked some of the magic of the original.
"I really liked [Meyer's] original impulse," Hardwicke said. "These crazy, madly-in-love characters in the middle of the woods. I think the epic intimacy is what I would have tried for as their world expanded."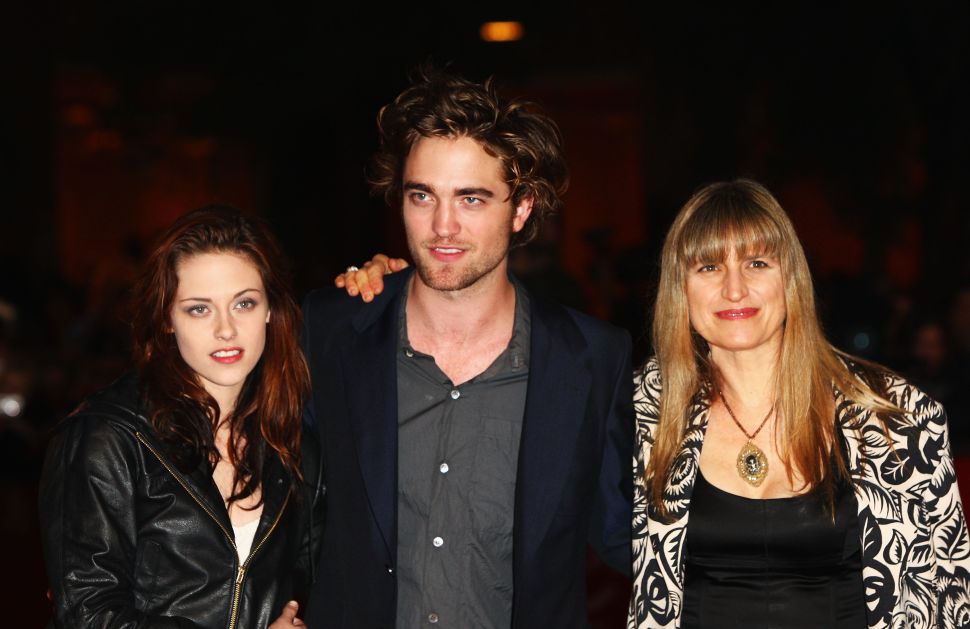 "At the time, when they told me she wouldn't direct again, I was shocked," said Meyer. "Twilight was amazing, and Catherine had created a version that I think appealed to teenagers perhaps even more than my own. My writing was always a little tongue-in-cheek, but she understood that when you're 16, everything seems that serious."
"It was difficult for me when they decided to move on from Catherine," Meyer added. "Although I love Chris Weitz and his work, I felt like she should have been the director for the other films. I realize even more now the significance of having a female director than I did then. I had no idea how small the female director population was. I just knew Twilight was a story that was written by a girl, about a girl and should be told by a girl."
Jackson Rathbone, who played Jasper Cullen in all five Twilight films, agrees. "With Catherine's production design background, coming out of [her 2003 film] Thirteen, she had this capability to tell the story of a sexual awakening in a young girl," he told Observer. "If a man had told that story, I don't think it would have caught on."
Part of Hardwicke's decision to pass on the sequel may have been driven by accusations of her being "difficult" and "irrational" by insiders at Summit Entertainment. "It's more challenging for women," she said. "All those little code words: That woman is emotional, that woman is difficult. If it's a guy, he's fighting for his story and he's passionate. At the time, I was like, how am I difficult? I didn't fire one person and I stayed on schedule."
Making Twilight, Hardwicke recalls, was a far cry from her earlier gigs as a production designer for movies directed by men. "People were punching people out. Directors brought hookers on the set and showed up drunk and stoned. None of that drama happened on my set. I didn't go over budget by one penny."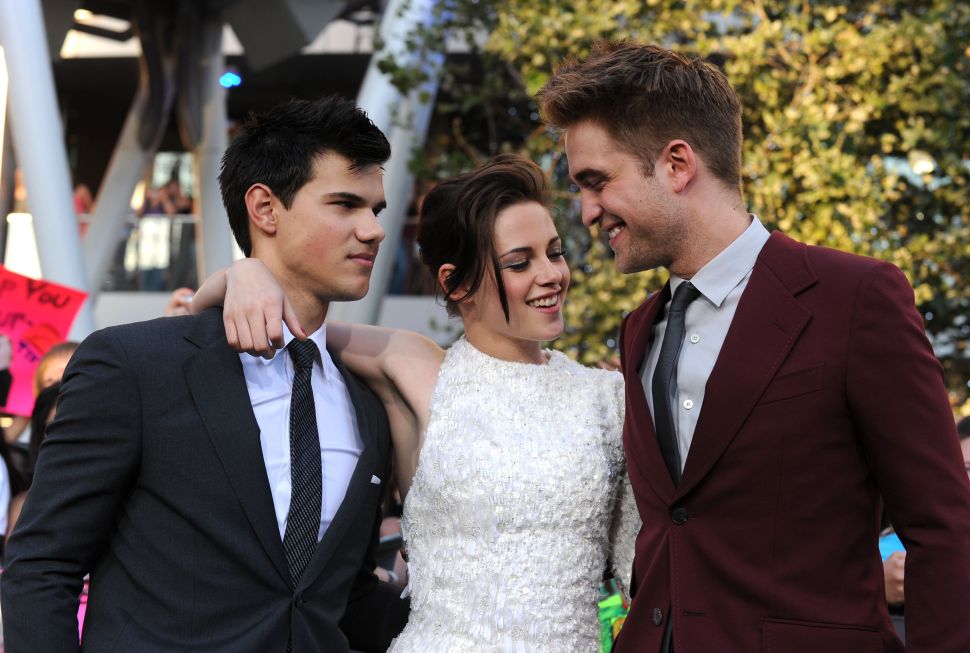 And yet despite creating the beloved first chapter in what evolved into a the 13th highest-grossing franchise of all time and launched Kristen Stewart, Robert Pattinson and others into superstardom, Hardwicke has had anything but an easy time building on what could have been a growing legacy.  
"It wasn't doors opening wide and people offering me a blank checkbook," Hardwicke said. "I wish that it had been easier, that I could have done my passion projects and then 10 more in a row. We always hit obstacles. But some people, mostly male directors, they find their groove and get the green light and keep moving."
"For thousands of years, coins have had men's faces on them," Hardwicke continued. "Men have been the rulers, and women are conditioned to think that men are the leaders. Everybody has to change at some point."
After becoming one of the most successful authors in the world, Meyer turned her attention to Fickle Fish Films, her production company with her business partner Meghan Hibbett.
"I've been in a lot of rooms, and we've tried to get some female stories made into film versions, because movies reach wider audiences," Meyer said. "The pushback on getting a female director! The pushback on trying to get some female leads! They find a guy who's done two commercials and they say, 'Go with him, he can get you more money."
"We are raised considering the male perspective our entire lives," she continued, "and men don't understand our stories because they can go their whole lives avoiding them."
But if women's stories remain chronically undervalued in Hollywood, Twilight's legacy as a film that pushed them forward lives on.  
To celebrate its 10-year anniversary, Rathbone and Hardwicke recently traveled together to Forks, Wash., the small town where the story is set, and other filming locations associated with the movie. There, they were greeted by several of the series' devoted disciples.
"When Catherine and I went for the anniversary, we went back to the Carver Cafe to talk about the scenes filmed there, and there were fans there doing their own Twilight tour," Rathbone said. "We went to take pictures with them, and there were two younger ladies in their 20s. One of the girls said, 'Fuck yeah, a girl director," and that was such an amazing thing. Seeing that these girls look up to her is so cool."