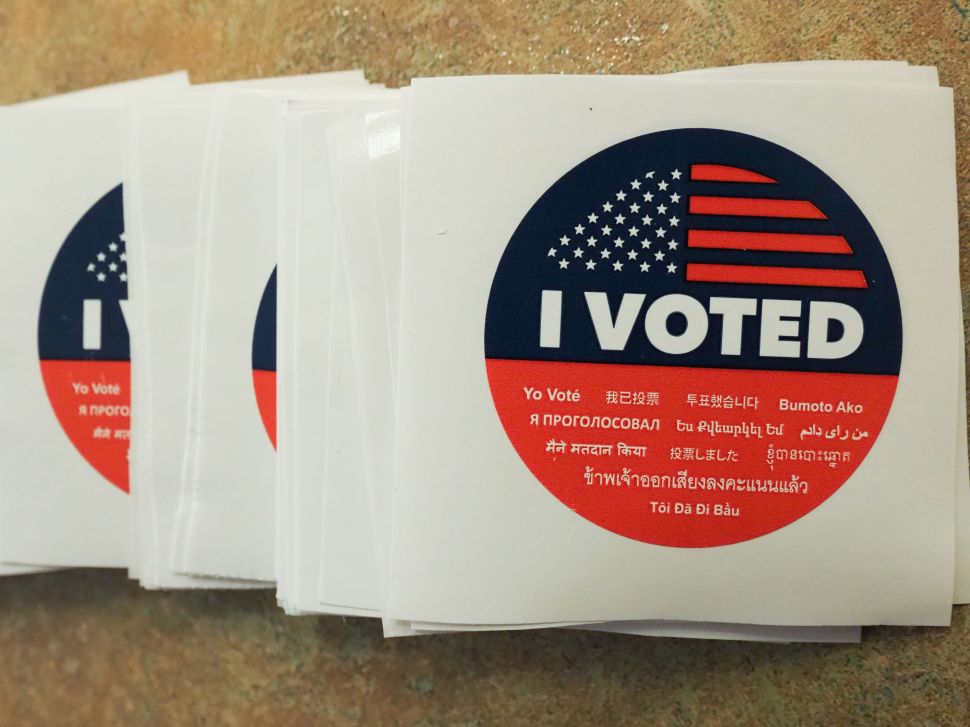 It's the final countdown for the 2018 midterm elections. In an effort to boost voter turnout, which has been notoriously low for midterms in the U.S., hundreds of companies, including Walmart, Gap, Lyft and PayPal, have offered to give employees paid time off on Tuesday to fulfill their civic duties.
The participation of these companies is expected to free up time for millions of Americans to cast ballots tomorrow. In addition, many businesses in the transportation and food and drink services will offer discounts and freebies tomorrow when you show an "I Voted" sticker.
Here is our roundup of the top 10 national and regional transportation and food deals on Election Day.
Subscribe to Observer's Business Newsletter
Uber
Uber will offer $10 off a single ride to and from polling locations tomorrow when you enter code "VOTE2018" on its app. Please note that the offer only applies to the most affordable Uber option available in your city, whether it's Express Pool, Pool or UberX.
Lyft
Lyft will offer 50 percent off or up to $5 off rides across the country. You can claim a promo code here by entering your zip code.
For some underserved communities, Lyft will offer free rides through partnerships with Voto Latino, local Urban League affiliates, the National Federation of the Blind, Faith in Action, League of Women Voters and the Student Vets of America.
Lime Bike
Enter code"LIME2VOTE18″ to get a free ride up to 30 minutes to and from polling locations on a Lime bike or electric scooter. The offer is available in more than 100 cities in the U.S.
Citi Bike
Enter code "BIKETOVOTE" on the Citi Bike app to claim a free Citi Bike Day Pass in New York City and Jersey City, N.J.
The same deal is available for other bike-sharing services under the Motivate network (which owns Citi Bike), including Divvy in Chicago, Bluebikes in Boston, Capital Bikeshare in Washington, D.C., Ford GoBike in San Francisco, Nice Ride Minnesota in Minneapolis, BIKETOWN in Portland and CoGo in Columbus, Ohio.
Skip Scooters
Skip will give a $5 credit for its electric scooters to riders who share a photo of their "I Voted" sticker on either Instagram or Twitter. In order for Skip to send you a promo code, you need to follow @SkipScooters on either platforms and tag your post with the hashtag #SkiptothePolls.
The $5 credit must be redeemed before December 6.
Potbelly Sandwich Shop
Potbelly will be giving away free cookies on Tuesday and Wednesday. No coupon code or "I Voted" sticker is needed. Just ask.
Shake Shack
Show an "I Voted" sticker at any Shake Shack location and get free fries with any purchase. You can also get the same deal with the code "IVOTED" if you're using Shake Shack's app.
Corner Bakery Cafe
You can receive a free coffee with any purchase and a "I Voted" sticker.
Starbucks
Unfortunately, the mega coffee chain isn't offering free coffee to voters, but you can get a free red, white and blue wristband at select locations to show your support for democracy.
New York City food deals (requiring showing an "I Voted" sticker):
Black Seed Bagels
Get a free hot Stumptown coffee with any purchase at the following locations from 7 a.m. to 5 p.m.:
Nolita at 170 Elizabeth St.
Battery Park City at Hudson Eats @ Brookfield Place, 200 Vesey St.
East Village at 176 First Ave.
NoMad at 1188 Broadway
Toby's Estate
Get a small drip coffee for $1 at any of its five locations in the city:
Long Island City at 26-25 Jackson Ave.
Brooklyn at 125 N. Sixth St.
Flatiron at 160 Fifth Ave.
West Village at 44 Charles St.
Urbanspace Vanderbilt Market at 81 E. 45th St.
Birch Coffee
Get a free coffee at any of its ten locations:
Flatiron at 27th Street and Madison Avenue
Upper West Side at 96th Street and Columbus Avenue
Murray Hill at 30th Street and Third Avenue
Financial District at 8 Spruce St.
West Village at 14th Street and Seventh Avenue
Upper East Side at 62nd Street and Lexington Avenue and 88th Street and Third Avenue
Long Island City at 23rd Street and 41st Avenue
SoHo at 71 W. Houston St.
Columbus Circle at 884 Ninth Ave.
Clinton Hall
Offering $3 shots, $5 Gigawatt IPAs and a Double Smashed burger for $10 from 11 a.m. to close at five locations. The restaurant will also be screening election results all night long.
Financial District at 90 Washington St.
Midtown at 16 W. 36th St.
Midtown East at 230 E. 51st St.
Williamsburg at 247 Metropolitan Ave.
Bronx at 601 E. 189th St.