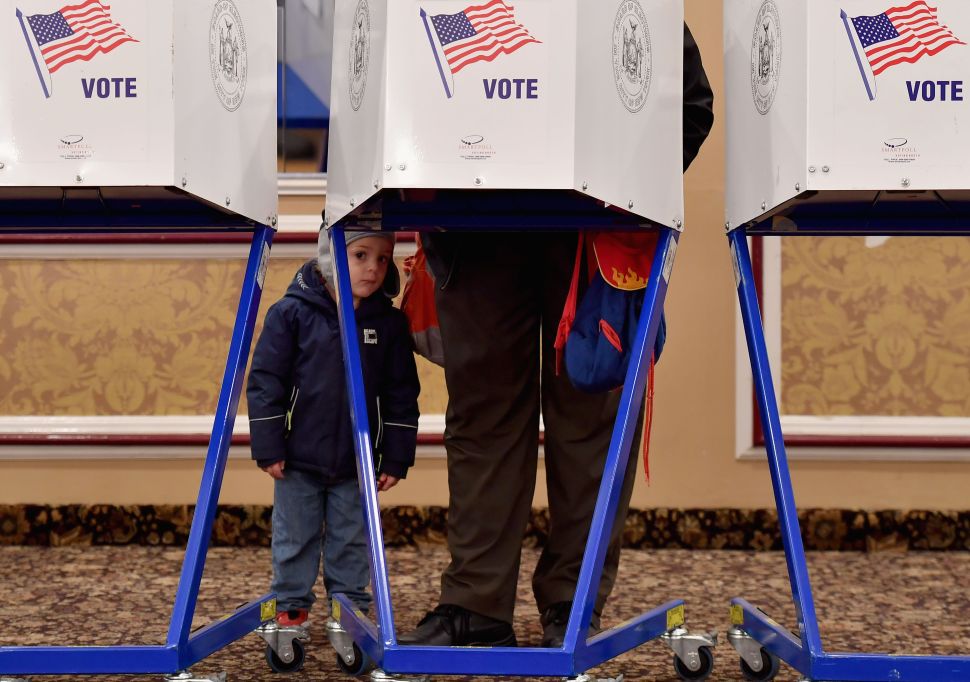 Across the United States on Tuesday, a record number of American voters battled pouring rain, malfunctioning machines and hours-long lines to cast their ballots for this year's midterm elections. Although high voter turnout is often associated with a thriving, healthy democracy, the 2018 midterms spotlighted a growing crisis for American elections: the system itself.
"New York's election system is a disgrace and the Democrats in charge should be ashamed," tweeted The Atlantic's Adam Serwer, while linking to an NBC story highlighting the chaos from Northeastern voting centers.
Some voters reported waiting in line for over two hours, prompting NYC Council speaker Cory Johnson to call for the resignation of the city's Board of Elections executive director.
"Wet ballots – caused by people waiting in the rain – are causing scanners to malfunction at my poll site (208 W 13). All scanners are down except one," wrote Johnson on Twitter. "This is a predictable problem we MUST fix and plan for next time!"
Southern states faired even worse. Like New York, North Carolina also suffered from soggy ballots, resulting in malfunctioning voter machines. In Georgia, waits lasted over four hours, with machines dying in districts with a heavy number of African-American constituents. Overseeing the election process was GOP gubernatorial candidate Brian Kemp, who even had problems casting his own ballot due to an invalid voter ID.
Many of the most powerful political players are accusing Kemp of facilitating a widespread campaign of voter suppression.
"4.5 hour waits in African American districts in Georgia. Good job Kemp," tweeted former Attorney General Eric Holder. "And this guy wants a promotion to Governor?"
For all the talk of Russian meddling, it appears America's antiquated electoral system is crumbling just fine on its own.