For most travelers making the lengthy trip to Australia, Perth isn't a top spot on the itinerary. The city is pretty isolated compared to the rest of the flashier locales Down Under—a flight there from Sydney is a touch over four hours. But the truth is, you'd be missing out if you didn't explore the under-sung capital of Western Australia.
Long viewed as an afterthought by the rest of Australia, Perth has reinvented itself over the past decade, pairing a flourishing food and nightlife scene with its already amazing beaches. Its myriad rooftop dining spots are made all the better by its year-round excellent weather, which also yields consistently strong avocado harvests (it's very peak Instagram). Tennis fans should also take note, as the Hopman Cup takes place each winter at the Perth Arena, which has boasted the likes of Roger Federer, who couldn't resist a selfie with a quokka last year. Perth is also a mere 30 minutes from the country's oldest wine region, so vino lovers rejoice.
Subscribe to Observer's Travel Newsletter
We can think of two reasons you should head to Perth now: First, it's still spring there, when the weather is nice but not too hot. And second, a cool new property from QT Hotel and Resorts has arrived to roll out the red carpet for you. The hospitality brand's other Australia locations have hosted the likes of Justin Bieber, Chris Hemsworth, Dita Von Teese and Richard Branson, and now we have QT Perth, its first hotel in the city. Here, everything you need to know about it.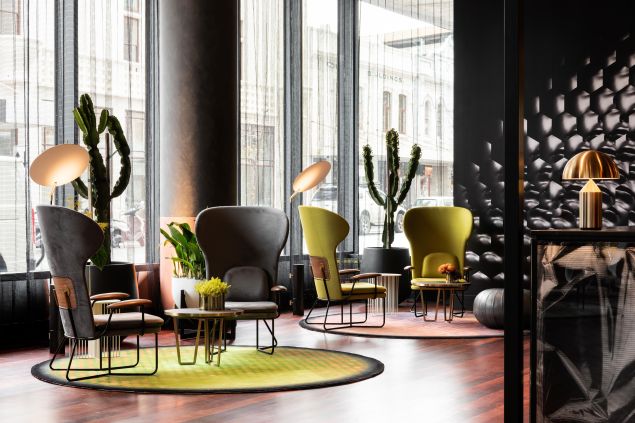 It's a big first for Perth. 
Known for its focus on art and design, the QT Hotels & Resorts group has opened hotels in Sydney, Port Douglas, Bondi, Melbourne and Queenstown, but QT Perth is its first in Western Australia. The brand unveiled the 18-story stay in September.
The decor screams "1980s opulence." 
Designer Nic Graham chose warm, inviting color palettes along with local materials like Australian timber for the hotel's public spaces like the lobby—think sculptural furniture, textured walls and plenty of cacti.
Meanwhile, Shelley Indyk designed its 184 rooms. In an effort to render them more luxurious than those found in other QT hotels, she took inspiration from the excess and extravagance of the clubbing and nightlife scene in 1980s Perth, combining velvet fabrics and brass accents with local materials like Jarrah timber, which she used for the floors.
The decor also nods to the area's history. The rooms' wallpaper features black cockatoos native to the region, the metal art by Patsy Payne acknowledges Perth's mining past, and the handmade ceramics were created by local craftspeople. The Malin + Goetz products and stone tubs are a bit more modern—but they're everything you need for the perfect bubble bath.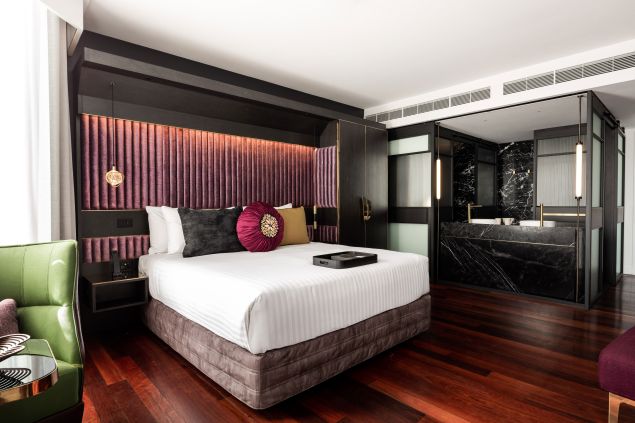 QT is very proud of its beds.
The QT Dream Bed is made from a special mattress system that includes a gel layer—intended to give a cooler, comfier night's sleep—and a pillow top situated above a floating platform base. If it ends up being what all your dreams are made of, you can buy your own for approximately $2,300. Or just book another night in the hotel, where rates range from around $230 to $530.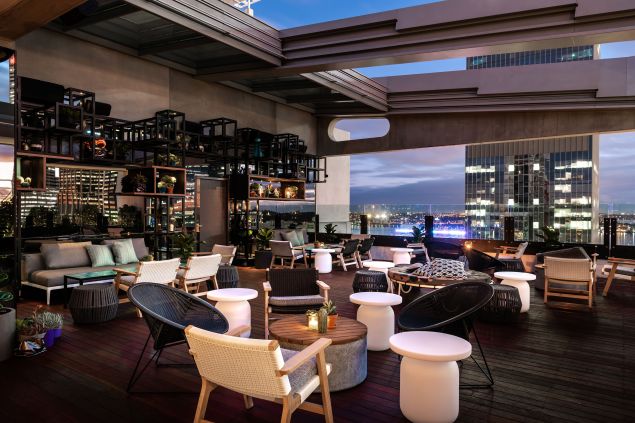 Its new rooftop bar has the most impressive view in Perth.
In addition to its main restaurant, Santini Grill, which infuses Italian-style cuisine with Western Australian influences, and the Santini Bar, which flaunts a list filled with Italian varietals, the hotel is also home to the highest rooftop bar in the city. As of October, the indoor-outdoor space Rooftop at QT is now open seven days a week, with a menu that will sate even the fussiest cocktail enthusiast. Drinks include the rum-based Concrete Jungle and the Moscow Cool (with fresh lime and lemon butter), and because sometimes plain Aperol just isn't enough, you can choose from four kinds of spritzes: the Bergamot Spritz, Pink Grapefruit & Yuzu Spritz, Sugar Snap Spritz and Strawberry & Plum Spritz.
Consider it the spot in Perth for anyone looking for a stiff drink and a killer view.