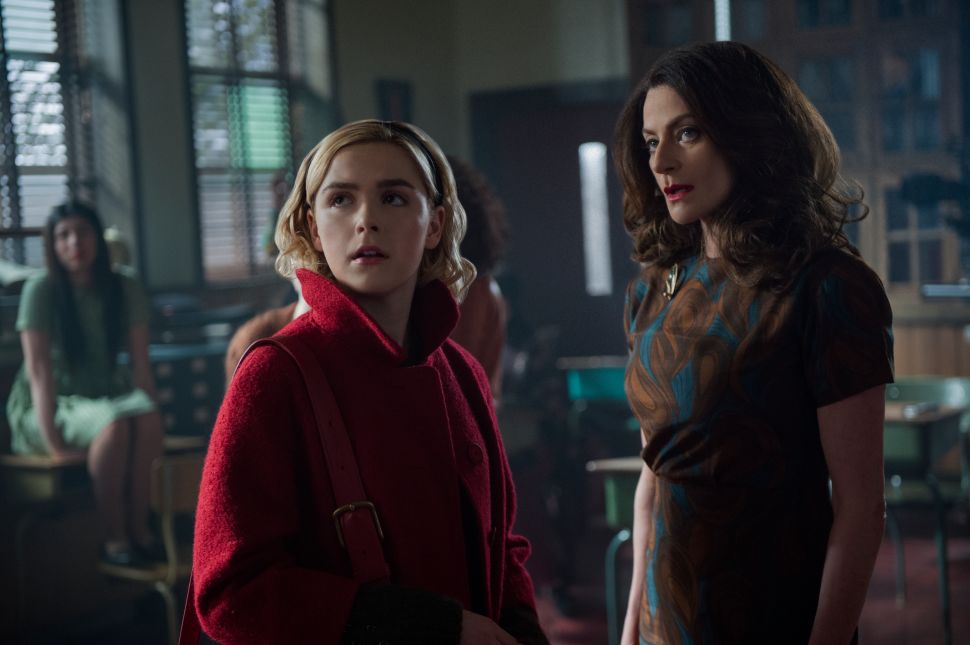 Netflix's Chilling Adventures of Sabrina may be faced with a $150 million lawsuit, but the rebooted tale has still been a welcome dose of Buffy-Lite. Netflix, of course, doesn't reveal its viewership data, but with its quick thrills, bloody murder and haunting magic, the witchy series, which stars Kiernan Shipka in the title role, has drawn widespread praise from fans and critics alike. So much so, in fact, that subscribers will be treated to a surprise Sabrina holiday special next month.
Creator and showrunner Roberto Aguirre-Sacasa took to Twitter for the big reveal, and after seeing the cast photo he posted, our immediate reaction was, Oh my god, Sabrina is getting married! Not so, however. She's just getting her party on.
Subscribe to Observer's Entertainment Newsletter
The special, titled "A Midwinter's Tale," arrives December 14—which is, unfortunately, the only concrete detail we know about the episode at this point. Still, this is exactly the type of non-standard fare Netflix should be embracing year-round.
We get it, a holiday special isn't exactly a novel concept in entertainment (cheers, Black Mirror and Sherlock). But given how unfettered Netflix is to traditional standards and how it likes to paint itself as a disrupter, the company should lean into more creative releases. Yes, a project like this relies heavily on the availability of talent and behind-the-scenes creatives, but Netflix shouldn't be afraid to continue breaking the mold when it comes to structure. "A Midwinter's Tale" will help maintain interest in the series between seasons, and the streaming platform can go even further.
Netflix should consider dropping surprise specials, TV movies and all sorts of unique offerings tied to its most popular properties while also mixing in the usual build-up. It spends roughly $2 billion on marketing annually, yet customers often complain that projects get lost in a sea of content, with some releases barely penetrating the pop culture conversation. Imagine how much more engaged subscribers might be if Netflix invested in, say, short online vignettes that delve into the creepy lab in Stranger Things or a quick back story for a side character in Daredevil. Its marketing can be as creative and attention-grabbing as its content,  and we're talking about more than just the surprise Super Bowl ad every now and then. These projects could help shows leave a greater impact, taking us beyond the one-weekend content dump that is forgotten when the next binge rolls around.
So while we eagerly await this special episode of Chilling Adventures of Sabrina, we also hope that it's the first of many upcoming surprises Netflix has to offer.