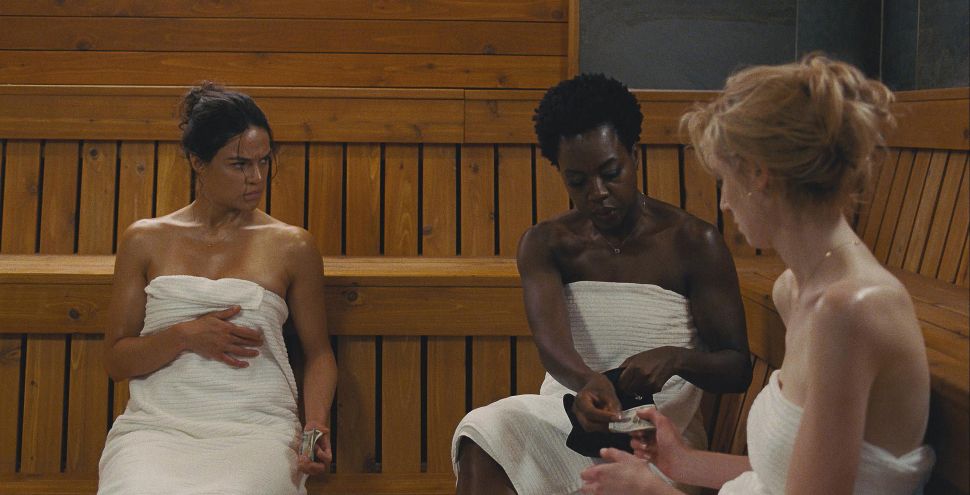 I wish I could have enjoyed Widows half as much as the critics who are salivating over it with rapturous praise, but Steve McQueen, Oscar-winning director of 12 Years a Slave, directs movies with a jackhammer. Turning his methodic violence with a camera from the brutality of slavery to a commercially driven feminist heist movie, he does not enhance the old Hollywood genre. He pulverizes it.
Based on a six-week British TV series from the 1980s, McQueen and screen writer Gillian Flynn (Gone Girl) unnecessarily switched the action from London to Chicago (to accommodate all the American accents, I guess), but the basic plot outline is still simple: three women left behind when their gangster husbands are killed in a botched robbery decide to band together to pay back the debts they owed. Veronica (Viola Davis) faces danger when she finds the notebook that details the gang's next job. Worse still, she discovers how her husband Rawlings (Liam Neeson), who provided her with a cushy condo and a life of luxury, managed to afford their lifestyle: he robbed people for enormous profits.
---

WIDOWS ★★
(2/4 stars)
Directed by: Steve McQueen
Written by: Gillian Flynn, Steve McQueen
Starring: Viola Davis, Michelle Rodriguez, Liam Neeson
Running time: 129 mins.

---
After the latest job with his gang ends with fatal results, a sadistic crime lord and wannabe politician named Jamal (Brian Tyree Henry) and his vicious brother Jatemme (Daniel Kaluuya), a killer henchman, invade her beautiful home demanding the money from the heist under penalty of death. Veronica bites the bullet, scoops up her beloved dog, and contacts the other widows who have spent their lives sleeping in the same beds with seasoned criminals, convincing them to construct a plan that will save their lives by doing the heist themselves. The plan and the strategies mapped out to make it work are so complicated that the movie loses its way in a fog of minutiae. The script is so crammed with tertiary characters and convoluted political plot detours that I, for one, lost my ability to concentrate very early on.
Subscribe to Observer's Entertainment Newsletter
Veronica and the other widows, Linda (Michelle Rodriguez) and Alice (Elizabeth Debicki), none of whom have ever met, are joined by a fourth comrade named Belle (Cynthia Erivo), a hairdresser who drives the getaway car. While they plot and plan in clandestine locations, describing in detail their problems with husbands, children and money, a parallel narrative forms about a crooked election involving a dying politician (Robert Duvall) and his larcenous son (Colin Farrell), who have been stealing the people of Chicago blind for decades, and Jamal, the same gangster who is threatening the widows. From here, the movie lunges in the direction of incoherence.
Ultimately, it's about female empowerment through crime, violence and murder that demonstrates how women characters can be just as mean-spirited and predictable as men. I never believed these grieving widows could ever form a workable alliance of lady gangsters. Other reviewers talk about the film's style and originality, but I found no evidence of either (unless you consider endless shots of reflections in mirrors and glass store windows "style"). Spinning themes of political, racial, sexual and class struggle with pulp-fiction violence, the goal is to make a thriller that is both an old-fashioned heist movie and a social commentary, but never completely satisfies as either.