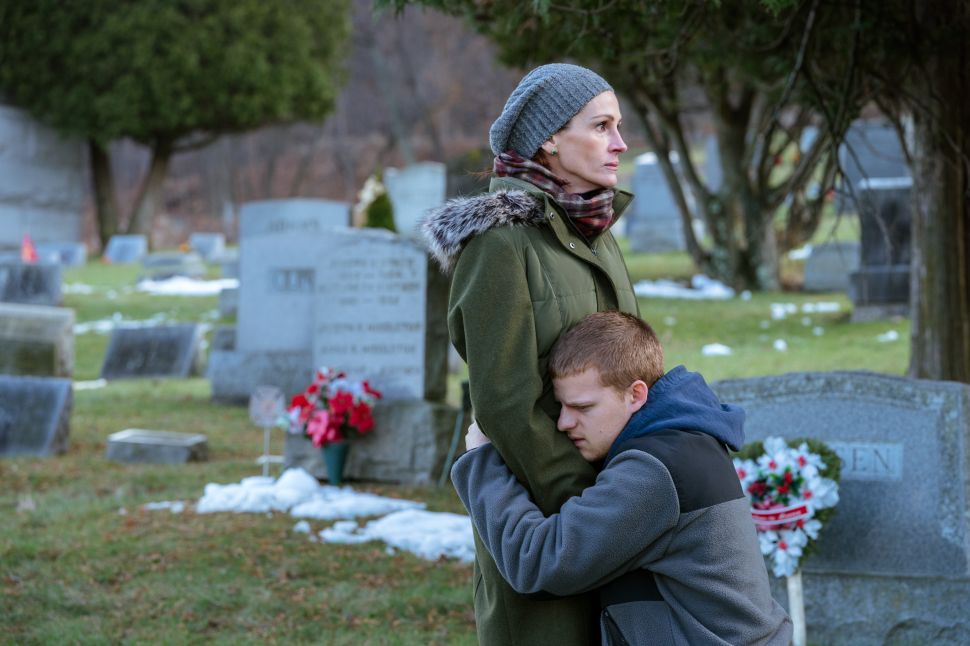 Another truthful, intelligently calibrated and fully committed performance by the remarkable Lucas Hedges following this year's previously acclaimed Boy Erased rewards the sensitive, pulsating and intimate family drama Ben Is Back. This time the director is Peter Hedges, so there is evidence of a special family bond onscreen and off. Hedges, who also wrote the vivid, realistic screenplay, is Lucas Hedges' father. They contribute solidly to each other's strongest values.
---

BEN IS BACK ★★★★
(4/4 stars)
Directed by: Peter Hedges
Written by: Peter Hedges
Starring: Julia Roberts, Lucas Hedges, Courtney B. Vance
Running time: 103 mins.

---
The multi-faceted young star plays Ben Burns, a troubled teen with a harrowing history of opiate addiction and a loving but cautious (through experience) mother Holly (Julia Roberts, in her best and most challenging performance since Erin Brockovich). Though she loves Ben unconditionally, Holly has a new life now, with a second husband and two kids. When Ben comes home from rehab, unannounced and earlier than expected on Christmas Eve, because he's lonely but confident in his progress, his mom and her new family are understandably apprehensive.
Subscribe to Observer's Entertainment Newsletter
Although Holly welcomes him with open arms, she still hides every drug in the medicine cabinet, while Ben's stepfather (Courtney B. Vance) agrees to a truce on the condition that Ben passes a drug-free test and sleeps supervised with his bedroom door open every minute of his holiday visit. Hooked on painkillers after a snowboarding accident and in trouble ever since, Ben has been clean for 77 days and wants a family Christmas more than anything. The movie is a chronicle of the next harrowing 24 hours in which a lot of ugly secrets come out of the past with life-threatening vengeance.
Everything moves sweetly and swiftly until one of Ben's old enemies seeks revenge for an old debt and kidnaps the beloved family dog. Against his better judgment, Ben sets out to find the family pet and is forced to lead his mom through what she thought was familiar community territory and into the depths of degradation, to the darker side of the town's underworld. The film explores the pain, terror and shame of what the drug scene does to decent people and how redemption is possible through love, patience and understanding. Ben is not sure he can ever return to happier times, but Holly will stop at nothing to save him.
The script wastes no valuable time on superfluous melodrama, yet the suspense is relentless, the pace exhilarating, the performances accurate and affecting. Ben Is Back doesn't sugar-coat the harsh reality of this family's struggle, but like the year's other astringent family drug drama Beautiful Boy, frames it with an abundance of life, love and hope.