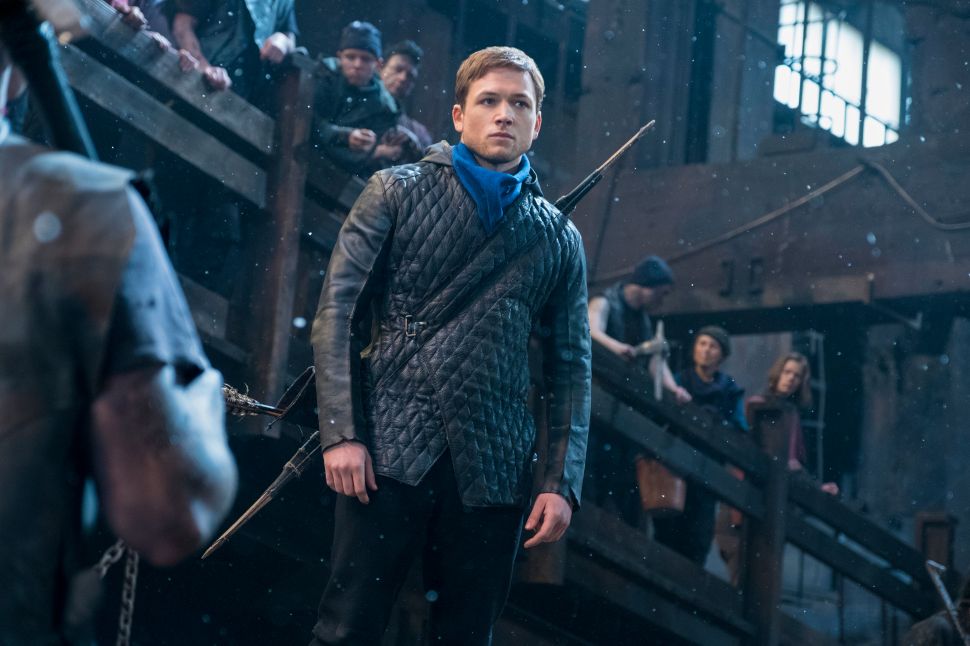 We apologize in advance for crushing any young, idealistic movie lover's dreams, but the biggest thing the film industry cares about is money—who has it, who's losing it and how best to make it.
Generally speaking, studios like to triple the production budgets of their tentpoles with earnings at the box office. So, for example, if the next Marvel blockbuster costs $200 million to produce, Marvel Studios will hope to rake in at least $600 million worldwide, preferably more. When you add in marketing costs—which often aren't included in the public budgets—for some of these major movies, the final price tag rises considerably (Justice League spent $150 million on promotion alone). You get the idea.
Subscribe to Observer's Entertainment Newsletter
The harsh reality of the business is that movies just aren't safe investments these days, which gives each big win and every crushing loss added importance. We've also taken a look at 2018's 10 top-grossing films (some of which might surprise you), but first, here are the biggest box office flops of the year.
Robin Hood stole the hearts of basically no one, making it this year's biggest bomb in the process

Studio: Lionsgate
Budget: $100 million
Worldwide Box Office: $48 million (as of this writing)
We predicted it would be a flop months out, and sure enough, Robin Hood became one of the worst bombs of the entire year when it opened in November. The film had a Friday-to-Sunday opening frame of just $9 million and could only conjure up $14 million over the five-day Thanksgiving weekend.
We don't root for any films to fail—we loves movies! But Robin Hood was about as far away from hitting the bull's-eye as any studio can get. It will be tough for the film to recoup its costs when all is said and done. At least Taron Egerton still has the Kingsman franchise. (But maybe Kingsman director Matthew Vaughn isn't the best choice for a Superman movie).
The Happytime Murders was dead on arrival

Studio: STX Entertainment
Budget: $40 million
Worldwide Box Office: $27.5 million
Melissa McCarthy is actually one of Hollywood's most reliably consistent box office draws, especially in the comedy genre where she's enjoyed seven openings with at least $20 million. But The Happytime Murders, in which people and sentient puppets coexist in the most unfunny way imaginable, missed the mark in a big way, losing tens of millions of dollars in the process.
At least she'll likely get an Oscar nomination this year to cushion the blow.
The Nutcracker and the Four Realms brought zero magic to the box office

Studio: Disney
Budget: $130 million
Worldwide Box Office Gross: $131 million (as of this writing)
We don't want to come across as smug and say we told you so, but…we are and we did. Disney surprisingly pops up quite often on this list, but thanks to the mind-numbing grosses of Black Panther ($1.3 billion) and Avengers: Infinity War ($2 billion), the studio can pretty much do whatever it wants and still come out on top financially in 2018.
The lesson here: Not all well-known properties can be spun into blockbusters, especially set around the Christmas holiday. Home Alone cost all of $18 million to make, so bring it down a couple of notches, Disney.
Audiences wrinkled their noses at A Wrinkle in Time, leaving Disney with a rumored $100 million-plus bill

Studio: Disney
Budget: $100 million to $130 million
Worldwide Box Office: $132.6 million
On paper, this had all the makings of a mammoth hit: beloved source material, a market-leading studio, a buzzy director (Ava DuVernay), Oprah. So what the hell happened? Mixed-to-negative reviews sank a Wrinkle in Time, which didn't cross $100 million domestic until its 16th week (!) in theaters, while overseas audiences ignored it like a wadded-up pile of laundry in the corner of a bedroom. It is estimated that Disney lost between $86 million and $186 million on A Wrinkle in Time, which likely cost upwards of $150 million when you factor in marketing.
That said, how dare the planet disrespect Oprah like this.
Solo: A Star Wars Story bombed so badly, it forced Lucasfilm to do a one-eighty

Studio: Disney
Budget: $250 million
Worldwide Box Office: $393 million
While Solo's budget is listed at $250 million, the truth is closer to $275 million to $300 million thanks to costly, excessive and inconvenient reshoots. The result: the lowest-grossing live-action Star Wars film in history. By far. The film lost Disney more than $50 million, which seems like a conservative estimate, and halted all work on further big-screen Star Wars anthology spin-off movies (just as our favorite idea, Kenobi, was getting off the ground, unfortunately).
Sorry, Lucasfilm, but that's what you get when you fire beloved filmmakers Phil Lord and Chris Miller with just six weeks of production left.
The Hurricane Heist was a category five disaster
Studio: Entertainment Studios
Budget: $35 million
Worldwide Box Office: $6 million
Full disclosure: The Hurricane Heist is actually a pretty fun watch…when you're drunk. Hey, that still counts for something! But if it's the perfect complement to a Thirsty Thursdays post-happy-hour comedown, it didn't put any money back into its studio's pocket.
Death Wish left audiences with exactly that
Studio: MGM
Budget: $30 million
Worldwide Box Office: $34 million
Bruce Willis hasn't been in a hit movie since 2013's G.I. Joe: Retaliation, in which he played a bit part, and he hasn't been in a good movie since 2012's Looper. But, yeah, sure, let's put him in another Die Hard that's one part sequel, one part prequel. That makes sense.
Early Man just felt, well, prehistoric
Studio: Lionsgate
Budget: $50 million
Worldwide Box Office: $54 million
Stop-motion animation isn't as big a draw these days, partly because it isn't the early 1900s and no one is dying of tuberculosis. Aside from clever, more modern takes on the genre from master filmmakers like Wes Anderson (see: this year's Isle of Dogs), general audiences don't much care for the art form. Early Man was lucky to match its production budget.
The Darkest Minds should have been left in the dark
Studio: 20th Century Fox
Budget: $34 million
Worldwide Box Office: $41 million
Congratulations, Fox. You've officially killed the young-adult dystopia genre. We're not being sarcastic in our praise—if we had to sit through another Divergent movie, we were going to gouge our eyes out. Now that most of Hollywood is realizing The Hunger Games and Maze Runner fads are over, here's hoping this lane of storytelling is closed off for good.
Tomb Raider extended the video-game-turned-movie curse, bombing in the U.S. with a paltry $57 million

Studio: Warner Bros.
Budget: $94 million
Worldwide Box Office: $237.8 million
Hollywood is a fickle business, especially when it comes to Oscar winners making the leap to franchise blockbusters. Marvel scooped Brie Larson up after her win for Room and now Captain Marvel looks to be one of the biggest films in what promises to be an explosively franchise-friendly 2019. Before that, WB snagged Alicia Vikander after her Oscar win for The Danish Girl to revive Angelina Jolie's Tomb Raider franchise—but the attempt was a whiff.
While the film performed admirably overseas ($216 million), it misfired badly here at home ($57 million). Considering studios generally split ticket sales with domestic exhibitors 50/50, while earning just 35 percent overseas, Tomb Raider failed to make good on its promise.
Pacific Rim: Uprising should have been left at the bottom of the ocean—where it might have sold more tickets

Studio: Legendary
Budget: $150 million
Worldwide Box Office: $290.8 million
Oof, poor John Boyega. The Star Wars actor was hoping for the sweet smell of success with another franchise—in his first producing credit no less—but ended up with a stinky flop. Uprising was made largely because Guillermo del Toro's 2013 original climbed to $411 million worldwide with a healthy $112 million in China. But at least that film crossed $100 million domestically as well. Uprising malfunctioned right out of the gate following terrible word of mouth, with a $28 million opening en route to less than $60 million stateside. While it still took in a chunk of change in the increasingly crucial Middle Kingdom ($99.5 million), it wasn't enough to turn Uprising into a hit. Audiences need a tad more than just giant robots fighting giant monsters for two hours.
Skyscraper failed to reach the usual heights of a Dwayne Johnson flick with a disappointing $68 million U.S. total

Studio: Universal
Budget: $129 million
Worldwide Box Office: $304.1 million
Skyscraper was saved by Dwayne "The Rock" Johnson's universal appeal as it pulled in a solid $236 million in foreign grosses. Never doubt The Rock, who is the highest-earning actor in history and one of the last pure box office movie stars Hollywood has. But domestically, Skyscraper came crashing down with a rough $68 million. It's hard to deliver a four-quadrant Die Hard homage in an increasingly specialized summer blockbuster movie season. But The Rock is going to be just fine—he has a handful of flashy high-paying gigs on the horizon (which will hopefully translate to more tequila bottles for yours truly).