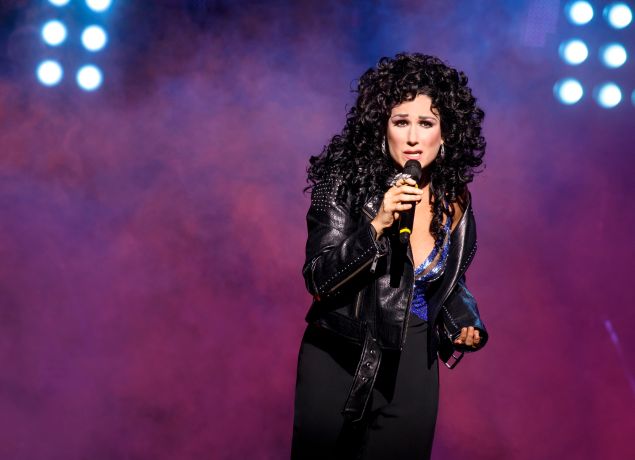 To hear her tell it, Cher struggled most of her life to be taken seriously. When her name flashed in the trailer for 1983's Silkwood, audiences in the theater apparently laughed. She recalls the jeers. I'm not sure whether The Cher Show corrects this perception, or if it's part of the problem. While this fleshly, bespangled jukebox musical seems to worship its purple-voiced pop icon, it dances stubbornly on the surface of her phenomenon, rendering her a wry, camp cipher.
Ostensibly filtered through Cher's POV (three actresses play her as the condescendingly named Babe, Lady and Star), the show ties nearly every biographical twist to male intervention: Sonny Bono, Robert Altman, a younger boyfriend. Emily Skinner provides some relief as Cher's flinty mother, but her backstory is barely scratched. "My mom said to me, 'You know, sweetheart, you should settle down and marry a rich man,'" Cher has quipped (and paraphrases onstage). "I said, 'Mom, I am a rich man.'" It's a neat line, but I don't think the creative team fully absorbed its implications. Cher is a massively successful entertainer who artfully blurred gender and racial lines, and whose unique (sometimes autotuned) voice resonated through decades of musical trends. But in action, The Cher Show feels like one giant Bechdel fail.
Subscribe to Observer's Arts Newsletter
Although I don't tote up the gender balance in every review, this one's male dominance (as with Pretty Woman) just seems misjudged. Book writer Rick Elice, who worked magic on Jersey Boys, has a flair for glib, brisk dialogue and narration, but his scenes are annoyingly wooden and sketchy. "It's 1950, kid! You can grow up to be whoever you want!" the 4-year-old Cherilyn Sarkisian is told by her alcoholic (and apparently date-obsessed) stepfather. "This isn't a Dickens novel, it's the 1970s!" Lucille Ball helpfully informs a depressed adult Cher.
Admittedly, it's not easy to cram 50-plus years of performance and personal details into a two-and-a-half-hour spectacle with a couple of dozen songs to cover, but does it have to feel so much like a Wikipedia entry with karaoke breaks? Director Jason Moore (Shrek) plays traffic cop well enough, but Daryl Waters' synthetic orchestrations and arrangements don't differentiate the songs' periods or styles very much. When the material is not rote, it's tacky, with same-ish chorus numbers (choreographed by Christopher Gattelli) stuck before blazing banks of LED walls that twirl to diminishing returns. Meanwhile, lighting designer Kevin Adams blasts us with kliegs you'd see in a football stadium or concert, no doubt enjoying kickbacks from a leading provider of LASIK.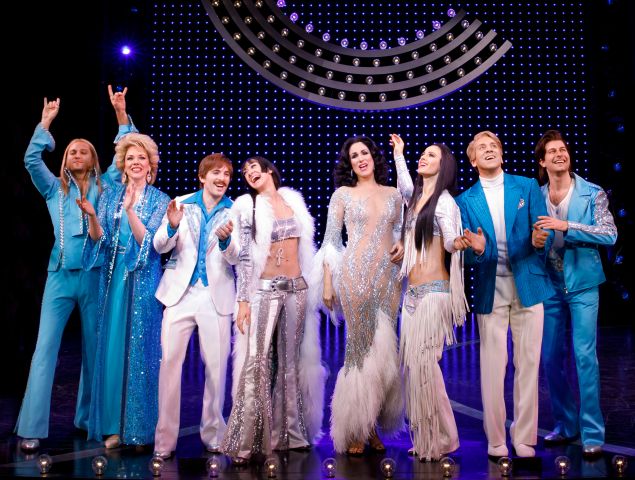 But let's pause a moment and praise the good in The Cher Show. Its three leading ladies are working their bethonged butts off. As the mature Cher, Stephanie J. Block crafts the most winking, recognizable impersonation. She belts her way through snatches of "If I Could Turn Back Time" and "Believe" with humor and passion, and makes a case for the cheesy '70s ballad "Gypsies, Tramps and Thieves." Sinewy and sleek Teal Wicks navigates the middle portion of Cher's journey, her partnership with Bono and its messy aftermath. Representing the early years is iron-lunged Micaela Diamond, a big voice in a petite package.
All three rock Bob Mackie's ridiculous, salacious frocks and finesse the script's lurching motion from sincerity to silliness. The costumes are a hoot: miles of midriff and retro eye candy that would be ugly if it weren't hilarious. Jarrod Spector makes for an appropriately reedy-voiced and height-challenged Bono, and Michael Berresse adds dry wit as Mackie and other male antagonists/inspirations for Cher.
If you know your biographical jukebox musicals—Jersey Boys, Beautiful or Summer—nothing much will surprise you here: The laundry list of career highs and lows are interspersed with an overwrought underdog narrative and the inevitable comeback, set to the greatest hits in standalone or medley form. The Cher Show is not the worst of the species, but it's shallow and jokey to a fault.
It may be wildly unrealistic, given the millions of dollars riding on this cash grab, but one can fantasize about a version that seriously delves into the lanky contralto's personality, talent and enduring appeal. She could be played not only by a woman made up to resemble her, but people of different genders (male, trans and otherwise) and ethnicities. The theatrical presentation could be more expressionistic, less mock-Vegas schmaltz. The book, by a playwright such as Julia Jordan, Theresa Rebeck or Lynn Nottage, could be a truly feminist investigation of her life and times.
Instead, we get sequins and non sequiturs, skipping inconsequentially across the seasons of her life in a parade of showbiz stereotypes that makes Lady Gaga's transformation in A Star Is Born seem complex in comparison. The finale, an explosion of underboob, faux 'fros and mirror-studded gowns that look like deconstructed disco balls, is meant to be celebratory but feels just as mechanically trashy and forced as everything that came before it. The show lacks heart, and heart is what Cher has in abundance. That's how she survived—which I doubt The Cher Show will be able to do past six months.