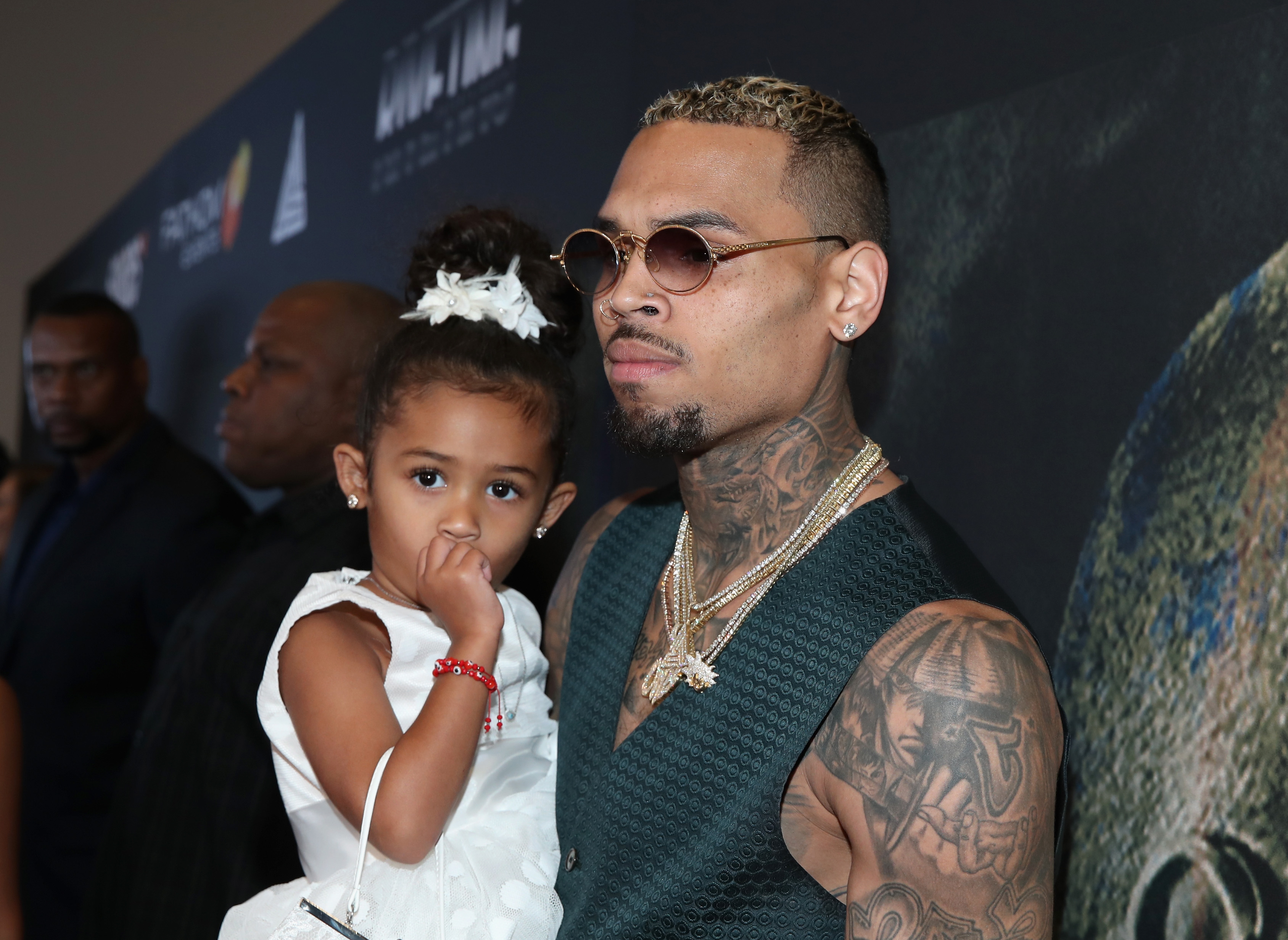 You can't always pet what you want. In February of 2019, Chris Brown will be arraigned in court in L.A. after being charged by the Los Angeles City Attorney on two counts of possessing a restricted species without a permit.
Almost precisely one year ago, Brown gave his daughter, Royalty, a baby Capuchin monkey named Fiji as a Christmas present. His social media posts about the monkey subsequently caught the attention of the authorities, due to the fact that the rapper and singer hadn't obtained the proper documentation to own an exotic critter.
The California Department of Fish and Wildlife conducted an investigation and were planning to storm Brown's home when they discovered that his papers weren't in order, but Brown elected to surrender Fiji voluntarily. Like the most unruly of domesticated animals, it appears that Brown's past decisions are coming back to bite him.
Brown is far from the only celebrity to succumb to the lure of obtaining a pet that falls outside the realm of normalcy. Leonardo DiCaprio is the proud keeper of a $400 African spurred tortoise that can reportedly live to be over 80 years old, and Kristen Stewart grew up surrounded by semi-tame "wolf hybrids" that lived on her family's Santa Monica ranch property (this explains so much).
But the restrictions surrounding the acquisition of monkeys are particularly stringent. And in light of this, we have to wonder: Why do famous people keep buying these admittedly adorable mammals without taking all the proper steps first, when the consequences can be so glaringly dire?
Back in 2013, perhaps the world's most famous capuchin monkey owner had his happiness cut brutally short. International pop sensation Justin Bieber was minding his own business in Germany, having just touched down in Munich for a stop on his tour, when his beloved monkey OG Mally was confiscated by the government. Bieber was given the chance to reclaim Mally, but he never did.
"I had the papers," Bieber told Caity Weaver at GQ, but even with the proper documentation he was still in trouble. "In Germany, that monkey's endangered or something…but I had the papers. I even had it written out that he was a circus monkey and he could travel and all that shit. I had all the right papers. Things get twisted."
Michael Jackson cared for a beloved pet chimpanzee, and Ross in Friends famously adopted a frisky capuchin named Marcel. Capuchin monkeys were highly desirable companions among noblemen and women during the seventeenth century, many of whom found the creatures from the Amazon basin to be delights equal to their innumerable other fine items, and had the monkeys included in portraits painted by the likes of Van Eyck.
As Chris Brown prepares for his court date, it's likely that he's asking himself why he bothered to get Fiji the capuchin in the first place, given the fact that the cute little monkey landed him in so much hot water. Justin Bieber has the answer (to this and likely many other difficult questions posed by the universe).
"People are always like, 'Why did you get a monkey?'" Bieber told GQ. "If you could get a monkey, well, you would get a fucking monkey, too! Monkeys are awesome." There you have it.