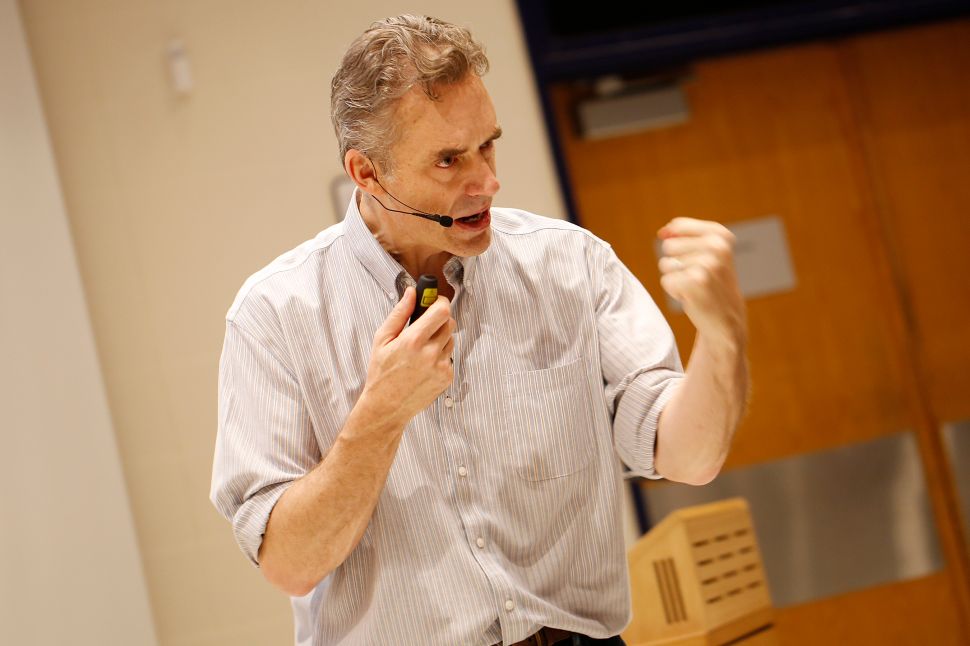 Jordan Peterson, once considered the crown prince of conservative intellectualism, has seen his capital diminish in recent months. After tweeting in October that Brett Kavanaugh should step down if confirmed to the Supreme Court, many of the Canadian academic's fans turned against him—themselves millennial Trumpists in support of the controversial nominee.
Subscribe to Observer's Politics Newsletter
"Jordan Peterson is a coward," wrote online agitator Mike Cernovich in a since-deleted tweet from earlier this month.
Having amassed millions of followers for his critiques on modern feminism (The New York Times dubbed him "Custodian of the Patriarchy"), the Kavanaugh jab felt like betrayal to a male fanbase deeply opposed to the Silence Breaker's Movement. Although Peterson clarified his remarks in a video and blog post, saying that Kavanuagh's votes were likely to incite "a tremendous amount of social upheaval," the sting is still widely felt throughout MAGA-Land.
"Peterson lost a lot of clout during the whole Kavanaugh debacle," former Gateway Pundit conspiracy theorist Lucian Wintrich told Observer. "I think he's trying to play to the middle, or to the neo-cons, or just lost track of why he gained popularity in the first place."
"Not a fan," added FBI chew toy Jacob Wohl. "I don't think he's very interesting."
In recent days, Cernovich seems to have come back around to the academic—calling Peterson "a socially net good" for conservatism in an interview with Observer. But he also noted that Peterson was "pivoting to a much more centrist position" and "has had a much more orchestrated performance since he signed with CAA" talent agency earlier this year.
"I think some people like me are trying to push him in the right direction. I mildly got on Jordan's case a little bit," said Cernovich. "I think it's natural infighting that's common."
Having just headlined Turning Point USA's Student Action Summit—a political bacchanalia for college Trump supporters—Peterson still enjoys mainstream recognition in the MAGA movement. And a new media venture he is helming alongside libertarian commentator Dave Rubin might also help the academic reconnect with his fans.
"I've been working on a system for months to allow authors and other people who engage publicly on intellectual issues to interact more effectively with their readers, viewers and listeners," Peterson announced in a YouTube video last week, responding to Patreon's ban of controversial far-right figure Carl Benjamin for "racial and homophobic slurs." "We are going to try to set this system up on a subscriber model that is analogous to Patreon… We have a number of people who are interested in moving their subscription over."
But Peterson's independent platform is already mired in controversy. Benjamin was barred from Patreon for using the N-word in a YouTube video, raising questions over what type of content Peterson is courting for his site.
"They are coming from a position that asserts social media platforms and content creation platforms should not be in a position to deny services based on political views, no matter how extreme they may be," Jared Holt, a research analyst at Right Wing Watch, told Observer. "From what I can tell, the platform they're seeking to create would not draw lines in the same way like services like Patreon do, where they have explicit bans on extremist content and want nothing to do with it on their platform."
Courting too much of the fringes may turn off more of Peterson's supporters, while too much oversight risks censorship accusations from free speech absolutists. Peterson did not respond to Observer's interview request.
"I don't imagine this project failing right off the bat," continued Holt. "But I do expect it will draw some criticism among more moderate Peterson fans who may be upset that this group appears to be in solidarity not just with Carl Benjamin, but also in some sort of solidarity with these extreme figures like [white nationalist] Faith Goldy."
"Fundamentally everyone is going to run into the Richard Spencer problem. There are legitimately toxic people," said Cernovich. "It's a hard question."