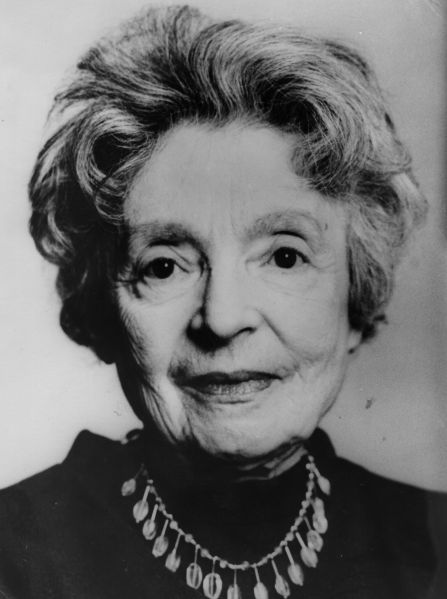 Today's Google Doodle honors the 127th birthday of German-born Jewish poet Nelly Sachs, whose life and work were profoundly altered by the cataclysmic damage inflicted by the Holocaust.
"I represent the tragedy of the Jewish people," she said upon winning the Nobel Prize for Literature in 1966. Sachs, who was also a playwright, referred to the metaphors in her work as "wounds," but she posited that human beings were capable of renewal even in the face of annihilation.
Subscribe to Observer's Entertainment Newsletter
Sachs, who was born into a wealthy family in Berlin and grew up quite sheltered, fled her native country for Sweden in 1940 with the aid of novelist Selma Lagerlof when she and her mother learned that they were being sent to a forced-labour camp.
The poet's ability to express herself through writing carried her through bouts of mental illness and terrifying ordeals with the Nazis. Sachs and her mother's Sweden apartment was once invaded by the Gestapo, who subjected the two women to a terrifying interrogation that frightened Sachs so much she briefly lost the ability to speak.
Her voice, then, was an inspired, reverberating rebuke to those who would silence her. Sachs dealt in subject matter that plumbed the depths of her and her community's despair, but her language was deeply influenced by German Romanticism; her verse approached the ecstatic. Through her pain, Sachs glimpsed new worlds.
In honor of her legacy, we look back at three of Sachs' greatest poems, all of which have stood the test of time and still resonate today.
The first, "O The Chimneys," is her most famous work, and also the name of Sachs's collection of poetry and prose released by Farrar, Straus & Giroux in 1967. It finds Sachs lamenting the genocide of her people, but also the disappearance of any form of true shelter. The Jews, ripped from their homes, were forced to reside in "planned dwellings of death" from which they could never escape.
O Die Schornsteine (O the Chimneys)

O the chimneys
On the carefully planned dwellings of death
When Israel's body rose dissolved in smoke
Through the air –
To be welcomed by a chimney sweep star
Turned black
Or was it a ray of the sun?
O the chimneys!
Paths of freedom for the dust of Jeremiah and Job –
Who dreamed you up and built stone upon stone
The path of smoke for their flight?
O dwellings of death
Set out so enticingly
For the host of the house, who used to be the guest –
O you fingers
Laying the stone of the threshold
Like a knife between life and death –
O you chimneys
O you fingers
And Israel's body dissolves in smoke through the air!
Sachs, who herself was spared the fate of being gassed and incinerated by Nazis, spent the rest of her life wondering what her unlucky family members and fellow countrymen had experienced. As an artist, she felt that articulating their final moments was her burden to bear. This mission forms the core of "If Only I Knew," which also was published in the collection O the Chimneys.
Wenn ich nur wüßte (If Only I Knew) (translated by Rebekah Wilson)

If only I knew
what the last thing you saw was.
Was it a stone, that had drunk in
countless last looks, until, in blindness,
they fell on the blind?

Or was it earth,
enough to fill a shoe,
and already black
from so many partings
and causing so much death?

Or was it your final path,
bringing you farewells from all the paths
you had ever walked?

A puddle, a reflection in metal,
perhaps your enemy's buckle,
or some other small interpreter
of heaven?

Or did this earth,
which lets no one depart from here unloved,
send you a bird omen through the air,
reminding your soul that it flinched
in its pain-scorched body?
Sachs, who died in 1970, wrote the following poem in 1968, and in the language you can discern the ways she repeated herself purposefully throughout her career. The reappearing star imagery that twinkles through her universe of smoke, brick and darkness suggests that her overarching thesis was one of hope.
Wenn der Tag leer wird (When the Day Empties Itself)

When the day empties itself
in the twilight,
when the imageless time begins,
the lonely voices join together–
the animals are nothing other than the hunting
or hunted–
the flowers no more than fragrance–
when everything becomes nameless as in the beginning–
you go under the catacombs of Time,
which open for those who are near the end–
there where the heart buds grow–
into the dark inwardliness
you sink downward–
already past death
which is only a windy passageway–
and freezing from going out
you open your eyes
where a new star
has already left its reflection–
Amidst a resurgence of emboldened neo-Nazi groups and white supremacist sentiment in America, Sachs's writing feels especially relevant today not only because it serves as a reminder of the past, but because it proposes radical routes to freedom. The might of institutionalized, professionally executed hatred could not take from Sachs what was hers. Let her life be a lesson to all of us.