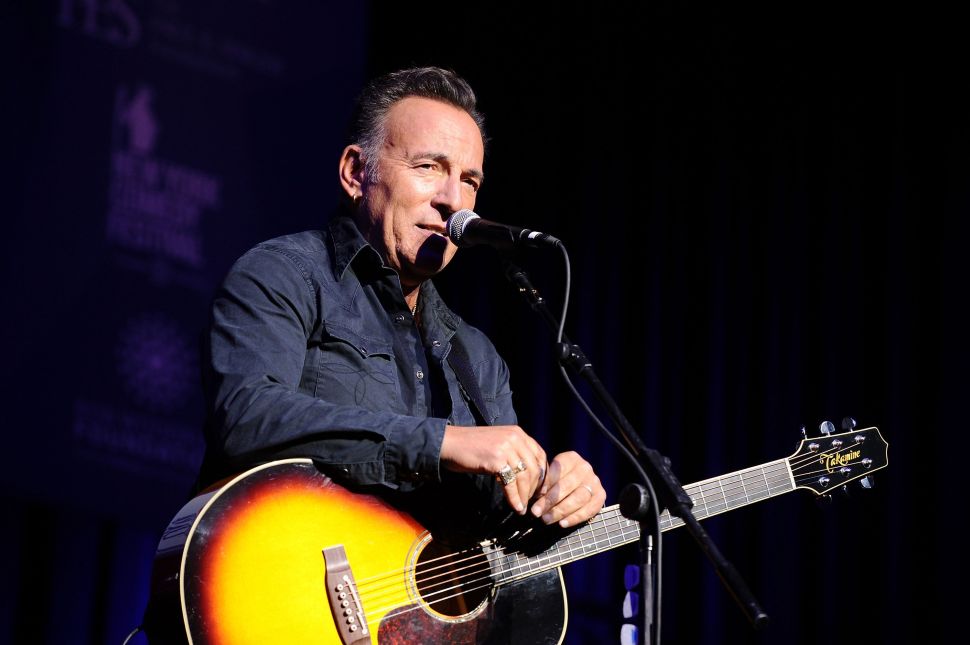 In a recent interview with The Sunday Times of London, Bruce Springsteen, who well known for his liberal politics and his willingness to discuss them, said he doesn't think the Democrats yet have a candidate who can connect with voters like President Donald Trump can.
"I don't see anyone out there at the moment…the man who can beat Trump or the woman who can beat Trump," the Boss told the newspaper.
In the crowded Democratic field, he continued, no one yet has shown they can connect with the voters who supported Trump in 2016.
In another interview, this time with Esquire, Springsteen said, "I do believe we'll survive Trump. But I don't know if I see a unifying figure on the horizon. That worries me. Because the partisanship and the country being split down the middle is something that's gravely dangerous."
And while Springsteen seems resigned to a Trump White House through 2024, he makes it clear he's no admirer of the president.
"[He] has no interest in uniting the country, really, and actually has an interest in doing the opposite and dividing us, which he does on an almost daily basis," he told Esquire. "So that's simply a crime against humanity, as far as I'm concerned. It's an awful, awful message to send out into the world if you're in that job and in that position."
Quote of the Day: "I have no idea where that comes from," — Gov. Phil Murphy, claiming he wasn't aware of reports that his senior aides were trying to discourage a legislative investigation into the administration's response to sexual assault allegations against a top staff member.
With Affordable Care Act Enrollment Slow, Murphy Urges Residents to Sign Up for Coverage
The deadline to register for 2019 coverage under the ACA is December 15.
Politico Read more
Five Kids Were Dead, Yet Nobody Told N.J. Health Commissioner for Nearly 2 Weeks
Five children had died and 17 others had been infected by the time state Health Commissioner Shereef Elnahal learned in October about the viral outbreak at the Wanaque Center for Nursing and Rehabilitation in Haskell.
NJ.com Read more
Phil Murphy Says He Had 'No Idea' Aides Reportedly Tried to Restrict Hiring Investigation
As lawmakers prepare to open an investigation into executive branch hiring practices spurred by a sexual assault allegation, Gov. Phil Murphy is reaffirming his support of the inquiry and pleading ignorance of a report that senior aides sought to "restrict" or even "skip" it.
The Record Read more
Six-Figure Mayors: At Least 43 N.J. Mayors Make More Than $100K
At least 43 mayors earn more than six figures from taxpayer-funded jobs, according to an analysis by USA Today Network New Jersey.
Asbury Park Press Read more
Protection for Workers Weakened in Latest Version of the N.J. Bill Expanding Medicinal Marijuana
Minutes before a Senate committee hearing began last week on the long-awaited legislation remaking the medicinal marijuana program, the language protecting patients from getting fired got a major makeover that is likely to disappoint employees.
NJ.com Read more
More I.C.E. Arrests of Immigrants in Neighborhoods and Workplaces Likely Coming
Arrests of immigrants rose 35 percent in New Jersey in 2017, but advocates fear the numbers could increase even further amid new threats from U.S. Immigration and Customs Enforcement of more at-large arrests in neighborhoods and workplaces.
The Record Read more
Govs. Florio and Whitman: We're Working Together to Help Tackle N.J.'s Water Infrastructure Woes
A series of water main breaks in Hoboken this summer reminds us yet again that the pipes that carry water to many of our homes and businesses are old, leaky and failing.
NJ.com Read more
Rice Backing Redistricting Amendment
State Sen. Ronald Rice (D-Newark) will vote in favor of the redistricting constitutional amendment being considered by the legislature, he told the New Jersey Globe on Monday.
New Jersey Globe Read more
Small Businesses Get the Love From N.J. After Years of Tax Breaks for Big Guys
The Murphy administration is shifting more focus to small-business programs through the Economic Development Authority—a major change for an agency that has primarily catered to big corporations in the past.
NJSpotlight Read more
Katie Brennan, Who Accused a Murphy Staffer of Rape, Will Publicly Testify Tuesday
New Jersey lawmakers will begin scrutinizing the first scandal of Gov. Phil Murphy's young administration Tuesday, as the senior official accusing a former fellow top staffer of rape testifies in public.
NJ.com Read more
Bruce Springsteen Doesn't Think Anyone Can Topple Trump in 2020. Here's Why.
Bruce Springsteen tried to help Hillary Clinton defeat Donald Trump in 2016. Now, he worries no one will be able to defeat the president next time.
NJ.com Read more
Lakewood SCHI Founder Heads to Trial After Judge's Ruling
A Superior Court judge on Monday denied a Lakewood special education school founder's attempt to dismiss the criminal charges against him, clearing the case to move toward trial.
Asbury Park Press Read more
FBI, IRS Search Home of Atlantic City Mayor Frank Gilliam
FBI and IRS agents executed a search warrant early Monday at the home of embattled Atlantic City Mayor Frank M. Gilliam Jr.
Inquirer Read more
It'll Cost $1M to Tear Down Failed Baseball Stadium Built With $21M in Public Funds
Add another $16 million to the money pit formerly known as Campbell's Field on the Camden Waterfront that will soon be demolished.
NJ.com Read more
Palisades Park Security Report: Chief of Police Neglected Background Checks on Armed School Guards
A school district report mostly blames Police Chief Mark Jackson for the mishandling of a security program that put armed guards into borough schools without background checks.
The Record Read more
Editorial: Turning Up the Heat on the Gateway Project
New Jersey's Gateway savior may turn out to be its partner in the much-needed rail tunnel project.
The Record Read more
Plans for Proposed Mosque in Burlington Township Stall Due to Parking Questions
The township Zoning Board is considering whether to allow a vacant bank to be converted into a mosque on Beverly Road.
Burlington County Times Read more
Shore Homeowners Band Together to Fight New Tax
Brad Redding, who lives outside Philadelphia, represents the worse-case scenario for individual homeowners who rent out their properties along the Jersey Shore.
The Press of Atlantic City Read more
Retired Cop Seeks Legal Fees From Jersey City After Winning Court Case
A retired cop cleared of wrongdoing by a Hudson County Superior Court judge in October is suing Jersey City, saying like his former co-defendants that the city should have paid for his defense.
NJ.com Read more