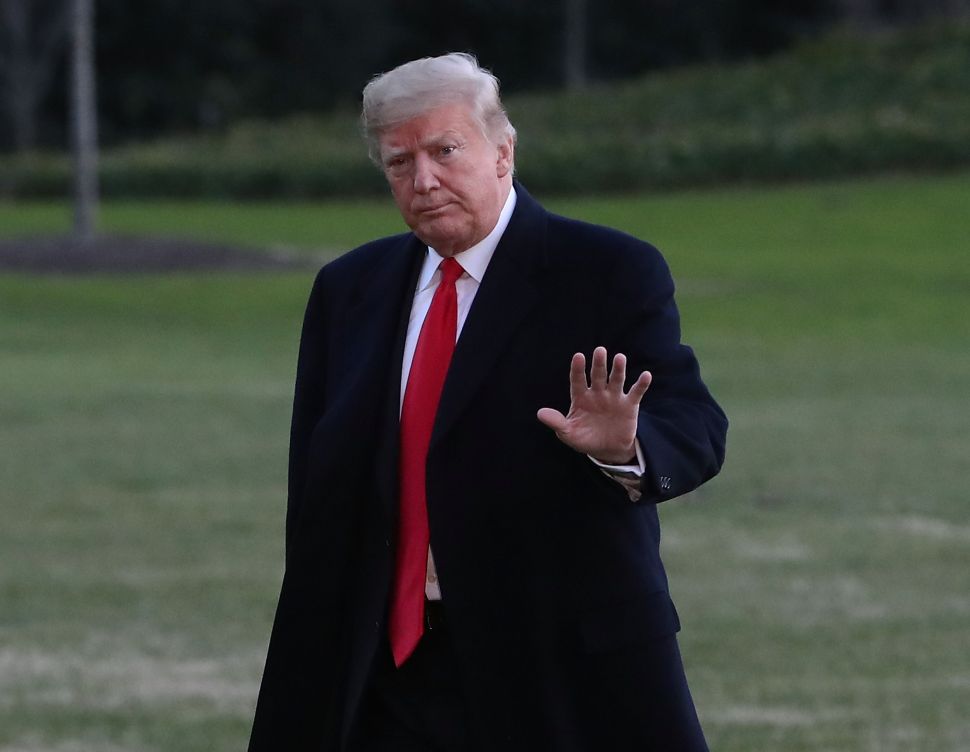 Nearly two years ago, in the first month of Donald J. Trump's presidency, I touched off a firestorm by telling the public what our Intelligence Community—publicly attacked as Nazis by our 45th president on the eve of his inauguration—felt about their new commander-in-chief. As I tweeted, passing on the viewpoint of a senior IC official: "He will die in jail."
This utterance outraged the president's defenders and was considered outré, even though everybody in the IC I've encountered who's familiar with the Trump case—not a short list—feels similarly. America's spies before Trump took his oath of office concluded that the Kremlin helped elect the president, and the IC, which deals in facts rather than spin, has never wavered on this point.
Simply put, our president has most likely committed crimes, above all conspiring with a hostile power to boost his 2016 campaign (including seeking financial gain from that unfriendly foreign country), which none of his predecessors did, so it's increasingly likely that Trump will accrue punishments never visited on any American president.
Just how much hot water the president and his retinue are in came into focus last week with multiple bombshells dropped by the Department of Justice. First, the Special Counsel on Tuesday informed a Federal court that Michael Flynn, the president's short-lived first national security adviser, had decisively flipped on Team Trump.
A retired Army three-star general and disgraced former Defense Intelligence Agency head, Flynn lasted barely three weeks in the Trump White House before he resigned over his dubious ties to the Kremlin, which he admitted he lied about to the FBI. Flynn's fate has been up in the air for more than a year, and Mueller's filing makes clear that the general has provided the Special Counsel with ample evidence against the president. In exchange for his "substantial assistance," including 19 meetings with Team Mueller, Flynn will likely serve no jail time at all.
If this weren't enough to terrify the White House, Friday's news proved more devastating still to Trump and his defenders, who continue to insist, per the president's oft-repeated tweets, that Mueller is a fraud peddling 'FAKE NEWS' and there was 'NO COLLUSION' with the Kremlin in 2016. Late on Friday evening, Team Mueller blew those lies apart by revealing that Paul Manafort, the president's campaign manager during the pivotal period of the 2016 race, had lied to the Special Counsel.
In violation of his cooperation agreement with Mueller, Manafort remained in contact with the White House, passing Special Counsel information on to the Oval Office. Worse, Manafort stayed in touch with his longtime Russian partner and friend Konstantin Kilimnik, who has also been indicted by DOJ for his role in the 2016 campaign. Since Kilimnik is a known Russian intelligence operative, this was an almost unimaginably stupid thing for Manafort to do. Why he remained in touch with Kilimnik raises troubling counterintelligence questions. As Mueller's memo stated forthrightly, "The evidence demonstrates that Manafort lied about his contacts." Already 69 years old and facing a raft of serious charges, not to mention an angry Special Counsel, Manafort seems likely to die in jail.
Even that was not Trump's worst news on Friday. Mueller also released a seven-page sentencing memo in the case of Michael Cohen, the president's longtime personal attorney. While Cohen remains in considerable hot water with Federal prosecutors in New York's Southern District regarding various financial misdeeds, the Special Counsel is pleased with Trump's fallen consigliere.
As explained in the memo, Cohen provided the Special Counsel's Office "with useful information concerning certain discrete Russia-related matters core to its investigation that he obtained by virtue of his regular contacts with [Trump Organization] executives during the campaign." Worse yet, Mueller's memo elaborated that, as far back as November 2015, only a few months into Trump's presidential run, Cohen was in touch with a "trusted person" in the Kremlin who offered the rising campaign "political synergy."
To any fair-minded observer, that sounds a lot like collusion with Moscow, but as usual, the next morning President Trump took to Twitter to howl gigantic curses of 'NO COLLUSION!' while bizarrely telling the media assembled on the White House lawn, "We're very happy with what we're reading because there was no collusion whatsoever."
This is simply more of the up-is-down argument—peddled by the president and his sycophants for two years now—that Hillary Clinton is the "real" Kremlin tool, the Democrats are the "real" conspirators, and the "Deep State" is a subsidiary of the Democratic Party that's out to overturn the 2016 election. Such absurd deceptions may still work on the president's hardest-core of true MAGA believers, but their impact on the rest of America seems minimal. As a deterrent to the Special Counsel's activities, such lies can be rated at less than zero.
In truth, the Mueller investigation is closing in on the president's family and Donald J. Trump himself. It seems inevitable that charges will be filed against people named Trump, perhaps soon, and they will include indictments for crimes related to collusion with the Kremlin. This is the indelible impression left by last week's Special Counsel memos. Above all, Team Mueller knows a great deal more about the 2016 election than they've told the public, including damning evidence of collusion collected by our Intelligence Community.
Even stalwart Trump defenders are beginning to let a bit of reality intrude. Last week, Andrew Napolitano, the New Jersey judge turned Fox News commentator, informed his FNC flock that, actually, this Mueller thing is real. Attacking the president's efforts to pretend that it's all fake news, Napolitano explained, "I am not of the view that Mueller is on a fishing expedition or is about to go home," adding that news about Cohen and Manafort was bad indeed for the White House. "Federal criminal prosecution is not beanbag," he concluded ominously, warning of more indictments to come.
Then another Fox News talking head decided to level with his audience. Andrew McCarthy, a onetime DOJ prosecutor turned right-wing pundit, and a stout defender of the White House in its travails with the Special Counsel, stated that, in fact, Trump is likely to be indicted by the feds. With the latest Cohen memo, McCarthy explained that Team Trump's 2016 violations of campaign finance laws seemed real, adding "the Cohen case in New York City is not about Cohen. The president is in peril of being charged."
Then came Adam Schiff, the California Democratic congressman who's about to take the chair of the House Permanent Select Committee on Intelligence, in which position Schiff will make Trump's life hell with rafts of subpoenas regarding the president's ties with Moscow, political and financial. On CBS's Face the Nation on Sunday morning, Rep. Schiff dropped a bombshell by stating, "There's a very real prospect that on the day Donald Trump leaves office, the Justice Department may indict him. That he may be the first president in quite some time to face the real prospect of jail time."
Schiff, a former DOJ prosecutor who once jailed an FBI turncoat for spying for the Kremlin, is a sober fellow not prone to wild statements, thus making his utterance the more damning. While the president's cheering section met Schiff's words with angry derision, the congressman was simply stating what's been known to Washington, DC insiders for some time. After two years of White House lies and obfuscations, the truth is coming out, at last.
Donald J. Trump is 72 years old. His conviction on serious felonies could be tantamount to a death sentence. Yet that may be his future if the president doesn't rapidly come to some sort of agreement with Bob Mueller and his prosecutors. As our spies have known all along.