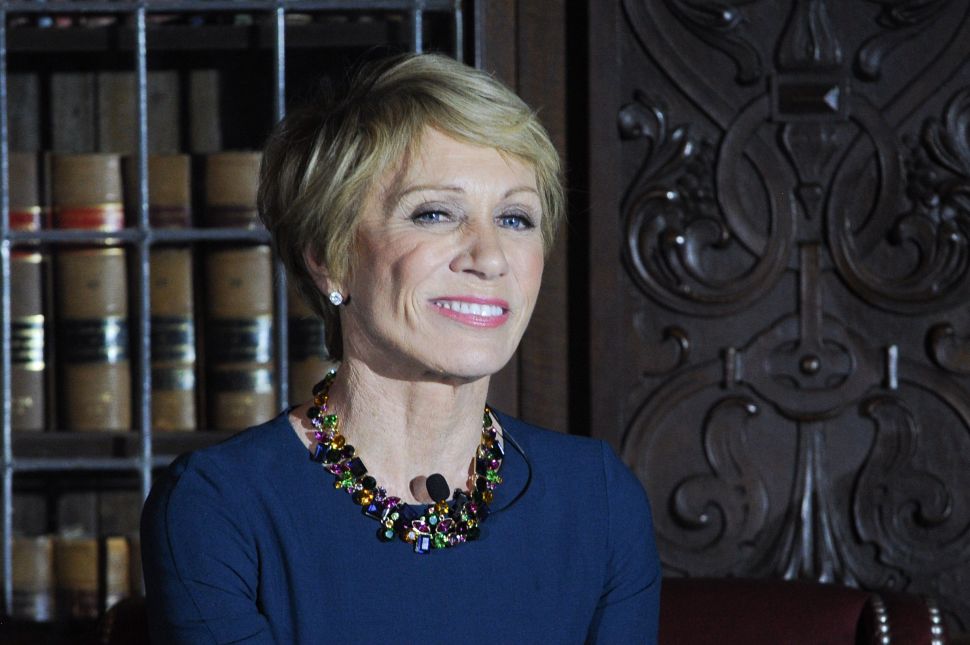 New York real estate mogul Barbara Corcoran, who is best known as one of the stars on the ABC reality show Shark Tank, has interviewed, recruited and rejected hundreds, if not thousands, of salesmen over her 40-plus-year career as an entrepreneur. But no one has impressed her as much as her old real estate frenemy-turned-leader of the U.S., President Donald Trump.
"[Trump] is a phenomenal salesman. He's probably the best salesman I've ever been in the company of," Corcoran said on stage Tuesday at Business Insider's IGNITION 2018 in New York when asked about her old days working with Trump in the New York real estate scene.
Subscribe to Observer's Business Newsletter
"He is five years older than me, so he was raising his company very much in parallel to me raising mine. So I did a lot of work with Donald. And I can tell you, he is the best salesman I've ever met in my life," she said.
Corcoran went on to fondly recall a historic deal in the 1990s in which Trump pivoted to selling the Plaza Hotel in a bid to save his then bankruptcy-embattled business empire. Corcoran was the broker in the deal and therefore was eager for Trump to make it.
"I watched him totally not pitch about the hotel but talked about the land masses and the Hudson River and all the buildings that would be there," she recalled. "They [the buyers] were not the least bit interested; they just wanted to buy the Plaza Hotel. I watched him and thought he was so off. But he wasn't. In the end, they bought the land and built all those towers on the west bank of the Hudson River that we know today."
And Trump's secret to deal-making isn't that easy to copy.
"He is a genius at picking out the vulnerability in someone's personality. He can smell it, sense it and trust it," Corcoran said. "If you'd walk into a business meeting with Donald and you are saying whatever you are saying—and I've seen this time and time again—he could see what your weakness is and play into it. Not the nicest thing in the world, but it's certainly a gift I've never seen in anyone else."
"That was exactly what he did in the election. He could sell anything. And he did," she added.
Corcoran, 69, started her real estate career in New York City in the early 1970s, around the same time Trump took over his father's business, which was later renamed the Trump Organization. The pair has had a rocky history filled with both partnerships and lawsuits. One of the more well known stories Corcoran has shared with the media about her dealings with Trump? A hostile confrontation she had with him in 1983 over the ranking of Trump Tower in "The Corcoran List," a New York real estate trend-watching list published by Corcoran's company.
Corcoran said that she was not a Trump supporter during the 2016 election. Although she has rarely spoken about Trump's political stances since he took office, Corcoran was critical of Trump's leadership skills, calling them "very, very low grade" in an interview with The Street last year.