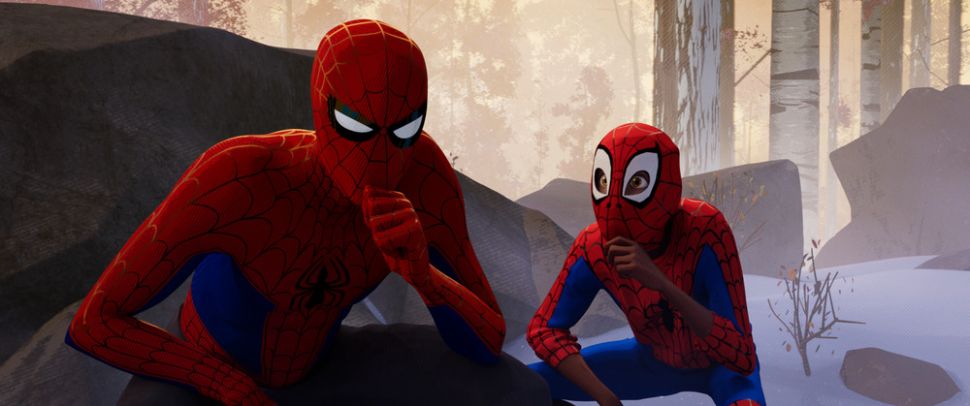 Sony's Spider-Man: Into the Spider-Verse is a great movie. It's visually compelling, totally hilarious, surprisingly emotional and very, very fresh. One of the animated film's biggest strengths is the way it employs Peter Parker—or at least a version of the character from an alternate dimension who is older, slower and sporting a dad bod after years of being a superhero. Jake Johnson portrays Spidey with tremendous comedic chops and some heartwarming pathos.
Thing is, he almost didn't get the part.
While speaking with ScreenCrush, directors Bob Persichetti, Peter Ramsey and Rodney Rothman revealed that they actually considered casting Tobey Maguire—who starred as the first live-action, big-screen Spidey in Sam Raimi's early-2000s trilogy—for the role of older Peter Parker.
Subscribe to Observer's Entertainment Newsletter
"There were many thoughts about where we could put Tobey Maguire and others," Rothman explained. "I think after this film, those thoughts might have a little more traction. But before this movie, and introducing the idea of the 'Spider-Verse' to the audience, I think everybody was afraid that it would just really confuse people. But wow, it would have been fun."
At 43, Maguire is well suited to play a more seasoned wall-crawler. More important, he'd serve as a direct link to Raimi's trilogy, which helped kick off the modern superhero boom. Then again, it would have been difficult to explain the separate continuities to casual fans who were trying to wrap their heads around the multiple dimensions in Spider-Verse to begin with.
However, since a Spider-Verse sequel is already in the works, including Maguire in some small capacity would serve as a fun Easter egg for fans. Now that Miles Morales (Shameik Moore) has established himself as a bona fide hero in the form of a younger Spider-Man, there's room to get a little cheeky.
Who knows, maybe we'll even get a post-credits scene that features the voices of former Spideys Maguire, Andrew Garfield and Tom Holland all at once. A nerd can dream.
Spider-Man: Into the Spider-Verse hits cinemas December 14.