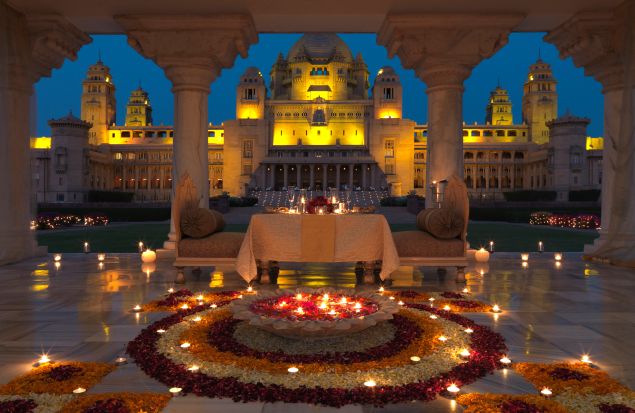 Priyanka Chopra must have been quite enamored by the majestic Windsor setting when she attended her pal Meghan Markle's nuptials in May, because she made sure her own wedding was a truly royal affair. Nick Jonas isn't exactly Prince Harry, but the couple tied the knot in an actual palace.
Chopra and Jonas said "I do" at the 26-acre Taj Umaid Bhawan Palace in Jodhpur, India, on Saturday. The Umaid Bhawan was originally built between 1928 and 1943 as a home for the former Jodhpur royals. Gaj Singh and his family still reside there, but it was divided into a private home and a Taj Group hotel in 2005. Here's everything you need to know about the gorgeous, festive five-star hotel.
Subscribe to Observer's Lifestyle Newsletter
The royal treatment starts right when you arrive. 
Guests are greeted with a very low-key welcome. Horses lead you in, music blares, traditional dancers descend the stairwell and you're adorned with flower necklaces.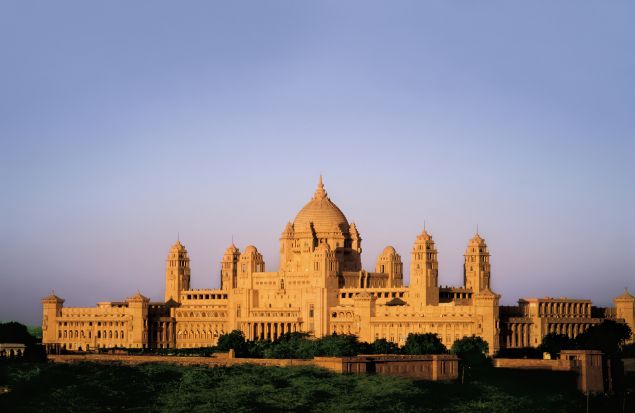 It's truly palatial.
The 347-room palace was built with the same palm court marble used for the Taj Mahal. The sixth largest private residence in the world, it is divided into the former royal family's private home, a family museum and the 64-room hotel.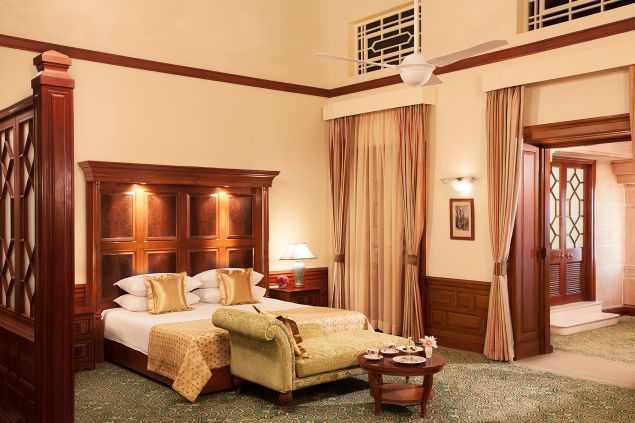 Every room is swanky—with a swanky price tag attached. 
The standard palace rooms start at $600 a night, but when you start upgrading to the fancier accommodations, rates can range from $12,000 to $15,000. There are the royal suites (Art Deco–style grand suites with mirrored terrazzo), historical suites (once used to host visiting royalty) and the grand royal suites (for the most important royal visitors, because hierarchy). Then there are the Maharaja and Maharani suites.
You can live like an actual queen in the ridiculously opulent Maharani Suite.
This 4,850-square-foot suite was originally designed by Maharaja Umaid Singh for his wife, Maharani Badan Kanwan, and now it's a hotel suite that costs approximately $12,000 a night (the rate can vary, going up to at least $15,000). It is finished in pink and black tones, with plenty of chrome and mirrors and a private terrace looking out over the palace gardens. Above the bed is a massive black glass mural of the goddess Kali.
The suite contains standard features—a living room, dining room and kitchenette—as well as a yoga room and a spa room, in case leaving your queenly haven for some pampering is simply too difficult.
The king's Maharaja Suite is pretty nice too.
Originally built for the maharaja, this similarly priced, 4,200-square-foot suite is outfitted with murals, chrome torches, faux leopard-skin couches, a mirrored bar and a neutral, earthy color palette. It has all the perks of the maharani's suite, but it's a touch smaller.
Prepare for plenty of naan…
The hotel's signature restaurant is Rasala, which offers Indian and Rajasthani food like naan, milk dumplings in saffron and garlic curry of fish. If you're not especially partial to the local cuisine, there's Pillars, which has a European and Mediterranean menu including hummus, bruschetta and seafood bisque. Then there's the Trophy Bar, for cocktails and cigars.
…And an Indian head massage. 
The very marble-y Jiva Grande Spa includes an indoor pool with hand-painted murals, as well as an outdoor pool, a steam room, a sauna room and a Jacuzzi. And because #wellness, there's a yoga studio, a gym, a relaxation lounge and a squash court.
Treatments include Samatva, a personalized yoga session to release tension and balance energy; Champi, a traditional Indian head massage that apparently helps with hair growth and "natural glossiness"; and Indian aromatherapy, which is exactly what it sounds like, with lots of essential oils.