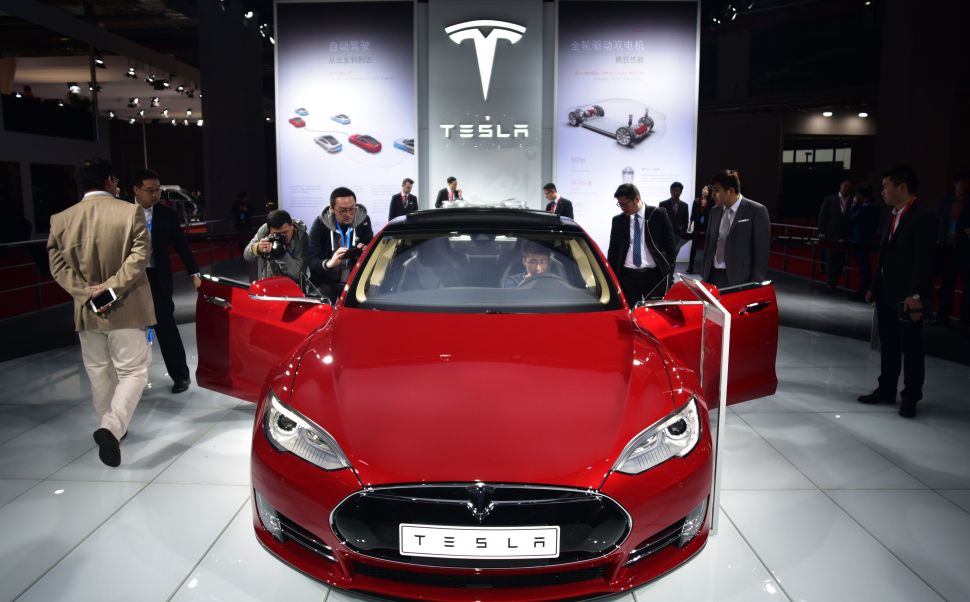 Last Tuesday, Tesla stock took a surprise hit after Reuters reported that the electric carmaker had sold just 211 cars in China in October (50 Model S cars and 161 Model X cars)—a jarring 70 percent decline from a year ago—citing data from China's Passenger Car Association, the country's leading auto industry group.
In response, Tesla said that those numbers were "wildly inaccurate," although it didn't share its own accounting for the month.
Subscribe to Observer's Business Newsletter
However, a China-based auto industry expert says the Chinese industry group's numbers are reliable and consistent with findings by other third-party forecasting companies, including U.S.-based LMC Automotive.
"The declining trend is obvious, even if the absolute numbers are not exactly accurate," Jacob George, vice president and general manager of J.D. Power China, the regional branch of U.S.-based marketing intelligence firm J.D. Power, told Observer.
George added that Tesla sales had been affected by its frequent price changes this year in response to Beijing's tariffs on U.S.-made automobiles.
"We have seen a decline of sales in response to the tariff and price changes," he said. "Consumer sentiment on the brand probably hasn't been affected, but consumer willingness-to-pay is affected by price."
Over the past six months, Tesla has changed the prices for its Model S and Model X cars in China four times.
On May 24, Tesla slashed prices for the two models up to six percent based on the good news that Beijing was going to lower American car tariffs from 25 percent to 15 percent starting in July.
The May price reduction gave Tesla a nice boost in sales in June, after factoring in seasonal fluctuations. But, after Beijing imposed a fresh 25 percent tariff on U.S. cars on July 6 in retaliation to the Trump administration's tariff surges on Chinese goods, Tesla increased prices of the Model S and Model X in China up to 20 percent, exceeding their costs prior to May's price reduction.
In August, prices for the two models quietly went up another two to three percent, according to data compiled by LMC Automotive.
Combined, the two rounds of price surges slashed Tesla's average monthly sales for the July-September period by a quarter compared to the January-May period before all price changes.
Aside from tariff impacts, Tesla is also facing growing challenges by homegrown electric carmakers in China.
"Tesla plays in the premier end of China's new energy vehicles, so Tesla is in a relatively unique category at this time," George said. "Chinese consumers do look up to the Tesla brand. Nevertheless, over time, there will be more entrants into the upscale new-energy vehicle market, such as NIO's upcoming products. This will make competition more fierce at the higher end of the market."
NIO, the Shanghai-based high-end electric vehicle startup, staged a flashy $1 billion IPO on the New York Stock Exchange in September. It recently debuted an affordable electric car, similar to Tesla's Model 3, and has plans to build a new plant in Shanghai, where Tesla opened its first Chinese factory in July.