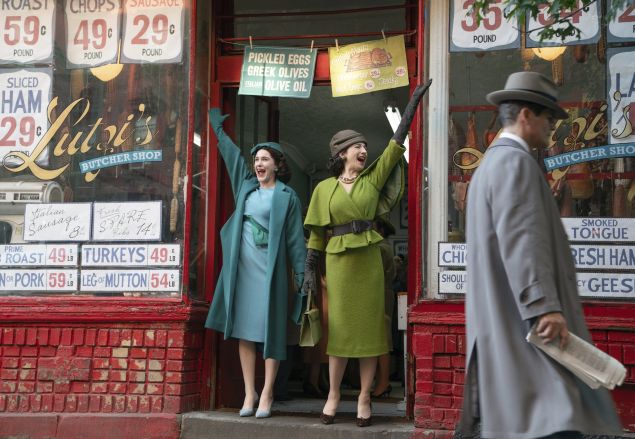 Amazon's The Marvelous Mrs. Maisel started 2018 with a double Golden Globe win in January, followed by a night of multiple victories at the Emmys in September, including Outstanding Comedy Series, Outstanding Lead Actress for Rachel Brosnahan and wins for both writing and directing for creator Amy Sherman-Palladino. By the time it racked in these accolades, the final touches were being put on Season 2 and new, very high expectations had been set.
Set in the late 1950s, the first season began when Miriam "Midge" Maisel found out her husband Joel (Michael Zegen), had cheated on her with his secretary. But this moment of personal tragedy soon becomes her creative weapon, allowing her to discover a talent for stand-up comedy as a way to cope with her situation, culminating in a triumphant performance in the finale of Season 1. And now, Season 2 has kicked off, opening with a jaunt to Paris.
Subscribe to Observer's Entertainment Newsletter
On a chilly March afternoon earlier this year, Observer made a visit to the show's Paris set, just a stone's throw from the Notre Dame Cathedral. Speaking to the cast and crew, including creator Amy Sherman-Palladino, we heard about why Paris is so transformational for Midge and her parents, and what goes on behind the scenes to roll everything back to the 1950s.
Part of the appeal of putting Midge in Paris (other than just the city's allure) was to broaden her experience, creator Amy Sherman-Palladino explained. "Anything that adds a sense of scope is very important to our show, because we're building a whole world for Midge. We're taking a character whose world was small—six blocks of the Upper West Side—suddenly she is exploring everything. Who she is, what her voice is, what the world outside is." So when the opportunity presents itself, Midge doesn't let the language barrier get in the way of showing off a quick bit on stage.
Why the city of lights? "I think there is an energy and a love of the theatrical, a love of music, a love of fashion and of life that is incredibly Parisian," said Sherman-Palladino, who also wrote and directed this episode. "As much as I love New York, Paris has all of those qualities just in the texture of the buildings." This nowhere more present than in the club Midge finds herself performing in, based on a real spot that was a hit with Parisian comics at the time. 
Meanwhile, Season 2 finds Midge's mother, Rose, also in the middle of a personal crisis—a ripple effect caused by Midge's recent major life upheaval. Hinkle explained, "[When] one person unravels, of course that means everybody is going to unravel." Rose went to school in Paris, and her return to the city has a significant effect on the character. "My voice, the character's voice is different here. She is suddenly lighter. She has got a different level of hope and rediscovery. She's more youthful."
Midge packs lightly for Paris, but costume designer Donna Zakowska (pictured above with Rachel Brosnahan) made the few items she did bring along count. "She pretty much brought with her her identity. There is a light quality to what I did for her here. It's going to be a little bit amusing to see her in the context of these Parisian extras."
But finding exactly what those items would be was no small feat. "I pulled enough clothes for at least 800 costumes," Zakowska said. "Each costume has four pieces. So you're talking probably close to 4,000 pieces that came in from [Parisian] costume houses."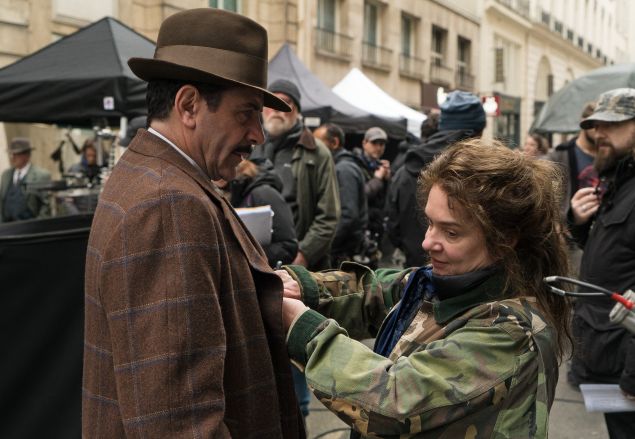 Tony Shalhoub points out that Abe, too, is experiencing the full effect of Midge's crisis when we see him in Season 2. "He had everything in place—a job, a home, his daughter is married and has kids. Everything is working the way it is supposed to, then that all unravels," Shaloub said. "But in a way, I think it is all healthy stuff. This family is changing with the times. We're in the late '50s, we're coming into the '60s. There are inevitable changes in this society."
It isn't long before Abe falls for Paris, which is reflected in his change of attire in the second episode. Zakowska opted for a hat style meant to represent Abe embracing the city of love. "I thought it would be funny, it's totally about the humor of it," Zakowska explained. "In the very beginning, when he arrives, he's resistant. [The hat] shows the seduction of living in Paris. Paris has an inevitable seduction for every human being."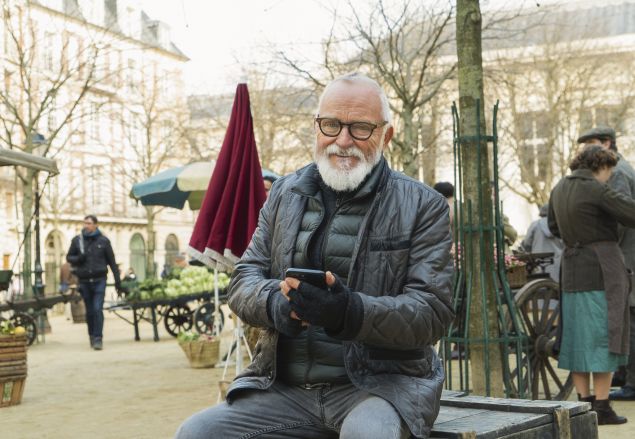 Production designer Bill Groom (pictured above) told how the show got a big seal of approval from one local resident, who saw the markets set they had created for Abe and Rose to stroll through. "There was a gentleman who actually lives in one of these apartments. He grew up in this neighborhood. He came downstairs and told our set dressers he remembers these markets being like this in the neighborhood. It brought back good memories for him, so I guess we got something right."
And their allure seems to have worked for the parental duo. "Paris is for lovers. We got to see the love in the city and then that infuses our characters," said Hinkle during a quick break between filming. The relationship between the Weissmans has been strained since Rose found out her husband had been keeping things from her about their daughter's marriage, but Hinkle explained that Paris has a positive effect, "Our two characters are reconnecting in a passionate way." And it's not just a temporary change. "Their relationship will be different when we return to New York," confirmed Shalhoub.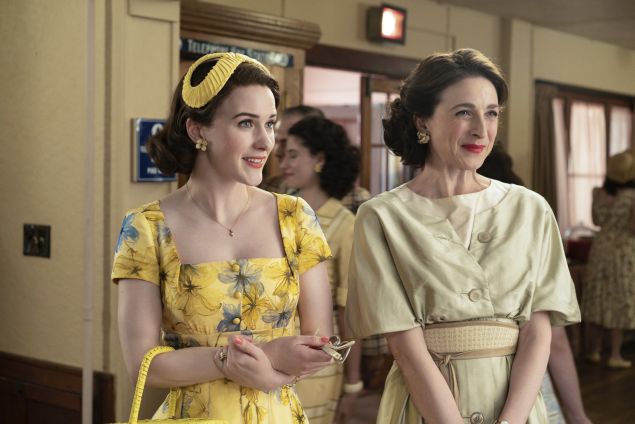 What is so appealing about the relationships Amy Sherman-Palladino creates between parents and their children? Hinkle pointed to a scene she was going to be shooting later that day saying, "The character is lofty, creating all this artistic truth and then I get some dig in about judging my granddaughter and how she is not beautiful enough…again." Hinkle thinks the magic lies in "the contradiction of somebody that is both honorable and has flaws."
Mrs. Maisel isn't switching to Paris full-time so what happens on Midge's return? Season 2 will see her pursue her comedy career, navigating her continually evolving relationship with her ex, as well as heading to the Catskills for the summer. Creator Amy Sherman-Palladino explained, "It is more of the ripple effect, now she has made this decision. It is one thing to make the decision to change your life. Now, what is that new life?
Even though Midge only takes a few outfits to Paris, her wardrobe back in New York has exploded. Packing for a summer trip requires more than just a couple of suitcases. Zakowska uses clothes as a way to reinforce aspects of Midge's identity. "She's someone who, whenever things are going wrong, she does the opposite. She's an emotional warrior." The black dress Midge wore in the Season 1 finale is symbolic of this spirit. "That was the launching off point," Zakowska said. "That's the beginning of her uniform, which we're going to see her in a lot."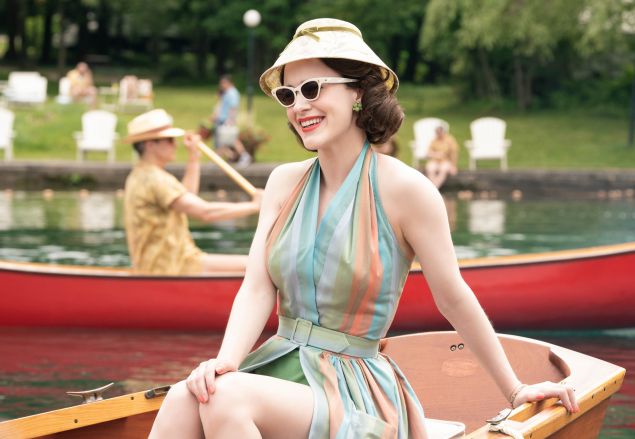 When asked about the women she has created, Sherman-Palladino was quick to point out her interest is in writing multifaceted characters, while also highlighting that humor is how a character like Midge—as well as  her other best-known heroine, Lorelai Gilmore—navigates the world. "There's stuff underneath that's either anger or hurt. Humor doesn't come from "My life is great." It is a lot of working out what is going on inside."
And, ultimately, Sherman-Palladino's aim isn't necessarily to create funny women, but rather to show dimensions of womanhood beyond the "nurturer" type, "which is a side, but the other sides [such as] anger, resentment, strength, the impossibleness of fighting against perceptions and what's going on in the world—that is something that is very appealing to me."
Season 2 of The Marvelous Mrs. Maisel is available to watch on Amazon Prime.