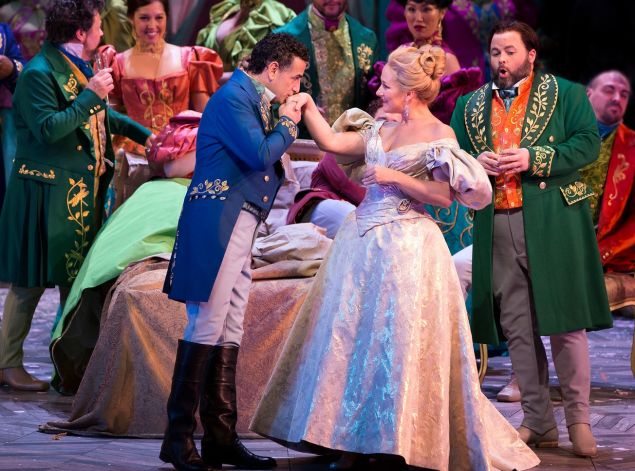 Well, you have to give the Met credit for accomplishing a feat no other opera company in the world could—or should. At Tuesday's gala new production of La Traviata, the company managed to downgrade Verdi's masterpiece of musical drama to a kitschy Disney musical.
The prime culprit in this act of artistic vandalism is director Michael Mayer, who seems to have no handle at all on this classic tale of a courtesan inspired by true love to make the most profound sacrifice. In the great duet in the second act, for example, when the penitent Violetta confronts Germont, the morally outraged father of her lover, the singers circled listlessly around a bed that hogged center stage through all three acts.
Subscribe to Observer's Arts Newsletter
Other times, the director slathered the elegantly simple plot with garish low-camp fripperies. An ornate unit set suggested a Louis XIV drawing room tricked out with gilt vines and Christmas tree lights, and Susan Hilferty's gaudy costumes transformed Violetta and her beloved Alfredo into Cinderella and Prince Charming. (I can only assume it was for the sake of pure eclecticism that Violetta's sugar daddy Douphol was decked out as the Wizard of Oz.)
Even in so simple and surefire a moment as the lilting first act "Brindisi," Mayer imposed eye-grating acid toned costumes and nonstop chorus prancing. Throw in a gay dude dressed as a candle and you'd have "Be Our Guest."
Is this supposed to be Violetta's dream? You'd hope she would have more imagination than to hallucinate so many decades-old staging clichés. Or, if we're meant to understand the action as reality, then why would staid Victorian father Germont let his teenaged daughter tag along when he visits the house of a prostitute?
Well, Mayer is still a neophyte at this, and maybe by the time he directs Aida here in 2020 someone will have taught him how opera works. But Yannick Nézet-Séguin, here leading his first Met performance since being named the company's Music Director, has no such excuse.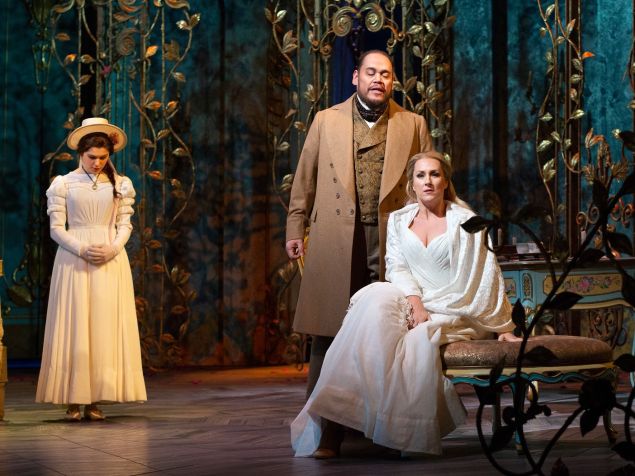 Nézet-Séguin, whose conducting at the Met in the past nine seasons has always been striking and quite often transcendent, led perhaps the most mannered take on Traviata I've heard in my life. The giddier moments in the score, such as Violetta's "Sempre libera" and the panicky duet "Ah! gran Dio! Morir sì giovine" in the final act, fluttered past brilliantly enough, but the arrival of even moderate tempi found the conductor slackening into a sort of "bullet time" slow motion dirge.
In that second act duet for Violetta and Germont—Verdi at his peak at a musical dramatist—Nézet-Séguin launched each section at an unusually deliberate tempo, then fussily stretched out the end of every phrase with an unwritten rallentando. Even worse, he introduced tiny pauses in between phrases, dragging the music even further. It felt like swimming in molasses.
Now, these are all, in the abstract, valid effects, and they were executed immaculately by the virtuoso Met orchestra. But Nézet-Séguin's hyper-sophisticated approach overwhelmed Verdi's relatively straightforward music, like drowning a delicate filet of sole in Mornay sauce.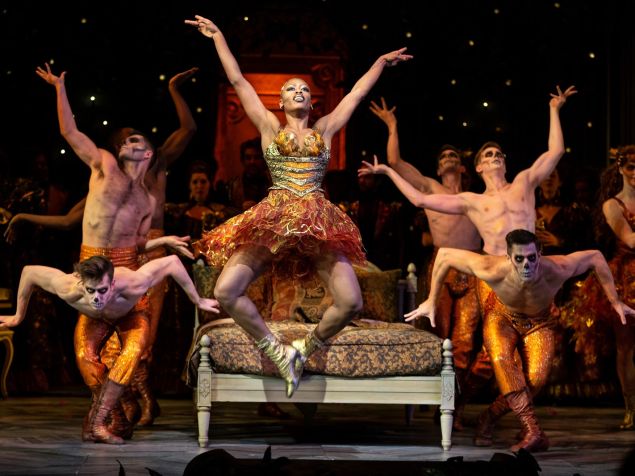 The evening's Violetta, Diana Damrau, has apparently reworked (and I would say greatly improved) her vocalism since her scratchy attempt at I Puritani here a couple of seasons ago. On Tuesday night, her singing was consistent and well-tuned if a bit careful. Her softer dynamics verged at times on murmuring and a lot of the consonants had to be taken on faith. Still, her musical choices were imaginative and, for what it's worth, she's the only one in the show who bothered to act.
Tenor Juan Diego Flórez in his role debut as Alfredo revealed that his exquisite legato and mezza voce have held up gorgeously in the four seasons since he last sang at the Met, and he looked fetching if a little bored in his Prince Eric action figure finery. As his father, Germont, Quinn Kelsey basically just stood there and sang, but that was enough. His voluminous, interestingly grainy baritone ascended the climactic phrases of the "Di provenza" like a great majestic eagle.
All the more pity he had to suffer the "traditional" omission of several pages of second section of that aria, just as Damrau and Flórez were robbed of second strophes in their showpieces. Even worse, Nézet-Séguin sanctioned an ugly, disfiguring cut in the lovers' last act duet.
The maestro is now in charge of musical matters at the Met: he sets the standard. So it's discouraging and a little disturbing he should choose to launch his regime by doing business as usual.