Right now between 21st and 22nd street on the oceanfront at Miami Beach, forty big, inverted umbrellas tilt toward the sky. But they look somewhat expectant. There's no sun to warm them, not today—when there is, the umbrellas become a hemispherical sundial, and their generation of solar power is strong enough to lift a giant black balloon in the air, stretched triangular like a paper airplane and just as thin.
The artist Tomás Saraceno has said he wants humanity to be able to imagine itself living among the clouds, in floating cities, like in a Ghibli film. For the Aerocene Foundation—the open-source project that explores environmental issues through a multipronged approach (art, environmental science, philosophy)—he has created the Aerocene Explorer, which is described as a floating sculpture.
Subscribe to Observer's Arts Newsletter
But it's less that than an experiment—a demonstration of power without fossil fuels, a flying imaginarium. It is the logical presentation of his research project, Cloud Cities, which he's explored at MIT and which "aims to develop a modular and transnational city in the clouds." It's a model for sustainability and some would say maybe even freedom.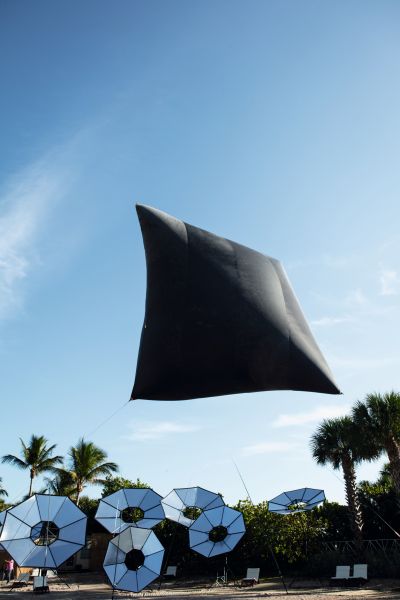 The installation, entitled Albedo, is presented by Audemars Piguet, who have a long history of commissioning artworks at Art Basel that speak to environmental sustainability and the collective imagination. (Art Basel Miami Beach itself has a legacy of pairing brands with artists.) Luckily, Saraceno, who also trained as an architect, believes in plurality. At the project's opening—a cloudy day on which the Aerocene Explorer did not take flight—he spoke about a couple on the beach to whom he'd demonstrated the solar power of the umbrellas as well as a solar cooker. The latter also takes the shape of an umbrella, albeit a smaller one—the kind you hold over your head.
From its arachnoid center sprouts a base for a pot; its handle transforms into a long spoon, for stirring. You have to cook at a distance; the lining of the umbrella is white, and then white-hot; put a sheet of paper too close and it'll burst into flames.
That's the Albedo effect: the ability of surfaces, like snow and sand, to reflect sunlight. "The wife said to her husband," Saraceno explained, "we could do this at home." He pointed to the small stone wall separating the parking lot from the sand: "Many homeless people sleep here. We could cook with them, feed them." All week long, visitors are invited to borrow the small umbrellas, or their own solar balloons—in the form of a backpack—to either cook or fly the massive objects on the beach themselves—using only the sun and the air.
The Aerocene is also the name of a dream-epoch, an imagined one that leaves the Anthropocene in literal dust, on the ground, while we take flight. Saraceno doesn't like the term Anthropocene (for the same reasons science and technology scholar Donna Haraway has also argued): it implies a humanity so exceptional as to be separate from the ecosystems we've chipped away at. "Not all humans are destroying the environment," he said. "We are of the earth, not separate from it." Saraceno's imagination has created hybrid ecosystems and three-dimensional spiderwebs. He would like to be of the sky, too.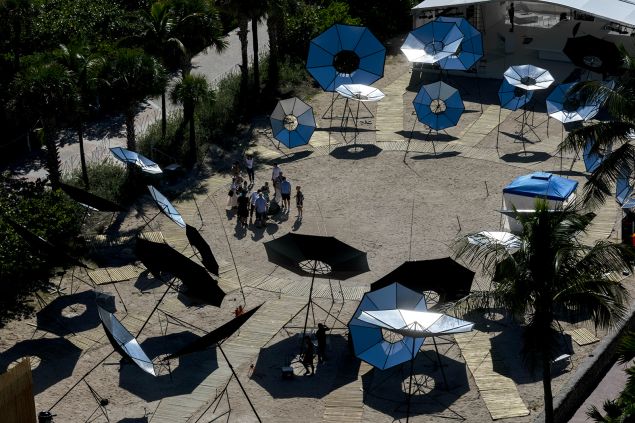 The Aerocene epoch comprises a floating world in which those who once lost their right to mobility, who were systematically roped into neighborhoods with bad air quality and toxic run-off, become lifted by the sun, above it all. There are no socio-geopolitical borders up there yet, and it cannot be reached without the support of many bodies.
The Aerocene Explorer has flown before, and it can carry books, food, even people. When it finally flew on Miami Beach, it unfurled like a bird's wings, a cautious Icarus. A few years ago, it was silly and romantic to imagine ditching the terrestrial soil to start over—floating away in an airy peregrination. Now, it feels like the obvious choice.