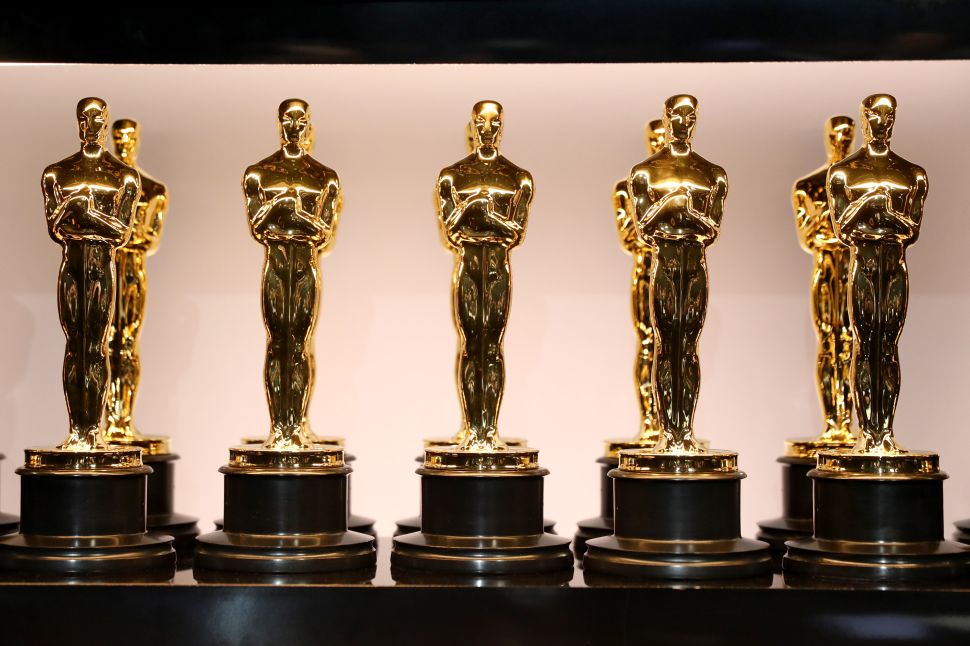 In the blink of an eye, Kevin Hart has gone from Oscar host to former Oscar host. This came after the Academy of Motion Picture Arts and Sciences asked him to apologize for his past homophobic remarks and Hart declined. Last night, Hart announced on Twitter that he "made the choice to step down" from emceeing the ceremonies in 2019 rather than express regret for his years-old offensive tweets and comedy routines.
Twitter went haywire, spitballing who should step in—some of the funniest suggestions included Zendaya, Beto O'Rourke and Jeb Bush—but at this point the correct answer should be: nobody.
Subscribe to Observer's Entertainment Newsletter
It's not that no one is capable of doing it. There are literally tons of under-sung actresses, singers and even social media celebrities who would absolutely knock the Oscar hosting gig out of the park. Melissa McCarthy has proven herself to be a dependable moneymaker at the box office, and she's hysterical and wildly talented—she could kill. Or how about a wild card like Megan Fox, a consummate bombshell who also happens to be a decent comic? And listen: Instagram sage Rickey Thompson would have the audience in tears.
The trouble is, the Academy isn't incentivized to pick anyone who's not a genuine household name. The Academy Awards have an imperative to choose a host who'll prompt viewers of all demographics who wouldn't normally tune in to actually do so. These days, the gig is essentially an impossible post to fill, because the host needs to be witty without causing offense, gracious but not boring and also able to sustain a marathon's worth of energy to keep the very long telecast from dragging.
Also, if Kevin Hart's baffling refusal to own up to the hurtful things he's said in the past is any indication of what the exhausting energy swirling around this ceremony will look like, all signs point toward a total nightmare. So let's skip the part where we risk giving a platform to another celebrity who's too out-of-touch or self-aggrandizing to do anything other than piss us all off and inspire a lot of backlash, and just do away with the whole concept of a host altogether.
Why on Earth do that, you ask?
Oscar ceremonies are notoriously long, dull and stress-inducing for the innumerable cinephiles sitting at home who just want to know who the hell got all the trophies so they can pack it in and go to sleep. It's Sunday night, people!
Figures reflect a growing disinterest in the Oscars. The 2018 ceremony, which clocked in at an agonizing four hours, was the least-watched telecast to date, with 26.5 million viewers for an 18.9 household rating, down 16 percent from the previous year. People might, however, watch them if they were short—and if there were fewer annoying, anxious famous people cracking lame canned jokes as the masters of ceremonies.
Plus, the only things Oscar hosts really "have" to do is give an opening monologue or performance where they summarize the events of the previous year. This has not always gone well—the exception is Hugh Jackman's incredible 2009 opening musical number, which poked fun at the recession and sent up the best films of the year without being smarmy. The rest of the evening is left up to the stars appointed to give out awards, which is the entire point of the evening anyway.
The Academy has experimented with adding many different bells and whistles over the years to try to persuade audiences to tune in: two hosts instead of one (Anne Hathaway and James Franco, a shameless attempt to appeal to the youth demo that fell horribly flat); a host dancing with Snow White (poor Rob Lowe); and incredibly drawn-out statue presentations with speeches from former winners.
But they've missed the point, which is that the only good stuff that ever happens at the Oscars is unplanned, human and messy.
So when the curtains go up for the 91st Academy Awards on February 24, the ideal scenario is no preamble, no half-baked diatribe about how wacky and off-the-rails Trump is, no half-hearted attempt at encapsulating all the cruelty and chaos that's happened this past year while trying to appeal to both liberal and conservative audiences. Let's skip the formalities and just get on with it.