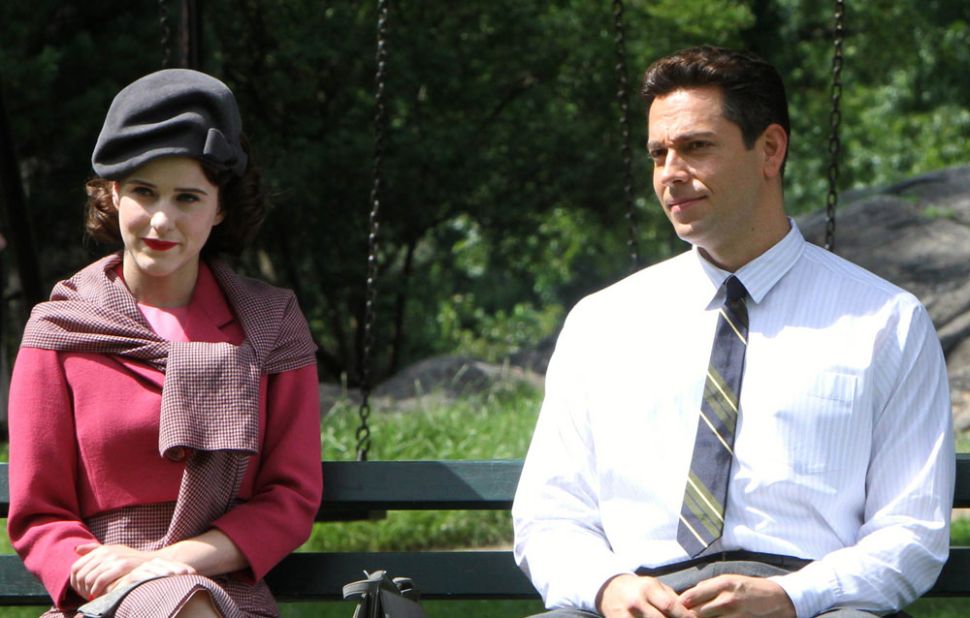 Though season 2 of Amazon's bubbly series The Marvelous Mrs. Maisel may not have quite lived up to the Emmy-winning heights of its rookie run, it still talked its way into our hearts with its caffeinated ratatat. Yes, it might have wound itself into a circle plot-wise, but it's still one of the most delightful shows of the year. One of the most welcome changes this time around was the addition of Zachary Levi as Benjamin Ettenberg, a potential love interest for Midge (Rachel Brosnahan, fantastic as ever).
Subscribe to Observer's Entertainment Newsletter
Warning: the following contains spoilers for The Marvelous Mrs. Maisel Season 2
The entertainment-consuming public is understandably smitten with Levi over his titular upcoming superhero role in Warner Bros.' Shazam!, but his chemistry with our shiny comedienne on the small screen can't be understated. At first immune to Midge's sharp wit, Benjamin soon finds himself falling for our lovable main character and she for him. But as everyone who has completed Season 2 knows, their looming engagement could be in peril after Midge accepts a six-month touring gig that will boost her career immeasurably.
Will that spell the end for Benjamin and Midge, despite his support of her stand-up career?
"Your guess is as good as mine," Levi told The Hollywood Reporter. "I don't know where that's going to lead. If there's an opportunity to come back and wrap that storyline up, I would love to. But a lot of stories can be told just in dialogue from other characters. I do feel like we spent a lot of time together building that relationship in the first [sic] season, so it'd be nice to have an actual face-to-face, 'Hey, where are we going?' because Ben thought he was marrying her and was excited to do so."
Six months on the road can't be easy for any relationship. But it's not as if Midge's fledgling comedy career is a stumbling block for Ben like it is for her ex-husband, Joel (Michael Zegen).
"Exactly," Levi said when THR noted his character's support for Midge. "And I think that's one of the biggest reasons why we work, because Ben doesn't feel threatened by Midge's career; he doesn't look down on it and is very open and progressive for the time. He likes that she's different, that she's doing something that isn't just par for the course, 1950s housewife. That's boring to him. Obviously, he's not a perfect guy. He also has little jealousies, like dealing with Rufus Sewell's character, the painter—but he's a womanizer, for god's sake!"
The third season of Marvelous Mrs. Maisel is not expected to hit Amazon until late 2019. Shazam!, meanwhile, will arrive in theaters on April 5.