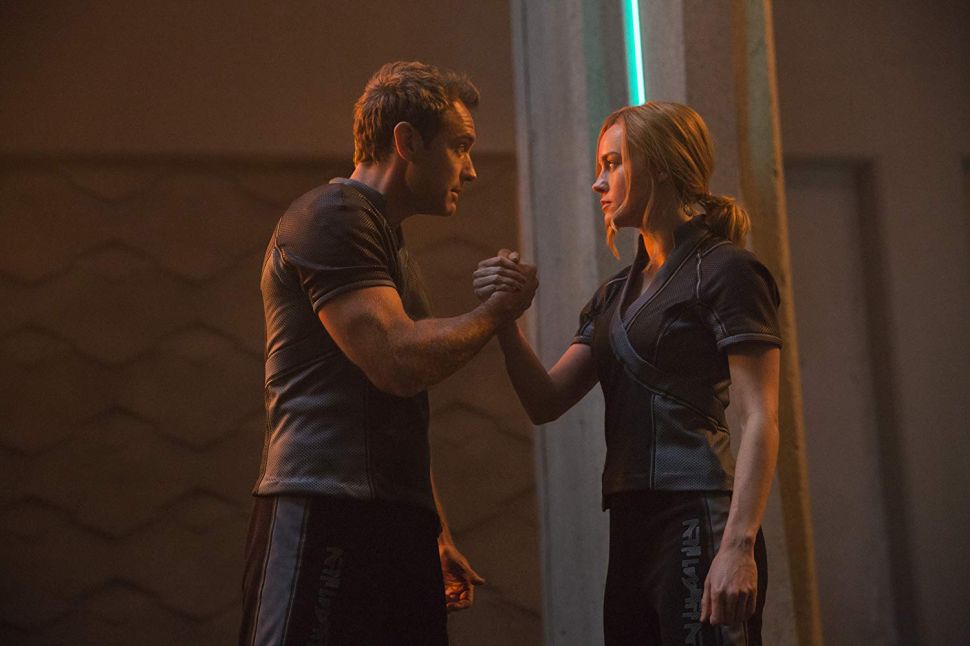 The film hasn't even hit theaters yet, but "fan" campaigns calling for the boycott of Captain Marvel have already popped up across the Internet for a number of reasons—none of which are worth exploring. Instead of giving ink to that misguided hate, let's focus on the more level-headed moviegoers who have seen the film and shared their reactions now that Disney has lifted its social media embargo.
For those who don't know, Captain Marvel is a Marvel Cinematic Universe prequel of sorts, taking place in the 1990s as Carol Danvers (Brie Larson) finds herself caught in the middle of a galactic war between two alien races: the Kree and the Skrulls. Since the character was teased in the post-credits scene of last year's Avengers: Infinity War, and given that this is the only MCU feature set to arrive in 2019 before April's Avengers: Endgame, it is believed that Captain Marvel will play some sort of role in setting up and/or connecting to the upcoming final chapter. Hell, Samuel L. Jackson even gave away a potentially massive spoiler during the promotional tour. We'll just have to wait and see how all of that plays out.
Subscribe to Observer's Entertainment Newsletter
In the meantime, you came here for first reactions and mini-reviews, so here they are:
We are in full support of a banging '90s soundtrack.
Industry observers and fans alike have been quick to compare Captain Marvel, the first female-led standalone MCU blockbuster, to Wonder Woman and Black Panther as a touchstone of mainstream representation. But it might be unfair to assume the film will do similar business at the box office as those two behemoths. Wonder Woman lassoed in $821 million worldwide, while Black Panther leapt to $1.3 billion. Given the mostly positive responses to the film above and Marvel's track record, it wouldn't be a surprise to see Captain Marvel draw huge numbers. But even if its final tally is closer to Doctor Strange ($677 million) or Guardians of the Galaxy ($773 million), that would still constitute as a success.
If the film inexplicably underachieves, there is a chance Marvel might reevaluate its post-Avengers future. Lucasfilm, which is also owned by Disney, made the surprising decision to halt its anthology series following the disappointing Solo: A Star Wars Story, so anything is possible.
"If Captain Marvel doesn't have the same type of success, you might sense a bit of anxiety," Kendall Phillips, a Syracuse University professor and pop culture expert who teaches Rhetoric of Film: Marvel Cinematic Universe, recently told Observer.
We'll find out soon enough—Captain Marvel opens on March 8.