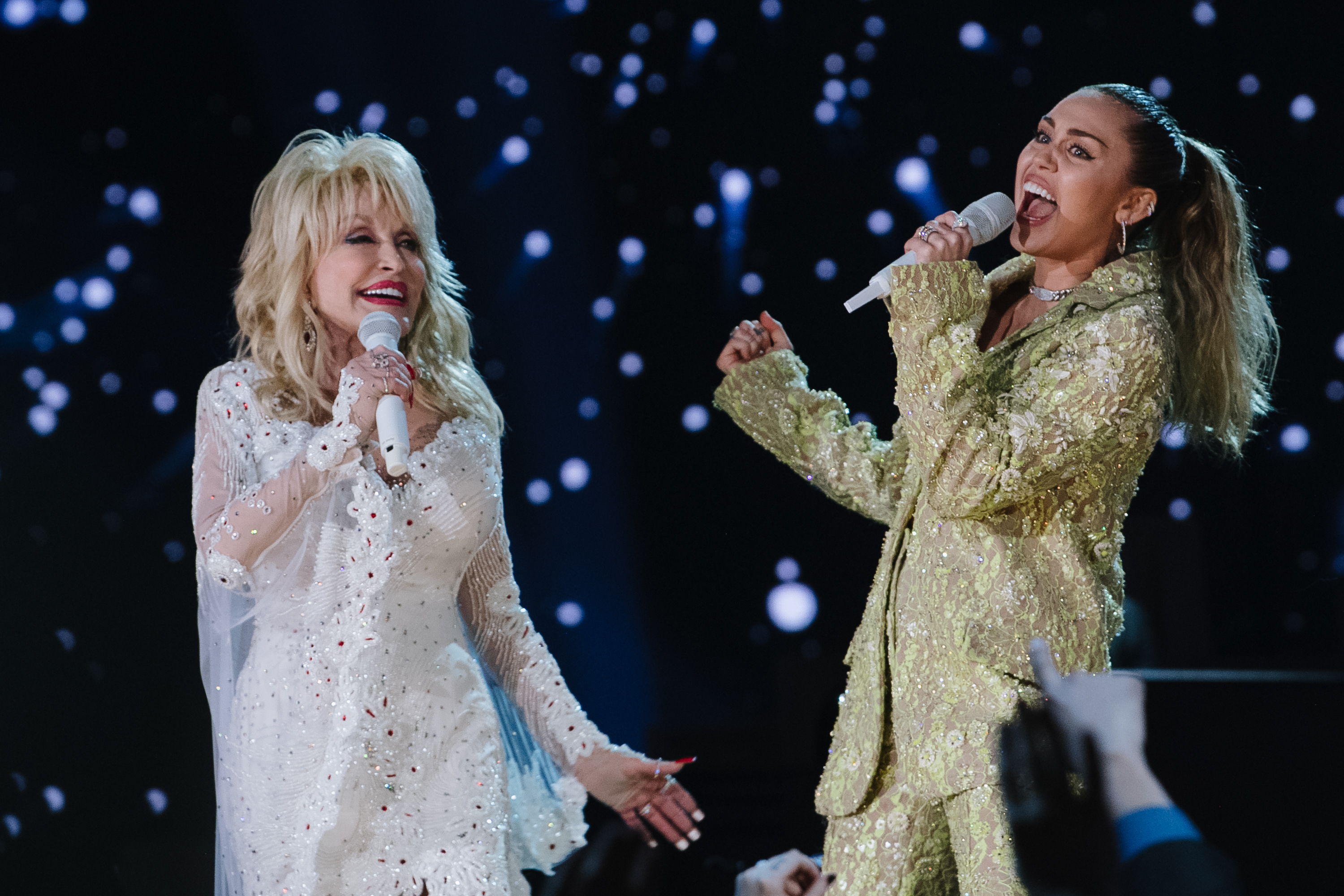 When crossover country star Kacey Musgraves took the stage to collect the Album of the Year Grammy for Golden Hour, her dreamy 2018 song cycle about taking life slowly and deliberately, she praised the other nominees while holding back tears. "Winning doesn't make my album any better than anybody else's in that category…life is pretty tumultuous for all of us right now, and I feel like because of that, art is really thriving," Musgraves said.
It's absolutely accurate that over the past couple of years and into 2019, the hectic post-pop landscape has made way for innumerable forms and derivations of previously established genres. However, last night's industry crowning of the psychedelic down-home Golden Hour—along with spirited performances from eternal legend Dolly Parton, inveterate cowgirl Miley Cyrus, fringe-clad Katy Perry and Musgraves herself—indicated that although America might be hopelessly divided on many issues of critical importance, we can pretty much all agree on a good old-fashioned country bop. In tougher times, maybe the answer is to just throw our arms around yeehaw culture and squeeze it with all you've got.
Subscribe to Observer's Entertainment Newsletter
Parton and Kacey Musgraves grace the Grammys stage.

Kevin Winter/Getty Images for The Recording Academy
Yeehaw culture has long been boiling to the surface but has recently reached a higher pitch. It entails that same yearning for the romance of the Old West that drove Quentin Tarantino to insert so many multi-character cowboy standoffs into his wide-ranging filmography. It is also laced with an indefinable energy that has inspired R&B superstar Mary J. Blige to hit the dance floor in snakeskin boots and a white 10-gallon hat.
It's this same spirit that, more than six years ago, moved teen queen Cyrus to film a backyard rendition of Parton's "Jolene," a classic clip the pair reprised last night for an audience of millions. You see, yeehaw culture is adaptable, malleable and intrinsically upbeat. It's for everyone.
But, of course, every resurgent trend needs an inflection point. The Outline's Lilian Min put it best in "What We Yee About When We Yeehaw," her great piece about yeehaw culture, after Beyoncé ripped through "Daddy Lessons" with the Dixie Chicks at the 2016 Country Music Awards, noting how even stalwart snobs were ready to change their tune: "Suddenly, everyone who'd ever claimed to like every genre of music 'except country' started looking up rhinestone application tutorials."
Musgraves is a wonderful vessel for the current strain of mainstream yeehaw. Golden Hour isn't your grandma's kind of backwoods twang, but rather a spare, stylish and refreshing rebuke to the capitalist churn of demanding work hours and exhausting social interactions.
https://www.instagram.com/p/BqOHTMbnvNN/?utm_source=ig_web_copy_link
"I guess everybody else is out tonight / Guess I'm hangin' by myself, but I don't mind" Musgraves trills on "Lonely Weekend," one of the album's best songs, satisfied to step away from all the stimuli and the fracas. In the words of a truly great Microsoft Clippy meme: Yee (and I cannot stress this enough) haw.