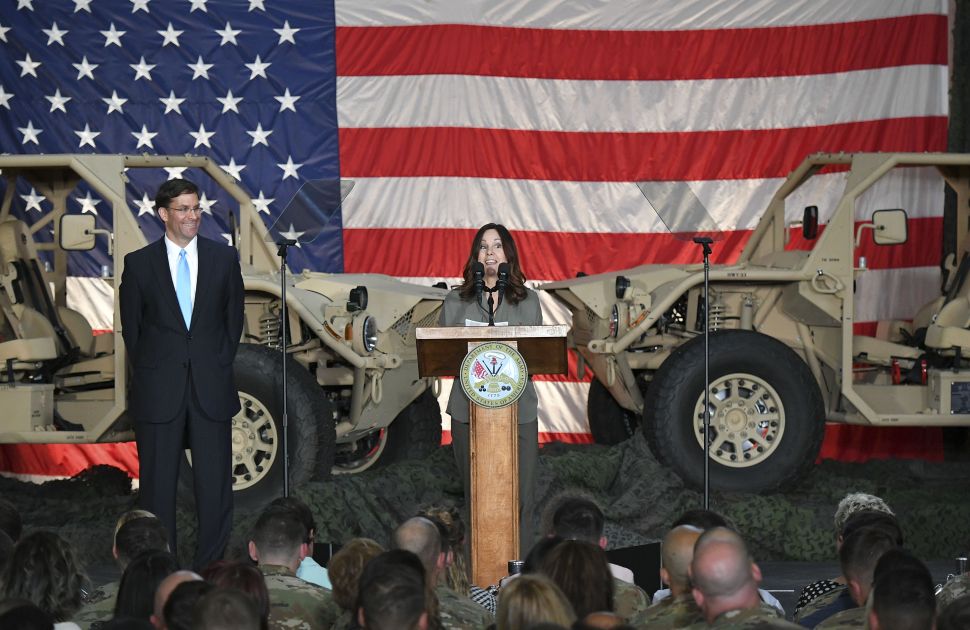 As the United States hedges closer to a possible military conflict with Iran, a former Boeing executive has been replaced with an ex-Raytheon lobbyist to lead the Pentagon.
President Donald Trump on Tuesday said that Acting Secretary of Defense Patrick Shanahan would not be moving forward with his confirmation process and that U.S. Army Secretary Mark Esper had instead been selected for the position.
Like Shanahan, who previously served as one of Boeing's top executives, Esper comes from the private sector, with a seven year stint as Raytheon's vice president for government affairs. According to Open Secrets, the defense firm posted record federal lobbying spending during Esper's tenure, with the executive providing input on defense spending authorization bills, acquisition policy and missile systems in 2016.
He has also held top positions at the U.S. Chamber of Commerce, Aerospace Industries Association and the Heritage Foundation.
Subscribe to Observer's Politics Newsletter
Although Esper touts a distinguished military career as a West Point graduate and retired Army lieutenant colonel, some lawmakers have voiced skepticism toward the selection's relationship with Raytheon.
"I want to give the secretary of defense the team he needs, but I'm not going to give him a team that I think is business as usual over the last eight years," said the late Senator John McCain (R-Ariz.) shortly before Esper's nomination to Army Secretary in 2017.
Shanahan's nomination was derailed after allegations of domestic violence between his ex-wife and son, which have since been reported by The Washington Post, came under scrutiny by the FBI.
"Acting Secretary of Defense Patrick Shanahan, who has done a wonderful job, has decided not to go forward with his confirmation process so that he can devote more time to his family," tweeted Trump. "I thank Pat for his outstanding service and will be naming Secretary of the Army, Mark Esper, to be the new Acting Secretary of Defense. I know Mark, and have no doubt he will do a fantastic job!"